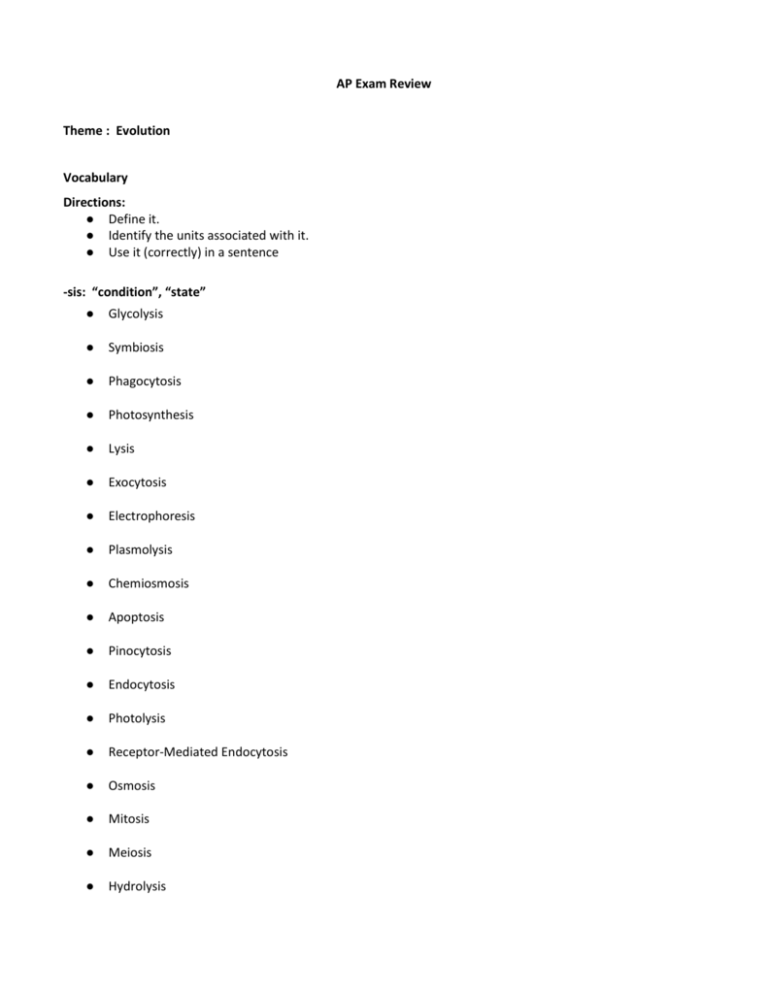 AP Exam Review
Theme : Evolution
Vocabulary
Directions:
● Define it.
● Identify the units associated with it.
● Use it (correctly) in a sentence
-sis: "condition", "state"
●
Glycolysis
●
Symbiosis
●
Phagocytosis
●
Photosynthesis
●
Lysis
●
Exocytosis
●
Electrophoresis
●
Plasmolysis
●
Chemiosmosis
●
Apoptosis
●
Pinocytosis
●
Endocytosis
●
Photolysis
●
Receptor-Mediated Endocytosis
●
Osmosis
●
Mitosis
●
Meiosis
●
Hydrolysis
Theme: Evolution
Directions:
● Respond fully.
1
Explain the difference between gradualism & punctuated equilibrium.
2
Explain heterozygote advantage. Give an example and explain how your example works.
3
Explain how antibiotic resistance can evolve in bacteria and how pesticide resistance can evolve in an
insect population.
4
Describe homologous structures, analogous structures, and vestigial organs. Explain their evolutionary
significance & give an example of each.
5
Explain the biological species concept as first proposed by Ernst Mayr. Compare it to the ecological and
morphological species concepts.
6
In a cat population, the black allele is dominant to white. There are 16% white cats. How many black
cat homozygotes & heterozygotes in the population? Assume HW equilibrium. State the criteria that
are required for the population to be in HW Equilibrium.
7
Define a population bottleneck and the founders effect. Explain their evolutionary significance & give
an example of each.
8
Explain directional selection, disruptive selection, and stabilizing selection. Give an example of each.
9
Explain sexual selection & give two examples.
10 Explain genetic drift & give two examples.
11 Explain how evolution can explain both the diversity and unity of life on earth.
12 Explain how the anatomical record, the molecular record, and the fossil record all support evolution.
Give an example.
13 Explain how natural selection works.
14 Explain the difference between Darwinian and LaMarckian Evolution.
15 Explain how artificial selection supports evolution. Give three examples.
16 List and describe the pre-zygotic barriers that contribute to speciation.
17 List and describe the post-zygotic barriers that contribute to speciation.
18 Define allopatric and sympatric speciation and explain how both occur.