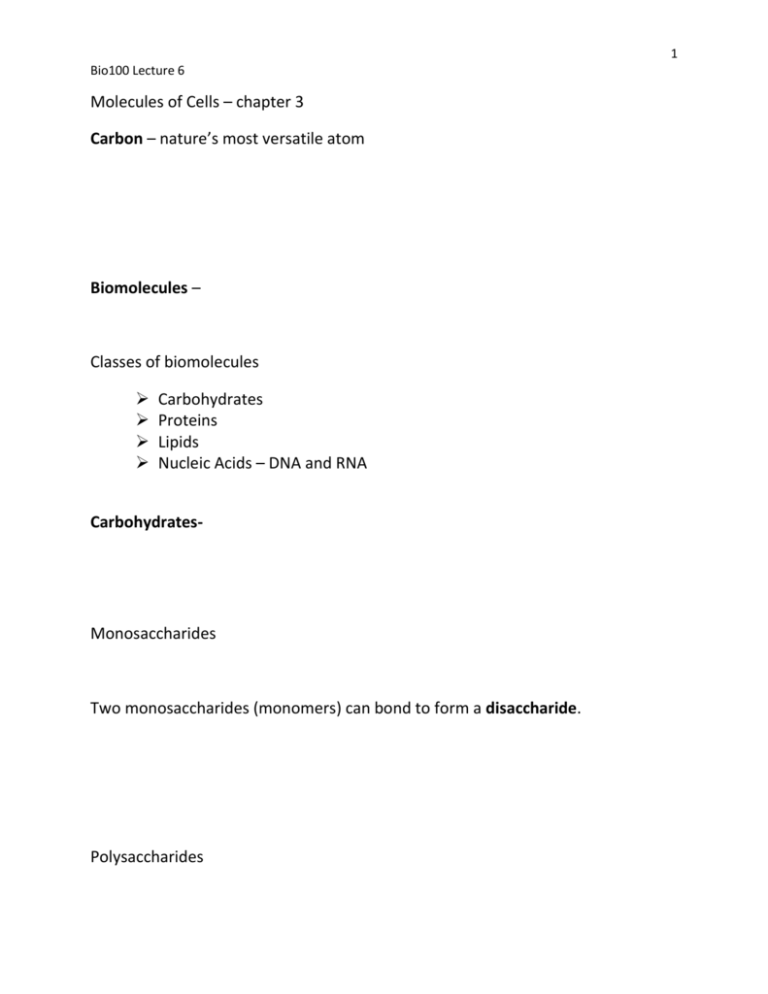 1
Bio100 Lecture 6
Molecules of Cells – chapter 3
Carbon – nature's most versatile atom
Biomolecules –
Classes of biomolecules




Carbohydrates
Proteins
Lipids
Nucleic Acids – DNA and RNA
Carbohydrates-
Monosaccharides
Two monosaccharides (monomers) can bond to form a disaccharide.
Polysaccharides
2
Bio100 Lecture 6
Starch
Glycogen
Carbohydrate functions:
Proteins
Amino Acids – the building blocks (monomers) of proteins
A protein can have four levels of structure:
o primary structuresecondary structure (folding)-
tertiary structure (overall shape)
quaternary structure (two or more joining together)
Protein functions:
Enzymes –
Structure
3
Bio100 Lecture 6
Defense
Transport
Messengers
Lipids
Types of lipids:
• fats,
• phospholipids, and
• steroids.
Fats:
Steroids
Phospholipids
Nucleic Acids
Functions
• Blueprint for making proteins through genes
• DNA
• RNA
Nucleic Acids code for Amino Acids
4
Bio100 Lecture 6
Nucleotides have three parts:
DNA nitrogenous bases are
1.
2.
3.
4.
5.
6.
7.
8.
What are the 4 Biomolecules?
What is the basic carbohydrate used in our body?
What is a protein?
What are the two secondary structures of a protein?
Name the 3 types of lipids.
What type of lipid is used to make cell membranes?
Name two nucleic acids.
What are the 4 nitrogenous bases of DNA?