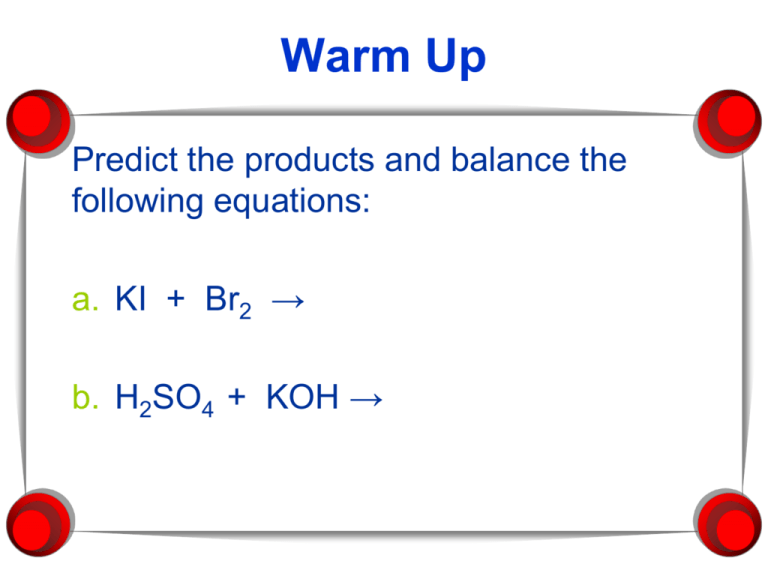 Warm Up
Predict the products and balance the
following equations:
a. KI + Br2 →
b. H2SO4 + KOH →
Questions on Activity Series
WS?
Questions on Word Equations
WS?
Genie in a Bottle
H2O2 +
Honors Electrochemistry
Electron Transfer Reactions
 Electron transfer reactions are oxidation-reduction
or redox reactions.
 Result in the generation of an electric current
(electricity) or be caused by imposing an electric
current.
 This field of chemistry is often called
ELECTROCHEMISTRY.
Redox Vocab
 OXIDATION—loss of electron(s) by a species;
increase in oxidation number; increase in oxygen.
 REDUCTION—gain of electron(s); decrease in
oxidation number; decrease in oxygen; increase
in hydrogen.
 OXIDIZING AGENT—electron acceptor; species
is reduced.
 REDUCING AGENT—electron donor; species is
oxidized.
You can't have one… without the
other!
 Reduction (gaining electrons) can't happen
without an oxidation to provide the electrons.
 You can't have 2 oxidations or 2 reductions in the
same equation. Reduction has to occur at the
cost of oxidation
GER!
LEO the lion says
GER!
Another way to remember
OIL RIG
OXIDATION-REDUCTION
REACTIONS
Direct Redox Reaction
Oxidizing and reducing agents
in direct contact.
Cu(s) + 2 Ag+(aq) → Cu2+(aq) + 2 Ag(s)
OXIDATION-REDUCTION
REACTIONS
Indirect Redox Reaction
A battery functions by transferring electrons
through an external wire from the
reducing agent to the oxidizing agent.
Basic Concepts
of Electrochemical Cells
Anode
Cathode
CHEMICAL CHANGE --->
ELECTRIC CURRENT
To obtain a useful current, we
separate the oxidizing and
reducing agents so that electron
transfer occurs thru an external
wire.
This is accomplished in a GALVANIC or VOLTAIC
http://www.mhhe.com/physsci/chemistry/essentialchemistry/flash/galvan5.swf
cell.
A group of such cells is called a battery.
Zn --> Zn2+ + 2e-
Cu2+ + 2e- --> Cu
Oxidation
Anode
Negative
Reduction
Cathode
Positive
<--Anions
Cations-->
RED CAT
•Electrons travel thru external wire.
Salt bridge allows anions and cations to move
between electrode compartments.
Oxidized or Reduced?
 Oxidation number is assigned to an
element in a molecule based on the
distribution of electrons in the
molecule.
Rules for assigning oxidation numbers.
The oxidation number of….
1.
2.
3.
4.
5.
6.
7.
8.
Any pure element is 0
Monatomic ion = the charge on the ion
More EN element in a binary compound = the
number equal to the charge it would have if it were
an ion.
F = 1O = 2- unless combined with F or is a peroxide
H = 1+, unless combined with a metal (1-)
Sum of the oxidation numbers in a neutral atom =
0.
Polyatomic ion = charge of polyatomic ion
Let's Practice
NaOH
H2SO3
KNO3
SO2
CaCl2
How can you tell?
The atoms or ions of an element
experience an increase in oxidation
state…oxidation.
Na0 → Na1+ + 1eThe atoms or ions of an element
experience a decrease in oxidation
state… reduced.
Cl2 + 2e- → 2Cll-
Half-Reaction
Represents the part of the reaction
undergoing oxidation/reduction.
Cu → Cu2+ + 2e2NO3 + 2e- + 4H+ → 2NO2 + 2H2O
Not all reactions are Redox
SO2 + H2O → H2SO4
Let's look at the WS…
Warm Up- How did you do on
the redox WS?
Na= +1
K= +1
O = -2
H= +1
O= -2
O = -2
O= -2
Cr=+6
O= -2
C= +4
C = -4
H= +1
Cl= +7
Mn = +4
Electrochemical Cell Lab- Everyone fills in their
own lab sheets… turn in recorders
Leader/Recorder- Keeps everyone on task,
makes sure instructions are being followed
carefully. Aides scientist.
Reader- Reads every single word out loud…
helps others make sense of lab.
Scientist- Obtains materials and follows all
instructions. Helps others make sense of the
lab.
Read the Introduction
Paragraph as a whole group.
Quickly obtain the materials and
goggles… get started on this guided
inquiry lab.
Make sure all names are on the
recorders paper… turn in when
complete.