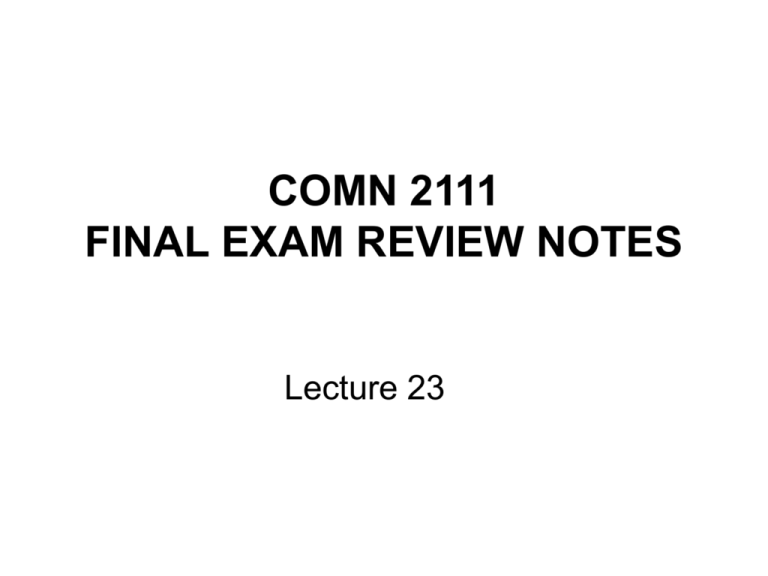 COMN 2111
FINAL EXAM REVIEW NOTES
Lecture 23
Please Check the course Home
Page Flasher
for the date, time and location of
the the final exam.
Check The Assignments Page for information
on the structure of the exam.
TWO ICONS TO NOTICE AS I LECTURE
•
MEANS THIS IS A SHORT ANSWER
•
MEANS THAT THIS CONCEPT IS
SPECIFICALLY REFERRED TO OR COULD BE
USED IN AN ESSAY
COMMUNICATION EFFECTIVNESS:
SKILLS ABOUT SKILLS
 We often don't respond effectively to others
when we feel challenged
 Since most of our natural responses are
automatic, over-learned, unconscious, we need
to be conscious and manage our reactions
 How? By becoming
 MINDFUL
 FLEXIBLE
 METACOMMUNICATORS
IF WE DON'T CONSCIOUSLY
MANAGE OUR TALK
 We automatically enact the 7th axiom of
interpersonal communication
 We speak defensively
DEFENDING THE CONCEPTUAL SYSTEM OF THE
SELF
• DENIAL: REFUSE TO ADMIT THREAT IS RELEVANT TO SELF OR ASSUME
IT CAN BE POSTPONED
• AVOIDANCE: REFUSING TO FACE THREAT; NOT BEING IN SITUATION
WHERE YOU MIGHT HAVE TO DEAL WITH IT
• RATIONALIZATION: MOST COMMON: MAKING EXCUSES,
EXPLAINING AWAY THREATS
• INTELLECTUALIZATION: ENGAGING IN DETACHED ANALYSES OF
THREATENING PROBLEMS
• PROJECTION: OPPOSITE OF BURYING INSIDE, ATTRIBUTE
THREATENING FEELINGS TO SOMEONE ELSE
• REGRESSION: REVERT TO EARLIER MORE CHILDLIKE STATE
•
Selected Readings Book
We Fail To Notice Our Emotional Communication
Transactional Analysis (TA)
TA connects needs to patterns of external behavior
Internal ego states produce outward behavior to evoke appropriate
response from others:
•
•
•
The parent - critical or controlling , standard setting, nuturant
The adult - problem solver-information getter
The child
-spontaneous (+) and (-), little professor, adapted
•
The words/sounds of the "voices" of the ego states
• Chap. 7 textbook
•
Paralanguage – sound of your voice shapes meaning of words and
shows your emotional "position" in an exchange with another
We Don't Give Each Other
"Good Information"
 "Good" – means truthful, accurate, relevant,
understandable
 So we both can make an informed choice
 And act from commitment not coercion or
manipulation
WE CHANGE THE EMOTIONAL BIDDING
IN OUR CONNECT TALK
• TURNING TOWARD: + REACTION TO O'S BID
• TURNING AGAINST: - REACTION TO O'S BID
• TURNING AWAY:
o IGNORE O'S BID
Assumptions Behind
CONNECT, C.O.N.T.R.O.L. And
D.I.A.L.O.G.U.E. Talk
Connect Talk
 Basic agreement, no tension, expectations
clear basic agreement, no tension,
expectations clear
 Simple descriptions of other's behavior and of
events
 Joking, story telling
 Routine description of self
 Actions, preferences, opinions, beliefs
 Voice tone
relaxed
C.O.N.T.R.O.L.
Talk Assumptions
 I must manage the other or situation to
maintain my face
 I persist - you change
 My story is obvious and is the truth
 Truth based on real data - my data
 I have access to all the data
 As C.O.N.T.R.O.L. Talk gets heavy
 I know what you meant – I tell you so
 You are to blame
D.I.A.L.O.G.U.E.
Talk Assumptions
 Solve problem not save face -manage self not other
 We both have to change
 My story is my story - obvious only to me
 You have your story - obvious only to you
 I have all the data only when I listen to your story
As D.I.A.L.O.G.U.E. Deepens
 You clarify your meaning –I don't try to do it for you
 How did we contribute to this situation?
STYLE ELEMENTS OF
D.I.A.L.O.G.U.E. TALK
STYLE ELEMENTS OF
C.O.N.T.R.O.L. TALK
C. Critical Judgment
–
I Talk From Critical Judgment of You or Complain about
your action
O. Offer Them New Information
–
–
–
You-Messages: Tell Them Their Story
Ask Questions To Probe For Agreement And/Or
Understanding Of My Story
Listen For Leverage - For Agreement With Me Or
Weakness In Their Story
N. Negotiate A Change In Them
–
–
No/Low Acknowledgement Of Their Story
No/Low Support For Them
T. Try Again (Repeat Yourself) Or
–
–
Terminate Talk Or
Take It Personally and(Move To Heavy C.O.N.T.R.O.L
R. Righteous Anger/Indignation
–
Strong Emotions Drive Speech
O. Overt Aggressive or Passive/Aggressive Talk
–
You-Messages: Attack Person Not Problem
–
–
–
Disguised Emotional Talk
Creates Defensiveness
Most Often Used As "Put Downs" Or Attacks, Ridiculing
Humor
L. Lay Blame
•
•
•
•
•
•
•
Description - communicate valid info
I-messages - own your story
Asking questions - 4W2H
Listening actively -show empathy
Open acknowledgement - 4 kinds
Genuine support - affirm, feedback
Understand First - suspend
•
judgment
Emotional Self-Management -hot to
cool
• GIVE UNDERSTANDING FEEDBACK
– Reflect: paraphrase back to the speaker how you think they
think or feel about the subject in order to let them know
you've really listened.
– Ask questions to get more information before you reflect.
• AVOID THE FOUR DON'T'S
– DON'T tell them what they should be thinking
– DON'T tell your story
– DON'T give your opinion or advice until they ask
– DON'T debate. let them correct your reflection if they
need to.
I-Messages
• Descriptive – Non Judgmental
– About your own perceptions, feelings, thoughts
• Open Acknowledgements
– One of the most powerful I-messages
– Build invisible connective bridge between in difficult
situations
• Acknowledge the other, the situation, your own
feelings, etc.
Fair Fighting Styles Elements
•
•
•
•
•
•
•
•
Effectively Express Feelings - "I -Messages"
Define Out Of Bounds Areas Of Vulnerability - No "Below The Belt"
Talk
Say What Fight Is About And Stay Inside Limits
Focus On The Here And Now
Listen Actively - Agree To Paraphrase Other's Arguments In Your Own
Words and Other Does Same
Take It With Style
Focus On O's Behavior And Ideas
Look For Where You And Other Agree
– See How You Can Help Other Get Some Of What They Want
MODEL OF CONFLICT MANAGEMENT
STYLES
HI
I
M
P
O
R
T OF
A
N
C
E
FORCING
COLLABORATING
WIN-LOSE
G
O
A
L
S
WIN-WIN
COMPROMISING
BOTH WIN- BOTH LOSE
AVOIDING
LO
ACCOMMODATING
FEAR OF LOSE-LOSE
LO
IMPORTANCE OF
RELATIONSHIP
LOSE-WIN
HI
(Text)
Gender and talk - Two views of the
world (Lecture and Wood, Selected Readings)
Men speak to discover who is in charge - high vs. Lows
– competition
 To establish autonomy relative to each other
(compete to maintain it)
 To negotiate status
 Using 'report talk'
Purpose of talk: Talk should accomplish something solve a problem, so give advice, take a stand
 Their "taken for granted" world is one of hierarchy
and control
Gender and talk - Continued
Women speak to discover who is connected - close vs.
Far – connection
 To establish their connection to each other
(cooperate to maintain it)
 To negotiate intimacy
 Using 'rapport talk' (connect talk)
Purpose of talk: Talk should connect people - deal with
feelings, personal
 ideas, build relationships
 Their "taken-for-granted" world is based on closeness
and distance
BASES OF HUMAN ATTRACTION
• Attraction develops from proximity and similarity in
the following situations:
• Perceived Reciprocity of Liking
•
•
Attraction to others can depend on whether you feel that the people you
like also like you - SIMILARITY
Another's "liking" increases your self-worth you return the compliment
with reciprocal liking.
• Complementary needs
•
•
Attraction is also somewhat based on COMPLEMENTARITY as well as
similarity
Dominance/submission, protection/dependence, talk/silence
Relationship building: Trust and
self-disclosure
• The Johari Window
OPEN
HIDDEN
BLIND
UNKNOWN
Life cycle of relationships
Coming together
• Initiating
• Experimenting
• Intensifying
• Integrating
• Bonding
Coming apart
• Differentiating
• Circumscribing
• Stagnating
• Avoiding
• Terminating
GOTTMAN'S MARRIAGE
DISSOLUTION CASCADE
"Coming Apart"
Repeated
• Complaining and criticizing leads to
• Contempt in sender, which leads to
• Defensiveness in receiver which leads to
• Listener Withdrawal from interaction
(stonewalling).
PLEASE GO TO THE LINK FOR THE CASE
STUDIES
 On the way there please fill out my very
short course questionnaire
 Download cases
 Look at them and then look at this lecture
again.
 Also please go to ratemyprofessor.com
ONE LAST VID
GOOD LUCK FROM THE MAD
PROFESSOR!