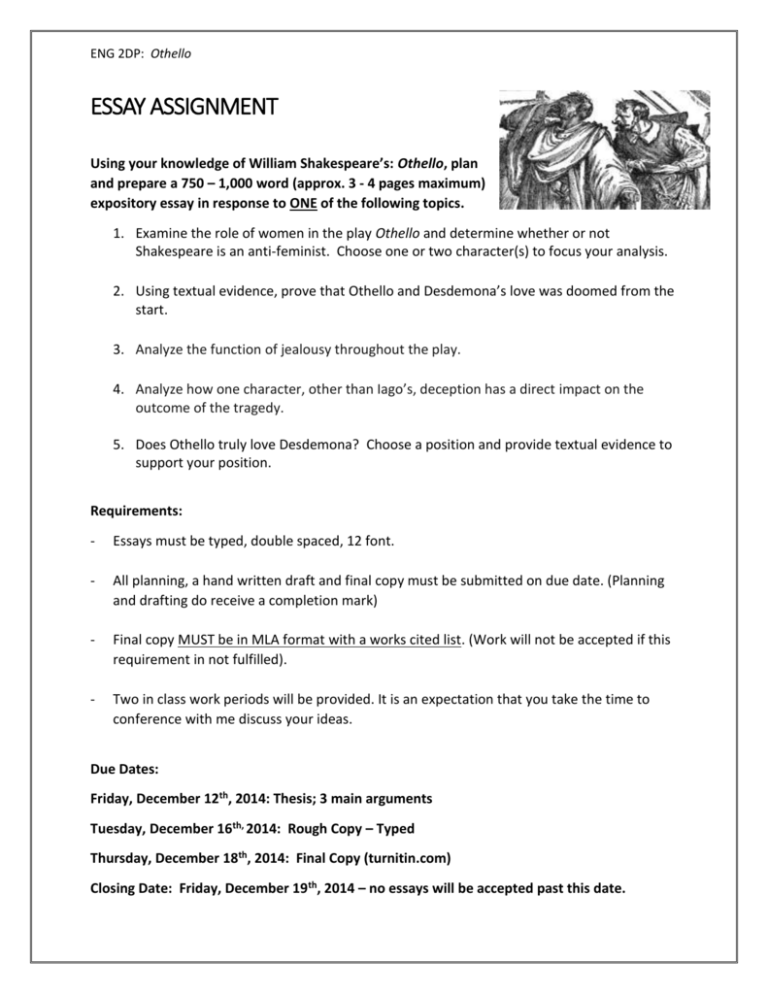 ENG 2DP: Othello
ESSAY ASSIGNMENT
Using your knowledge of William Shakespeare's: Othello, plan
and prepare a 750 – 1,000 word (approx. 3 - 4 pages maximum)
expository essay in response to ONE of the following topics.
1. Examine the role of women in the play Othello and determine whether or not
Shakespeare is an anti-feminist. Choose one or two character(s) to focus your analysis.
2. Using textual evidence, prove that Othello and Desdemona's love was doomed from the
start.
3. Analyze the function of jealousy throughout the play.
4. Analyze how one character, other than Iago's, deception has a direct impact on the
outcome of the tragedy.
5. Does Othello truly love Desdemona? Choose a position and provide textual evidence to
support your position.
Requirements:
-
Essays must be typed, double spaced, 12 font.
-
All planning, a hand written draft and final copy must be submitted on due date. (Planning
and drafting do receive a completion mark)
-
Final copy MUST be in MLA format with a works cited list. (Work will not be accepted if this
requirement in not fulfilled).
-
Two in class work periods will be provided. It is an expectation that you take the time to
conference with me discuss your ideas.
Due Dates:
Friday, December 12th, 2014: Thesis; 3 main arguments
Tuesday, December 16th, 2014: Rough Copy – Typed
Thursday, December 18th, 2014: Final Copy (turnitin.com)
Closing Date: Friday, December 19th, 2014 – no essays will be accepted past this date.