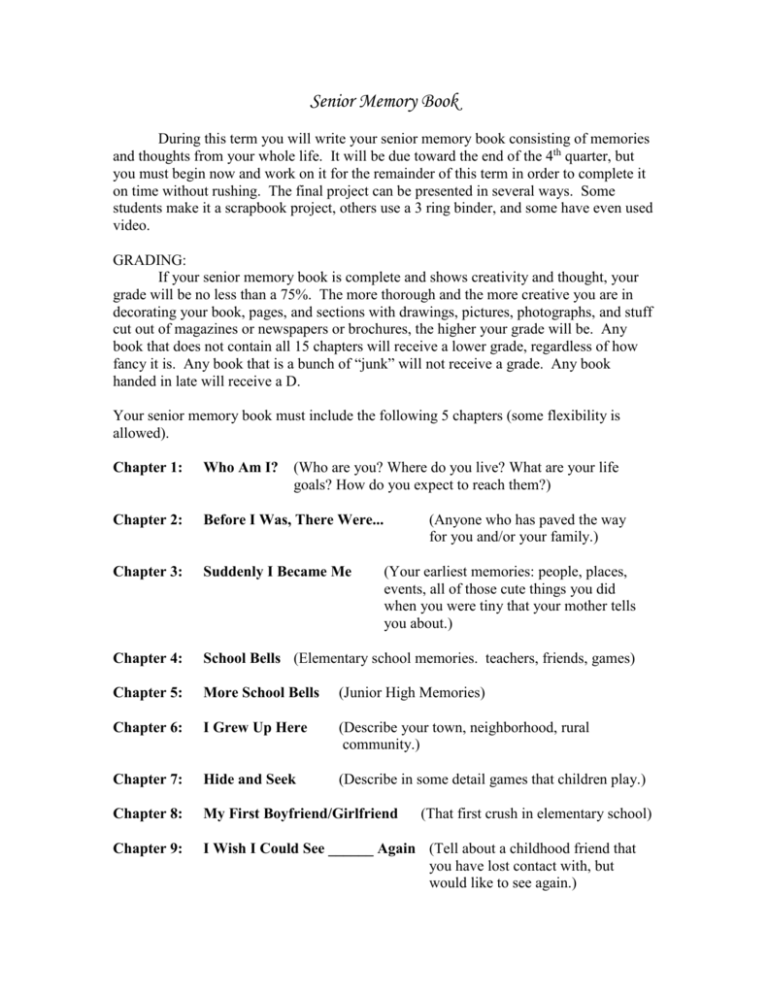 Senior Memory Book
During this term you will write your senior memory book consisting of memories
and thoughts from your whole life. It will be due toward the end of the 4th quarter, but
you must begin now and work on it for the remainder of this term in order to complete it
on time without rushing. The final project can be presented in several ways. Some
students make it a scrapbook project, others use a 3 ring binder, and some have even used
video.
GRADING:
If your senior memory book is complete and shows creativity and thought, your
grade will be no less than a 75%. The more thorough and the more creative you are in
decorating your book, pages, and sections with drawings, pictures, photographs, and stuff
cut out of magazines or newspapers or brochures, the higher your grade will be. Any
book that does not contain all 15 chapters will receive a lower grade, regardless of how
fancy it is. Any book that is a bunch of "junk" will not receive a grade. Any book
handed in late will receive a D.
Your senior memory book must include the following 5 chapters (some flexibility is
allowed).
Chapter 1:
Who Am I?
(Who are you? Where do you live? What are your life
goals? How do you expect to reach them?)
Chapter 2:
Before I Was, There Were...
Chapter 3:
Suddenly I Became Me
Chapter 4:
School Bells (Elementary school memories. teachers, friends, games)
Chapter 5:
More School Bells
(Junior High Memories)
Chapter 6:
I Grew Up Here
(Describe your town, neighborhood, rural
community.)
Chapter 7:
Hide and Seek
(Describe in some detail games that children play.)
Chapter 8:
My First Boyfriend/Girlfriend
Chapter 9:
I Wish I Could See ______ Again (Tell about a childhood friend that
you have lost contact with, but
would like to see again.)
(Anyone who has paved the way
for you and/or your family.)
(Your earliest memories: people, places,
events, all of those cute things you did
when you were tiny that your mother tells
you about.)
(That first crush in elementary school)
Chapter 10: Favorite CD's from then until now
Chapter 11: Let's go to the Movies
(Favorite movies at different times
in your life.)
Chapter 12: I'm REALLY in Love This (Your first serious relationship)
Time Mom
Chapter 13: Let's Take a Vacation
(A memorable trip you took with family
or friends or a trip you would like to take.)
Chapter 14: High School: Early Years
(Freshman, Sophomore, and Junior years:
highlights, troubles, successes, heartbreaks,
friends, teachers, coaches)
Chapter 15: At Last I Am A SENIOR
(Senior Year: see above)
Epilogue:
Where do you see yourself 10 years from now? What do you want people
to see when you return for your 10 year reunion?