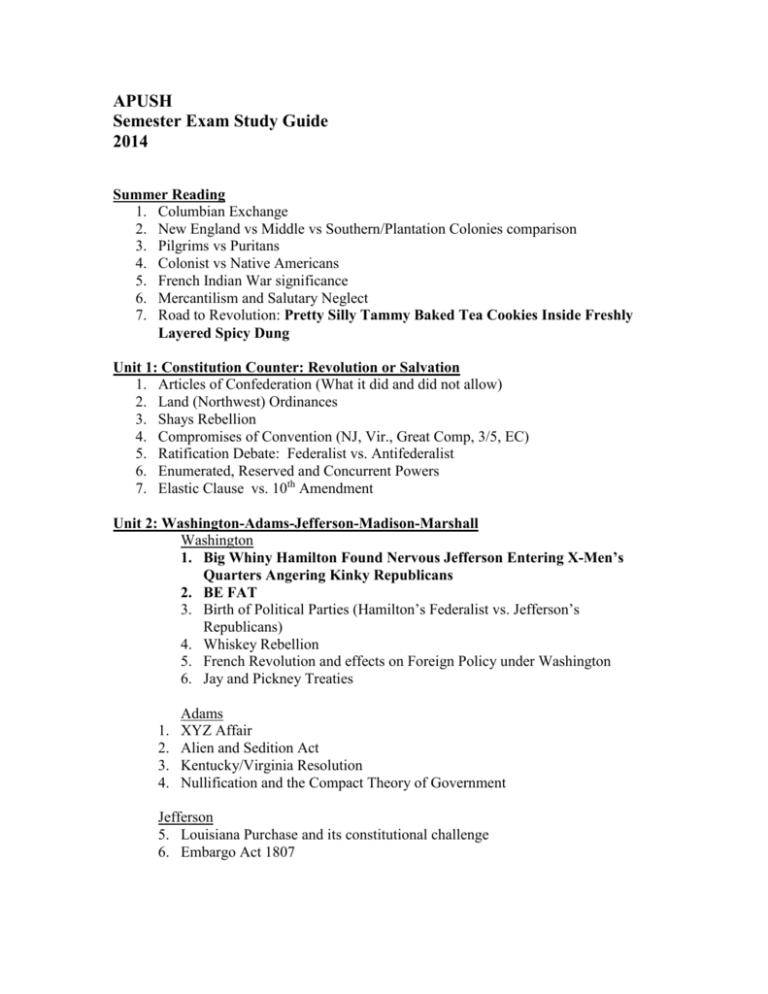 APUSH
Semester Exam Study Guide
2014
Summer Reading
1. Columbian Exchange
2. New England vs Middle vs Southern/Plantation Colonies comparison
3. Pilgrims vs Puritans
4. Colonist vs Native Americans
5. French Indian War significance
6. Mercantilism and Salutary Neglect
7. Road to Revolution: Pretty Silly Tammy Baked Tea Cookies Inside Freshly
Layered Spicy Dung
Unit 1: Constitution Counter: Revolution or Salvation
1. Articles of Confederation (What it did and did not allow)
2. Land (Northwest) Ordinances
3. Shays Rebellion
4. Compromises of Convention (NJ, Vir., Great Comp, 3/5, EC)
5. Ratification Debate: Federalist vs. Antifederalist
6. Enumerated, Reserved and Concurrent Powers
7. Elastic Clause vs. 10th Amendment
Unit 2: Washington-Adams-Jefferson-Madison-Marshall
Washington
1. Big Whiny Hamilton Found Nervous Jefferson Entering X-Men's
Quarters Angering Kinky Republicans
2. BE FAT
3. Birth of Political Parties (Hamilton's Federalist vs. Jefferson's
Republicans)
4. Whiskey Rebellion
5. French Revolution and effects on Foreign Policy under Washington
6. Jay and Pickney Treaties
1.
2.
3.
4.
Adams
XYZ Affair
Alien and Sedition Act
Kentucky/Virginia Resolution
Nullification and the Compact Theory of Government
Jefferson
5. Louisiana Purchase and its constitutional challenge
6. Embargo Act 1807
Madison
7. War Hawks
8. Economic Coercion
9. War of 1812
10. Hartford Convention
11. Treaty of Ghent
Marshall
12. Contribution to Federalism
13. Marburry vs. Madison
14. McCulloch v Maryland
15. Dartmouth College v. Woodward
16. Gibbons V. Ogden
Unit 3: Nationalism and Market Revolution
1. "Era of Good Feeling"
2. While Newborn Ostriches Clapped, Clay BIT MIT's Popsicle
3. Monroe Doctrine
Unit 4: Jacksonian Democracy
1.
2.
3.
4.
5.
6.
7.
8.
NEW KNICKS
Democratic Reforms
Spoils System
Bank Crisis
Nullification Crisis
Tariff of Abominations
Trail of Tears
Antebellum Reform Era
Unit 5: Antebellum Period
1. The South and the Slavery Controversy
2. Ferment of Reform and Culture
3. Trancendatlism
4. Second Great Awaking
5. Seneca Falls and Women's rights movement.