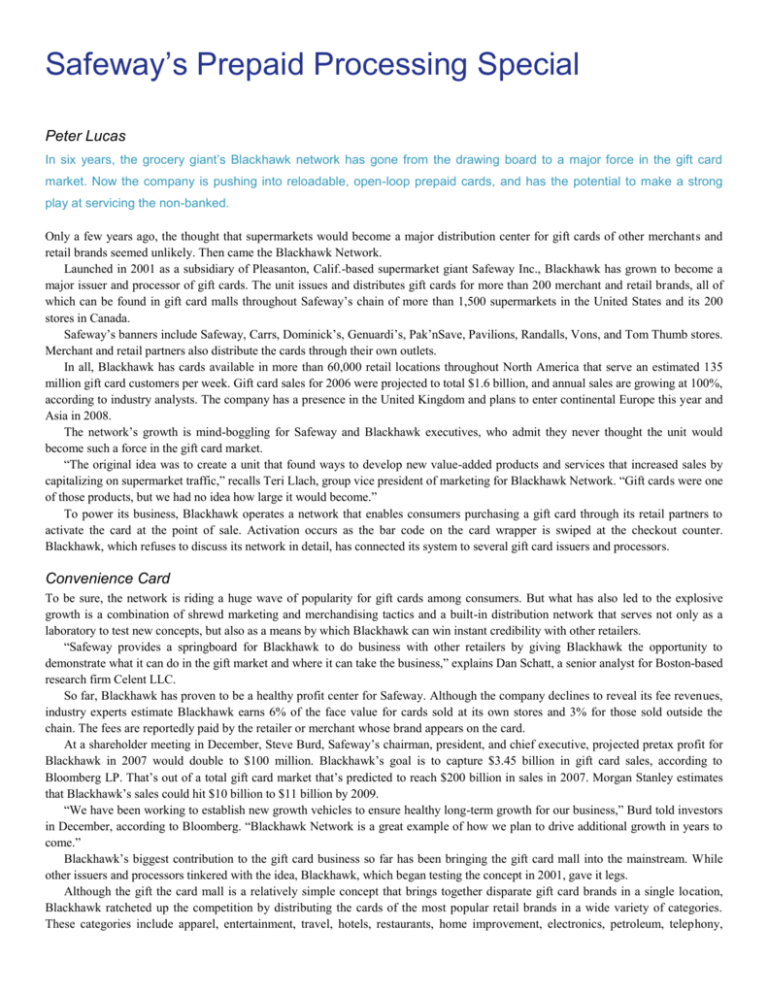 Safeway's Prepaid Processing Special
Peter Lucas
In six years, the grocery giant's Blackhawk network has gone from the drawing board to a major force in the gift card
market. Now the company is pushing into reloadable, open-loop prepaid cards, and has the potential to make a strong
play at servicing the non-banked.
Only a few years ago, the thought that supermarkets would become a major distribution center for gift cards of other merchants and
retail brands seemed unlikely. Then came the Blackhawk Network.
Launched in 2001 as a subsidiary of Pleasanton, Calif.-based supermarket giant Safeway Inc., Blackhawk has grown to become a
major issuer and processor of gift cards. The unit issues and distributes gift cards for more than 200 merchant and retail brands, all of
which can be found in gift card malls throughout Safeway's chain of more than 1,500 supermarkets in the United States and its 200
stores in Canada.
Safeway's banners include Safeway, Carrs, Dominick's, Genuardi's, Pak'nSave, Pavilions, Randalls, Vons, and Tom Thumb stores.
Merchant and retail partners also distribute the cards through their own outlets.
In all, Blackhawk has cards available in more than 60,000 retail locations throughout North America that serve an estimated 135
million gift card customers per week. Gift card sales for 2006 were projected to total $1.6 billion, and annual sales are growing at 100%,
according to industry analysts. The company has a presence in the United Kingdom and plans to enter continental Europe this year and
Asia in 2008.
The network's growth is mind-boggling for Safeway and Blackhawk executives, who admit they never thought the unit would
become such a force in the gift card market.
"The original idea was to create a unit that found ways to develop new value-added products and services that increased sales by
capitalizing on supermarket traffic," recalls Teri Llach, group vice president of marketing for Blackhawk Network. "Gift cards were one
of those products, but we had no idea how large it would become."
To power its business, Blackhawk operates a network that enables consumers purchasing a gift card through its retail partners to
activate the card at the point of sale. Activation occurs as the bar code on the card wrapper is swiped at the checkout counter.
Blackhawk, which refuses to discuss its network in detail, has connected its system to several gift card issuers and processors.
Convenience Card
To be sure, the network is riding a huge wave of popularity for gift cards among consumers. But what has also led to the explosive
growth is a combination of shrewd marketing and merchandising tactics and a built-in distribution network that serves not only as a
laboratory to test new concepts, but also as a means by which Blackhawk can win instant credibility with other retailers.
"Safeway provides a springboard for Blackhawk to do business with other retailers by giving Blackhawk the opportunity to
demonstrate what it can do in the gift market and where it can take the business," explains Dan Schatt, a senior analyst for Boston-based
research firm Celent LLC.
So far, Blackhawk has proven to be a healthy profit center for Safeway. Although the company declines to reveal its fee revenues,
industry experts estimate Blackhawk earns 6% of the face value for cards sold at its own stores and 3% for those sold outside the
chain. The fees are reportedly paid by the retailer or merchant whose brand appears on the card.
At a shareholder meeting in December, Steve Burd, Safeway's chairman, president, and chief executive, projected pretax profit for
Blackhawk in 2007 would double to $100 million. Blackhawk's goal is to capture $3.45 billion in gift card sales, according to
Bloomberg LP. That's out of a total gift card market that's predicted to reach $200 billion in sales in 2007. Morgan Stanley estimates
that Blackhawk's sales could hit $10 billion to $11 billion by 2009.
"We have been working to establish new growth vehicles to ensure healthy long-term growth for our business," Burd told investors
in December, according to Bloomberg. "Blackhawk Network is a great example of how we plan to drive additional growth in years to
come."
Blackhawk's biggest contribution to the gift card business so far has been bringing the gift card mall into the mainstream. While
other issuers and processors tinkered with the idea, Blackhawk, which began testing the concept in 2001, gave it legs.
Although the gift the card mall is a relatively simple concept that brings together disparate gift card brands in a single location,
Blackhawk ratcheted up the competition by distributing the cards of the most popular retail brands in a wide variety of categories.
These categories include apparel, entertainment, travel, hotels, restaurants, home improvement, electronics, petroleum, telephony,
professional sports leagues, and high-end department stores, such as Bloomingdale's. Even fast food is included. Blackhawk is the
sole third-party distributor of the McDonald's Arch card.
So-called open-loop cards featuring the American Express Co., MasterCard Worldwide, and Visa USA brands are also sold in the
mall. Denominations for all cards are predetermined, as opposed to loaded onto the card at the time of purchase. Typical denominations
are $25, $50, and $100.
"Our aim is to create a permanent destination for gifts cards that make it easy for consumers to shop," says Llach, who adds
supermarkets will place select cards in the checkout lane as well. "As a subsidiary of Safeway, we understand consumer shopping habits
and traffic patterns, and how to communicate to consumers in a retail environment."
Blackhawk has found that the breadth of retail brands draws shoppers like a magnet to the card malls, which have been placed
throughout Safeway's chain of supermarkets. Customers visiting any of Safeway's stores during the recent holiday-shopping season
often encountered a crowd around the mall, which is a free-standing, rotating rack typically located near the checkout lane.
Right Pricing Model
The malls are popular because they relieve consumers of the need to travel to individual merchant locations to obtain a card. Other
benefits include the selection of sought-after brands, according to industry experts. "Blackhawk is not just a market leader, they are a
market maker," says Brian Riley, senior analyst for bank cards for Needham, Mass.-based research firm TowerGroup. "They have
been innovators in enabling the purchase and activation of gift cards."
To make things even easier for busy and harried customers, Blackhawk introduced the idea of activating cards in the checkout
lane. Before, most retailers required their gifts cards be taken to the service desk for activation, which was less convenient.
Now Blackhawk has begun pushing more aggressively into open-loop prepaid cards. Last December, the network struck a deal
with Visa to distribute Visa's ReadyLink reloadable prepaid card through its merchant partners. Merchants within the Blackhawk
network distributing the card will also provide the ability for cardholders to reload funds on to their cards. Safeway is the first
merchant to support the ReadyLink service. Fifth Third Bank is the acquiring bank.
The deal opens the door for Safeway to service the non-banked. There are 80 million consumers in the U.S. who rely heavily on
cash for everyday transactions, according to Visa. And, in total, U.S. consumers make $3 trillion in annual cash purchases, according to
TowerGroup.
"There's a sizable market of consumers that depend heavily on cash, but cash has its disadvantages," says Llach. "Instead of
carrying cash, these consumers can quickly and easily reload their Visa card at a nearby grocery store, so they have another
convenient, secure way to pay for goods and services wherever Visa cards are accepted. This expands Blackhawk Network's
addressable market."
After servicing the unbanked with reloadable prepaid cards, the next natural step is bill payment, which can be incorporated into
kiosks used to reload the card or done through the service desk. Another possibility: electronic loading of paychecks as an alternative to
check cashing, currently an expensive option for this market. The non-banked pay 1.5% to 3% to cash a paycheck, after which they use
the cash to pay utility bills, rent, and buy groceries. Check-cashing firms earn $8 billion annually in service fees, according to the Center
for Financial Services Innovation (CFSI), a Chicago-based organization.
Because financial institutions are eager to establish relationships with the non-banked, they are expected to offer lower fees for
loading value on to the ReadyLink card than check-cashing services charge to provide cash.
"Bill payment is an expensive proposition for the non-banked, because they get surcharged to access their money," says Celent's
Schatt. "Having a reloadable prepaid card that can be topped up at the grocery store can engender a lot of loyalty to Safeway. The
challenge is going to be finding a pricing model that won't alienate these consumers."
'Proving Ground'
Blackhawk may not have much time to act. Atlanta-based InComm Inc., a provider of prepaid card services and a competitor to
Blackhawk, has laid the groundwork to service the non-banked through a network of merchants that distribute reloadable prepaid
cards. Last December, InComm began processing transactions for MasterCard Worldwide's MasterCard rePower reloadable prepaid
card. InComm is making the card available to its 145,000 merchant locations, which include grocery stores.
Concurrently, InComm struck a deal with Los Angeles-based Green Dot Corp., which operates Green Dot Financial Network, to
share technology, retail networks, and marketing opportunities. Green Dot will be able to leverage the InComm Fastcard Network for
activation of its prepaid debit cards and InComm will have access to the Green Dot Financial Network for reloading of its own prepaid
debit cards. Green Dot products are sold at major retailers including Rite Aid, CVS pharmacy, Walgreens, and Radio Shack.
"InComm is a serious player, with 2006 sales estimated to be about three times that of Blackhawk and more than double the
merchant locations," says Schatt. "Blackhawk won't be able to expand without facing significant competition."
Nor are growth opportunities in prepaid going unnoticed by major transaction processors. Another competitor is Valutec Card
Solutions, a Franklin, Tenn.-based provider of closed-loop and loyalty card programs, which was acquired in January by Milwaukeebased processor Metavante Corp., which processes credit and debit card payments from merchants and owns the NYCE electronic
funds transfer network. Metavante also provides open-loop gift card programs to telecos and financial institutions.
Metavante, which resold Valutec programs prior to the acquisition, sees the opportunity to broaden sales for both companies.
Valutec has a strong presence in restaurants, retailers, spas, and beauty salons and distributes its card through transaction processors
and independent sales organizations.
"Acquiring Valutec gives both companies another offering in a fast-growing market and opens the door to a lot of cross-selling
opportunities," notes Frank D'Angelo, senior executive vice president for Metavante. "Valutec is a good fit to our whole payments
strategy."
One asset that Metavante can quickly leverage through Valutec is the addition of loyalty programs to gift cards and prepaid cards.
One of the shortcomings of gift cards and non-reloadable prepaid cards is that once the value is expended, the cards are thrown away.
"Tying in a loyalty or rewards program would give more depth to the cards and engender cardholders to the brand," says
TowerGroup's Riley. "Adding this kind of value creates more sales opportunities for retailers."
While Blackhawk's Llach will only say the company is investigating opportunities to add loyalty and rewards programs, it is a good
bet Blackhawk will be forced to introduce something soon. To its advantage, the network has a ready-made test bed in Safeway stores
that allows it to quickly determine consumer demand for linking loyalty programs to gift cards.
"We are constantly testing new concepts," says Llach. "From a marketer's point view we have a great proving ground."
Helping matters is that, in October, Blackhawk acquired San Diego-based EWI Holdings Inc., which provides a prepaid card
processing platform to retailers. The network hopes this move will improve its ability to bring new products to market faster and have
them accepted over more payments networks. EWI's PayGo platform provides a single transaction processing platform that resides on
the merchant's point-of-sale system.
For now, the Blackhawk network has shown what a processor with the advantages of a retail parent can do to grab share in the
rapidly expanding prepaid market. The question remains whether parent Safeway's drive to diversify its revenue will move the
company deeper into serving the non-banked with electronic transaction services. Given Blackhawk's current position, that's a market
that Safeway doesn't seem likely to ignore for long.