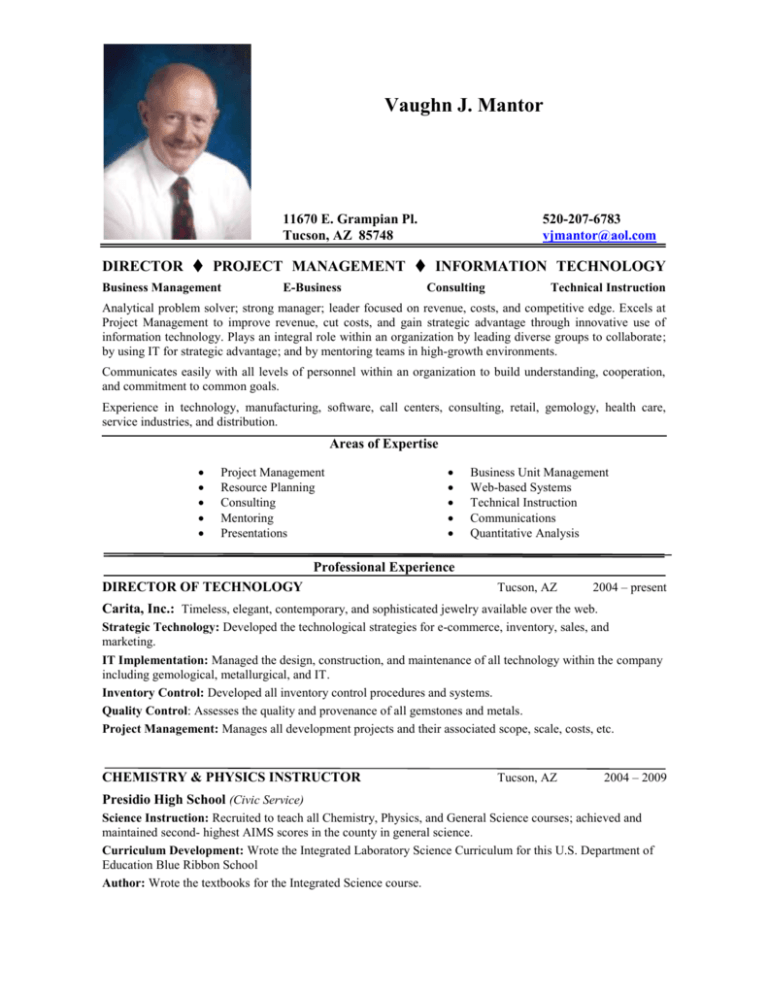 Vaughn J. Mantor
11670 E. Grampian Pl.
Tucson, AZ 85748
520-207-6783
vjmantor@aol.com
DIRECTOR  PROJECT MANAGEMENT  INFORMATION TECHNOLOGY
Business Management
E-Business
Consulting
Technical Instruction
Analytical problem solver; strong manager; leader focused on revenue, costs, and competitive edge. Excels at
Project Management to improve revenue, cut costs, and gain strategic advantage through innovative use of
information technology. Plays an integral role within an organization by leading diverse groups to collaborate;
by using IT for strategic advantage; and by mentoring teams in high-growth environments.
Communicates easily with all levels of personnel within an organization to build understanding, cooperation,
and commitment to common goals.
Experience in technology, manufacturing, software, call centers, consulting, retail, gemology, health care,
service industries, and distribution.
Areas of Expertise





Project Management
Resource Planning
Consulting
Mentoring
Presentations





Business Unit Management
Web-based Systems
Technical Instruction
Communications
Quantitative Analysis
Professional Experience
DIRECTOR OF TECHNOLOGY
Tucson, AZ
2004 – present
Carita, Inc.: Timeless, elegant, contemporary, and sophisticated jewelry available over the web.
Strategic Technology: Developed the technological strategies for e-commerce, inventory, sales, and
marketing.
IT Implementation: Managed the design, construction, and maintenance of all technology within the company
including gemological, metallurgical, and IT.
Inventory Control: Developed all inventory control procedures and systems.
Quality Control: Assesses the quality and provenance of all gemstones and metals.
Project Management: Manages all development projects and their associated scope, scale, costs, etc.
CHEMISTRY & PHYSICS INSTRUCTOR
Tucson, AZ
2004 – 2009
Presidio High School (Civic Service)
Science Instruction: Recruited to teach all Chemistry, Physics, and General Science courses; achieved and
maintained second- highest AIMS scores in the county in general science.
Curriculum Development: Wrote the Integrated Laboratory Science Curriculum for this U.S. Department of
Education Blue Ribbon School
Author: Wrote the textbooks for the Integrated Science course.
VAUGHN J. MANTOR
Page 2
SENIOR CONSULTANT & PROJECT MANAGER
San Ramon, CA
1997 – 2004
BlackHawk Information Services: BlackHawk has more than 17 years of experience developing
technology solutions for the business problems faced by Fortune 500 companies.
Project Management: Led a project to evaluate and change more than 8,000 computer programs for a
distribution company. These systems were critical to company operations. Developed the methods of evaluating
programs, designed the methods of correction, wrote the project plan, and managed the project. The project
completed on schedule, without any down time or adverse consequences.
Strategic Planning: Led the joint application development (JAD) sessions to develop strategic and tactical IT
plans for an agricultural company.
Project Management: Moved the headquarters of a services company across town without a single hour of
downtime.
E-commerce: Led the cross-departmental development team to develop a state-of-the-art e-commerce web site
and portal with an extremely tight schedule. The president of the company said, "Our platform is our business.
It's unique, and that's what brings people to our site. Mr. Mantor helped us develop a complex and challenging
system that communicates with multiple layers of users effortlessly. And he did it quickly."
OPERATIONS MANAGER
Buffalo, NY, San Francisco, CA
1996 – 1997
1989 – 1992
Keane, Inc.: Keane offers a broad range of Application, Infrastructure, and Business Process Outsourcing
Services to businesses and government agencies.
Line Management: P&L responsibility for $2+million software services operation. Under my direction, the
branch grew by 50% within two years, and two new ventures in software services were launched.
Project Management: Led a team that converted a Workman's Compensation Insurance data base for the fifth
largest insurance company in North America; had chief responsibility for bringing the project in on time and
under the $1 million budget.
Practice Management: Maintained strict adherence to standards of software development and professionalism
for the West Coast operations.
Consulting: Headed a team of vendors and client technicians urgently trying to salvage a malfunctioning
transaction processing system. The system, which was critical to the functioning of the client's business, was
collapsing daily, and the client's customers were threatening lawsuits for failure to deliver according to their
contracts. Under my direction, within twenty-four hours, the team identified and eliminated architectural
bottlenecks and returned the system to smooth operation.
DIRECTOR, CAMPAIGN DEVELOPMENT & SUPPORT
Buffalo, NY
1992 – 1996
UCA&L: Now known as SOFTBANK Services Group, UCA&L was the computer industry's leading
provider of outsourced sales and support services.
Management: Managed team that designed and programmed custom Order Entry systems. These systems
required absolute adherence to schedule and conformance to specifications because they were order entry
systems for software companies, such as Microsoft and Apple Computer, operating throughout the
United States.
Leadership: Under my direction, a team of 12 built 185 small order entry systems in less than one year. The
systems included several hundred data entry screens, thousands of pages of on-line help screens, and more than
35 million data base records.
Quality: During the same period, the team also completed more than 6,500 additional requests for
programming services and cut programming error rates by 50%.
Education and Publications
MS – Computer & Information Science, College of Engineering – The Ohio State University – Columbus, OH
BS – Chemistry and Mathematics Ed. – The Ohio State University – Columbus, OH
Textbook: "Integrated Laboratory Science", 2007, 154 pgs.
Textbook: "Integrated Laboratory Science, Principles and Methods", 2008, 47 pgs.