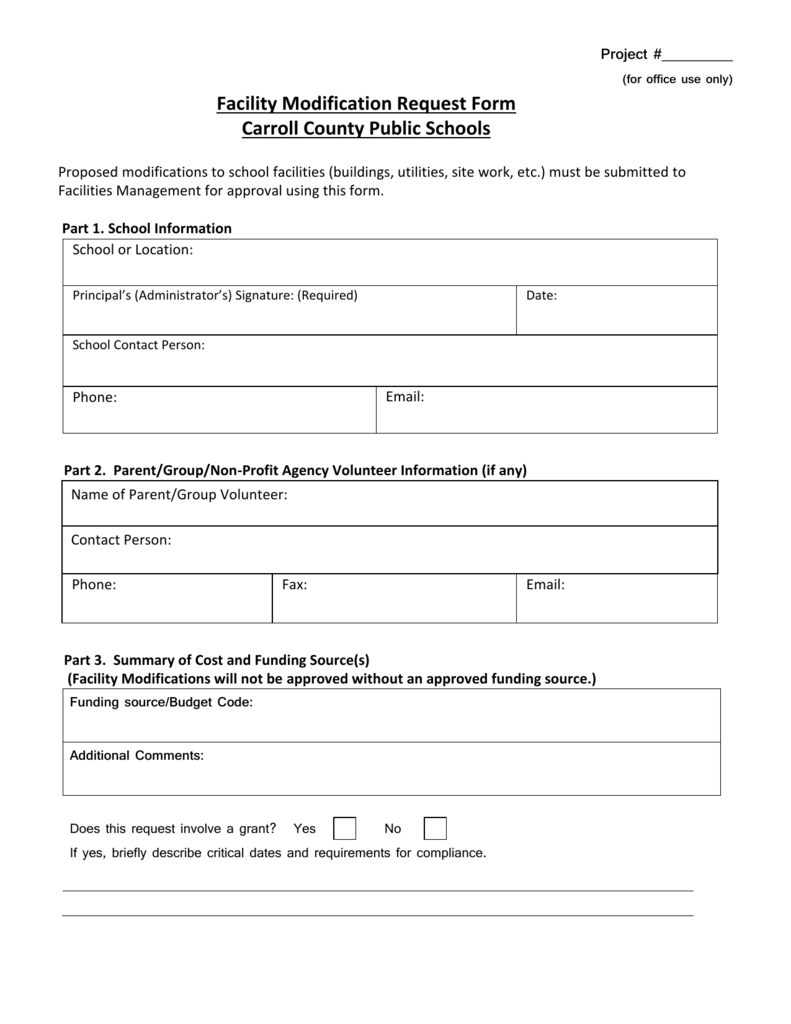 Project #_________
(for office use only)
Facility Modification Request Form
Carroll County Public Schools
Proposed modifications to school facilities (buildings, utilities, site work, etc.) must be submitted to
Facilities Management for approval using this form.
Part 1. School Information
School or Location:
Principal's (Administrator's) Signature: (Required)
Date:
School Contact Person:
Email:
Phone:
Part 2. Parent/Group/Non-Profit Agency Volunteer Information (if any)
Name of Parent/Group Volunteer:
Contact Person:
Phone:
Fax:
Email:
Part 3. Summary of Cost and Funding Source(s)
(Facility Modifications will not be approved without an approved funding source.)
Funding source/Budget Code:
Additional Comments:
Does this request involve a grant?
Yes
No
If yes, briefly describe critical dates and requirements for compliance.
Part 4. Project Description and Justification for Request



Please include a copy of a site plan/floor plan showing the requested project. If you need
assistance obtaining a copy of these plans, please contact Jennifer Kahney @ 410-751-3113 or
[email protected]
If your project includes placing any type of new structure on the school campus, please
attach a detailed description of manufacturer's specifications on that product/structure.
If your project involves a change in use of space due to planned changes in the educational
program, a Director level signature will be required before this request will be reviewed by
Facilities Management.
 Will this facility modification affect the capacity of the building? Yes
No
Approved:
Raymond Prokop, Director of Facilities Management
Date
Copies of the approved/denied Facilities Modification Form will be forwarded to all persons involved with the
project once all reviews are completed.