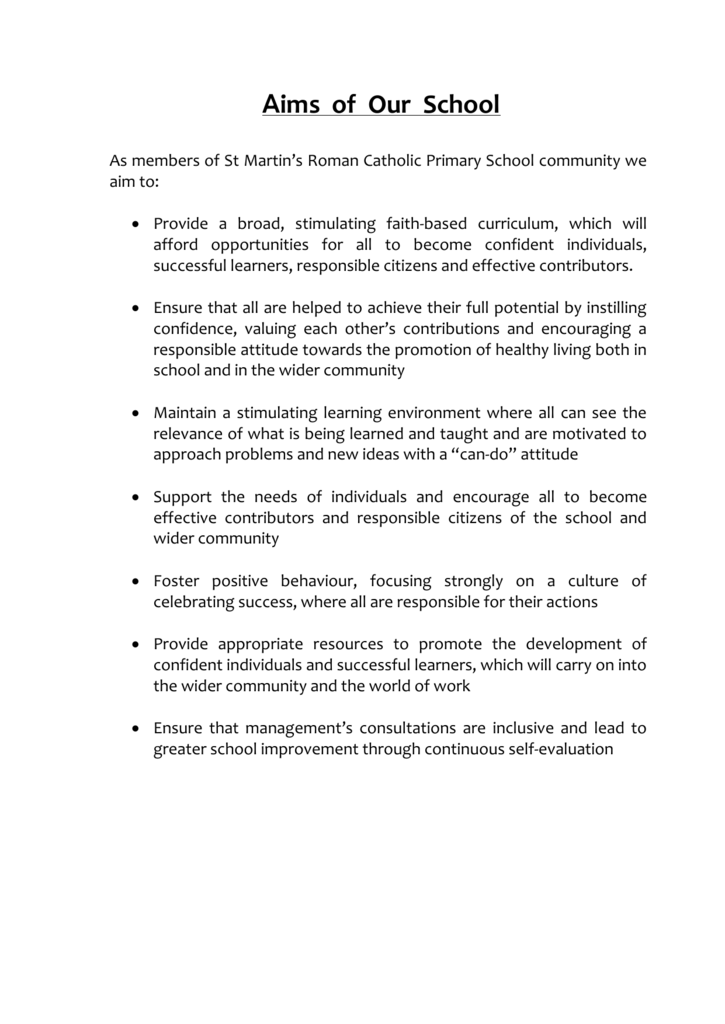 Aims of Our School
As members of St Martin's Roman Catholic Primary School community we
aim to:
 Provide a broad, stimulating faith-based curriculum, which will
afford opportunities for all to become confident individuals,
successful learners, responsible citizens and effective contributors.
 Ensure that all are helped to achieve their full potential by instilling
confidence, valuing each other's contributions and encouraging a
responsible attitude towards the promotion of healthy living both in
school and in the wider community
 Maintain a stimulating learning environment where all can see the
relevance of what is being learned and taught and are motivated to
approach problems and new ideas with a "can-do" attitude
 Support the needs of individuals and encourage all to become
effective contributors and responsible citizens of the school and
wider community
 Foster positive behaviour, focusing strongly on a culture of
celebrating success, where all are responsible for their actions
 Provide appropriate resources to promote the development of
confident individuals and successful learners, which will carry on into
the wider community and the world of work
 Ensure that management's consultations are inclusive and lead to
greater school improvement through continuous self-evaluation
SCHOOL ETHOS
St Martin's Primary School serves the educational needs of Roman Catholic and
non-Catholic pupils in Tranent and surrounding areas.
St Martin's School is a single storey building set in extensive grounds. We have
recently been given access to new 3G pitches that the children can enjoy with
their teacher throughout the school day. We have a John Muir Garden that Mrs
Sharp and Mrs McDonald lead with the Gardening Club.
Due to Parent Council funding applications to the Big Lottery Fund the school
now benefits from having lots of different types of playground equipment suited
to the age and stage of the pupils in the school. We are also in the process of
getting an outdoor classroom built in the area at the back of the school.
There are seven classrooms, a Support for Learning room, a library/music room,
dining room and gym/assembly hall.
The school and nursery class have disability access ramps.
toilet for use by any pupils or staff.
There is a disabled
The vision of St Martin's Primary School is that the school is a learning place for
the whole school community. We have high expectations of our learners and
encourage them to reach their full potential in all areas of the curriculum.
Throughout the school we encourage Christian values of love, respect and
kindness to others on a daily basis.
We provide a broad and balanced curriculum wherein children develop skills
which will permit them to live their lives effectively as individuals and members of
the community. They are given the opportunity to learn how to participate in
identifying and fulfilling common purposes. This involves flexibility of mind, an
ability to weigh issues; make plans; take risks in learning; arrive at decisions and
evaluate these results. Competition may provide a useful stimulus but it is cooperation that gets things done.
In our religious education programme called 'This is Our Faith', we promote within
the school a caring community atmosphere where children learn respect for each
other and for their school work. In line with the Rights Respecting Schools
articles children are expected to behave well and realise they have a responsibility
to play an active part in the creation of a caring environment. This active
commitment is an integral part of everything the school stands for.
A co-operative framework of support from home, school and Church surrounds
our children.
Our behaviour policy was formulated in collaboration with pupils, parents and
staff. It focuses on promoting and rewarding positive behaviour through the use
of house points, certificates and Golden Time. Every Tuesday morning the whole
school gathers together to celebrate achievements that pupils have made.
Children work hard throughout the week to earn house points for their house –
Esk, Tyne or Forth. Each week at assembly the house winners of the week are
announced and rewarded with the presentation of the school cup. On the
occasion that a pupil does lose Golden Time for not following the Golden Rules
then he/she will spend their Golden Time doing a reflection exercise for the
amount of time lost then the remainder of the time will be spent doing an activity
set by the Head Teacher or Principal Teacher. The reflection exercise allows the
pupil the time and space to think about their behaviour choices and how they
could make better choices.
At St Martin's RCPS we like to reward positive behaviour and choices that pupils
make so as well as our assembly celebrations we also organise an end of term
treat for all pupils that have successfully kept more than 15 minutes of their
Golden Time every week.
ANTI-BULLYING POLICY
The School follows the East Lothian Anti-Bullying Policy. Incidents of bullying are
recorded as part of that policy. Please do not hesitate to contact the Head
Teacher if you have a concern. To support parents, there is Anti-Bullying East
Lothian (ABEL) who are an independent Advocacy Service for parents and pupils
in East Lothian and can be contact at the Brunton Hall, Musselburgh on telephone
number 0131 653 4525.
In St Martin's we hope to create a bully free zone by using the following proactive strategies:










Ethos Building
Immediate Action
Parental Co-operation
Buddy System
Peer Support
Personal and Social Development
Religious Moral Education
Cool in School Programme
Creating Confident Kids Programme
Keeping Myself Safe
BASIC INFORMATION
NAME:
St Martin's R.C. Primary School
ADDRESS:
High Street, Tranent, East Lothian, EH33 1HJ
TEL. NO.
01875 610 211
E-MAIL ADDRESS:
[email protected]
HEAD TEACHER:
Mrs Stephanie McDonald
ACTING PRINCIPAL TEACHER:
Mrs Fiona Hayes
SCHOOL SECRETARY:
Mrs Carol Ward
CLASSES:
There are seven classes from P1 – P7 and a morning and
afternoon Nursery class.
STAFF:
Head Teacher, Acting Principal Teacher, Eight Class
Teachers, 1 Support for Learning Auxiliary in Primary 1,
Support for Learning Teacher (Part-Time), 1 Nursery Class
Teacher, 1 Full-Time Nursery Nurse, 1 Part-Time Nursery
Nurse, 2 Support for Learning Auxiliaries, 2 Classroom
Assistant, Secretary, 1 Office Auxiliary, 1 Playground
Supervisor and a Dining Room Supervisor.
Information about staff is subject to change as personnel
may vary from year to year.
VISITING TEACHERS:
Physical Education – Mr McCann, Music – Mrs Wilson, Art
and Design – Ms McLeod, Piano Tuition – Mrs Wilson
APPOINTMENTS:
Please telephone or request an appointment either with
the office staff or the class teacher.
SCHOOL ROLL:
183 pupils
-
Primary 1
Primary 2
Primary 3
Primary 4
Primary 5
Primary 6
Primary 7
24 pupils
25 pupils
28 pupils
27 pupils
30 pupils
21 pupils
28 pupils
SCHOOL DAY:
P1 – P2
P3 – P7
8.45 a.m. – 12.10 p.m.
1.15 p.m. – 3.00 p.m.
Monday – Thursday
8.45 a.m. – 12.30 p.m.
1.15 p.m. – 3.15 p.m.
Monday – Thursday
Morning Break is from 10.30 a.m. – 10.45 a.m.
All pupils will dismiss at lunchtime every Friday
P1 – P2 at 11.50 a.m. and P3 – P7 at 12 noon
ENROLMENT:
Notices are put in the local papers advising on dates etc.
for enrolling children ready to start school. There are also
notices put up in our Nursery Class as well as other
authority run Nurseries and private Nurseries giving
information regarding dates for enrolling children.
A programme of transition for pupils moving from Nursery
to Primary 1 is in place and details are given to parents in
May/June before their start in August.
Non-district pupils are required to complete relevant
forms.
Decisions on enrolment of these pupils are
dependent on availability of pupil places.
TRANSITION
Nursery – Primary
Transition between nursery and Primary 1 at the end of the pre-school year is well
planned. In the third term of the school year the nursery pupils are included in
school events like the weekly assembly, whole school events, celebrations, and
themed weeks like Maths week or Health week. There are also other specific
activities in the spring and summer terms when the nursery children get together
to get to know each other and their class teacher. You are asked to enrol your
child in school in November of the preceding year.
Primary School - High School
Normally children attend the catchment area school known as the district school.
If you wish your child to attend a non-district school, information will be sent to
your home address when your child is in P7. It should be noted that attendance
at St Martin's Primary School does not mean transfer to the attached secondary
school. Our attached secondary school is Ross High School, Tranent, telephone
number is 01875 610433.
Denominational pupils are welcome to make an
application as non-district pupils to St David's RC Secondary School, Dalkeith,
telephone number is 0131 663 1961/2. During December, parents will be given
information concerning transfer arrangements. All pupils and parents are invited
to pay a visit to Ross High School or St David's before their children start at that
school. Full details of their primary school work is transmitted to their secondary
school at the end of the third term in P7.
NURSERY CLASS
In nursery, the main aims are to foster an enquiring mind and engender in the
child an eagerness to learn.
Children come to school with a variety of
experiences learned in the family setting. At nursery, the children are presented
with a framework of learning experiences that promote their development and
learning in each of these key elements that underpins the focus on an
introduction to early literacy and numeracy.
A profile is used to track the progress of each individual pupil. This profile is called
a 'Learning Story'. It is a folder that clearly demonstrates where pupils are in
their learning and what their next steps are so that they continue to move
forward. Observations are of significant importance in the nursery setting and
inform the planning of the learning experiences for the children so that every
experience the children receive is of interest and value to them.
These 'Learning Stories' can be easily accessed by parents/carers to encourage
discussion with the child about their learning. This also aids communication
between nursery and school.
During Session 2012/13, nursery staff will be using the new framework of
Curriculum for Excellence which is the new National Curriculum for all schools and
which spans the age and development of pupils from 3-18yrs.
School staff organise meetings with the children and parents prior to transfer to
school and details about these meetings will be sent out at the beginning of May
2013.
It should be noted that attendance at St Martin's Nursery Class does not lead to
automatic entry to St Martin's RC Primary School.
CURRICULUM
During Session 2012/13, pupils from Nursery to P7 will be embarking on curricular
programmes planned using the new framework as detailed in the Curriculum for
Excellence which is the new National Curriculum for all schools and which spans
the age and development of pupils from 3-18yrs.
All staff have for the last three years been preparing for the transition from the 514 curriculum to this 3-18 curriculum called A Curriculum for Excellence, which
aims to ensure each of our pupils develops the four capacities of being a
successful learner, a responsible citizen, an effective contributor and a confident
individual.
Curriculum for Excellence provides a sound progressive structure of learning
experiences and outcomes for each child as he/she proceeds through the primary
classes. The 5-14 curriculum was based on a set of principles applicable to all
pupils: breadth, balance, coherence, continuity and progression. A Curriculum for
Excellence builds on this and aims to provide greater depth, challenge, enjoyment
and relevance for pupils to enrich their learning experiences. Eight main subjects
have been identified as the framework for planning a 3-18 Curriculum in Primary
and Secondary schools. More information on the Curriculum for Excellence is
available on www.educationscotland.gov.uk/thecurriculum.
Our Curriculum Evenings during the year highlight the work that the school is
doing in line with Curriculum for Excellence particularly focusing on specific
aspects of teaching and learning as required.
The curriculum includes all aspects of school life – ethos, curricular areas,
interdisciplinary learning and opportunities for personal achievement. Children
will be offered well-planned experiences and outcomes across all curricular areas,
with an emphasis in learning skills in literacy, numeracy and health and well-being
embedded across the curriculum.
Curriculum for Excellence subjects areas are:








Literacy and English Language
Numeracy and Mathematics
Social Studies
Science
Technology
Expressive Arts (including Dance)
Health and Well-being (including PE)
Religious and Moral Education
When children enter primary school at around 5 years of age, they will already
have significant knowledge and experience. All will have begun to develop
intellectually and socially. From this point on, their curriculum should provide
them with appropriate opportunities for further intellectual, aesthetic, physical,
personal, social, moral and spiritual growth. Parents who have been the main
influence on the child's development before coming to school will continue to
have a major influence. School and parents will form a valuable partnership in
this on-going development. All children have remarkable potential to learn
between the ages of 3 and 18 years.
It is of importance to the children
themselves, and to society at large that their curriculum be designed, planned and
taught in ways that fully realise this potential.
LITERACY AND ENGLISH LANGUAGE
Literacy and the development of language is at the centre of pupils' learning and
it is through language that they gain much of their knowledge and many of their
skills. The National Curriculum Literacy and English Language 3-18 is used by
teachers to provide the framework of learning experiences provided for the
children in three areas – READING, WRITING, LISTENING and TALKING. Pupils are
taught to listen carefully and effectively, talk confidently and fluently, read with
understanding and enthusiasm and write with expression and accuracy. In this
way, they gain a sound knowledge of how language works and will become
familiar with the many ways it is used. It is also important that children learn to
present work in a way that can be easily understood, paying attention to
punctuation, grammar, handwriting and spelling.
As part of Curriculum for Excellence the contexts used to create these literary
experiences are increasingly relevant to the children's own experiences of the
world in which they live and provide a rich resource for many varied language
activities.
NUMERACY AND MATHEMATICS
Learning Numeracy skills and Mathematics, as with Literacy and Language, equip
our children with skills for life therefore developing a solid foundation in
mathematics is very important.
Numeracy skills need to be developed across every area of the curriculum and are
structured using eight areas – ESTIMATION AND ROUNDING; NUMBER AND
NUMBER PROCESSES; FRACTIONS, DECIMALS AND PERCENTAGES; MONEY;
TIME; MEASUREMENT; DATA AND ANALYSIS; IDEAS OF CHANCE AND
UNCERTAINTY.
Mathematics experiences and outcomes are structured broadly into three areas –
NUMBER, MONEY AND MEASURE; SHAPE, POSITION AND MOVEMENT;
INFORMATION HANDLING. Each of these areas contains different subdivisions.
Information Handling is concerned with the gathering, organising, display and use
of facts and figures and will involve pupils in doing surveys, using diagrams and
tables, making graphs and using spreadsheets and databases.
Number, Money & Measurement activities will teach pupils to add, subtract,
multiply and divide in a variety of context. They will also learn to use money,
work with time and investigate length, weight, area and volume.
Shape, Position & Movement develops understanding of symmetry, angles and
compass directions through the study of geometric shapes. Problem solving and
enquiry skills are developed throughout these other areas of the maths
curriculum and should encourage children to think about what they are doing in
mathematics, to question and explain.
SOCIAL STUDIES
In Social Studies pupils learn about the world in which they live. They develop a
wide range of skills that help them investigate and understand their environment
and also develop informed attitudes to environmental issues and their own health
and welfare.
There are three main themes for study:



People, past events and societies – events in the past, how we know
about them and how they affect our lives now.
People, place and environment – physical features of our environment,
how they influence our lives and how we impact on the environment; our
community and global communities.
People, society, economy and business – how society is organised and
how it works; social, political and economic issues.
These studies are usually approached in a cross-curricular way and can arise from
topical issues, events in the community or interests of the children in the class.
The teaching approach is skills-based and interactive.
SCIENCE
In Science, pupils investigate living things and the processes of life. They develop
an understanding of energy, forces, earth and space. They are encouraged to
develop their natural curiosity and understanding for the environment and their
place in the living, material and physical world.
Teaching is centred round active learning, problem-solving, analytical thinking
skills; investigation and enquiry; awareness of current issues and findings and
their impact on our lives.
TECHNOLOGY
When studying Technology, pupils should be learning about its impact in the
home, in schools, in industry and in the wider community. They will also be given
the chance to use their own skills and offer solutions to design problems using
different materials and resources.
Learning about Information and Communication Technology enables pupils to
develop their skills in using computers to create and communicate information
and data on a local and even global scale by accessing the internet and email.
EXPRESSIVE ARTS
The Expressive Arts (Art & Design, Drama, Music and Dance) places special
emphasis on developing creativity, imagination and personal responses in each
pupil. This is achieved by using materials, techniques, skills and media: by
expressing feelings, ideas, thoughts and solutions and evaluating and
appreciating.
Group activities such as preparing and presenting exhibitions, shows, plays and
concerts and taking part in team games and competitions have an important role
to play in developing qualities of co-operation, responsibility for self and others,
loyalty, leadership and enterprise.
HEALTH AND WELL-BEING
Health Education (including PE) is an important part of the work of the school
where the children are given well-planned opportunities to learn about their own
health and well-being, relationships and health and safety in the environment
As part of Curriculum for Excellence, Health Education is seen as a responsibility
for all educators to foster a positive ethos within the school so that pupils are
encouraged to consistently make healthy choices now and throughout their lives,
whether it is about healthy eating, personal safety or physical activity.
When sensitive aspects of learning are approached (sex education, relationships,
drugs awareness etc.) parents are made aware of this and are invited to view and
discuss programmes and resources used at a parents' information evening.
The planning and teaching of Physical Education is shared between class teacher
specialist and the Active Schools Co-ordinators. Our Active School co-ordinator
Adam Martin keeps all pupils, staff and parents well informed about up and
coming events, activity courses and development courses for adults. He attends
curricular evenings, parents evenings and regularly visits our school at assembly
to continue to motivate pupils to live an active life.
SPORTS and OUTDOOR ACTIVITIES
Our P4 pupils are offered swimming tuition for a block of 10 weeks every year at
Tranent Swimming Pool. All children develop in their ability to learn to swim and
different abilities are all catered for.
After a session of ten lessons the children are assessed and offered either free
swimming sessions or further lessons at the pool. Children from upper stages
take part in cross-country running, rugby, football, hockey, bowling, athletics,
badminton and basketball.
The school has 3G pitches to accommodate outdoor activities.
SCHOOL CAMP
Our Primary 7 class have the opportunity each year of visiting Benmore Outdoor
Education Centre in Dunoon on the west coast of Scotland. They usually attend
in November and stay for four nights from Monday - Friday. There is a wide range
of outdoor activities led by qualified instructors available for the children to take
part in.
RELIGIOUS and MORAL EDUCATION
Religious Education covers most areas of human experience.
For pupils, this
objective will be achieved through a curriculum of Religious Education that is
firmly based on the experience of Christianity, but pupils will also be encouraged
to develop understanding of and respect for people of other faiths. Religious
Observance complements Religious Education and provides opportunities for the
school community to reflect on and develop a deeper understanding of the
dignity and worth of each individual and their contribution to the school and
wider communities. At present school assemblies are the most common vehicles
for delivering religious observance. However at St Martin's the whole school
community gather together at regular intervals for school Masses. By the
establishment of a caring atmosphere and by the emphasis on good personal
relationships, the ethos of the school will be an important element in developing
appropriate MORAL VALUES and a sense of individual and collective
responsibility.
Activities in this area of the curriculum will help pupils to
appreciate values such as honesty, fairness and respect for others and to develop
a personal code of behaviour.
Parents, however have a statutory right to withdraw their children from religious
and moral education and from religious observance, and this right should be
made known to parents and their wishes respected. In no circumstances will a
child be disadvantaged as a result of withdrawing from religious observance.
During the years in St Martin's, those children who belong to the parish
community are prepared to receive the sacraments of Reconciliation, Eucharist
and Confirmation.
We link with the Parish by celebrating Mass on Holidays of Obligation and at the
start and end of each term.
ENTERPRISE IN EDUCATION
Pupils at all stages take part in Enterprise activities. During the course of P1 – P3
and P4 – P7 pupils will take part in one major enterprise activity. Our school
Enterprise Framework is fully established.
MODERN LANGUAGE PROGRAMME
At present all pupils at P6 and P7 have weekly classes in French. These classes
are delivered by a specially trained class teacher.
MUSIC INSTRUCTION
Pupils who show aptitude are given piano instruction.
parents are asked to provide the required book.
Lessons are free but
Mrs Wilson is our visiting Piano Instructor who works with children from P5 to P7.
At the end of P4, pupils will be assessed in their ability and aptitude for piano and
Mrs Wilson will select pupils who would benefit from instruction.
AFTER SCHOOL CLUBS
During session 2012/2013, a number of After-School Clubs have been set up by
school staff for pupils to access a range of activities. These have included a
Gardening Club, a Choir, a Homework Club, a Knitting Club, a Dance Club, a
Reading Club and a Horrible Histories Club.
For every new school session details of the After-School Clubs will be issued at the
beginning of the new school session.
ASSESSMENT and REPORTING ON PUPIL PROGRESS
Teachers will report on pupils' learning and attainment across the whole
curriculum, using their professional judgement and the evidence available to
them from their own continuous formative assessment throughout the year. At
St. Martin's we use the SEEMIS system to track the attainment of all pupils in
relation to levels in CfE. We also use a Management Tracking system that details
attainment of every individual that is looked at and discussed every term with
manangement and Class Teachers in tracking meetings.
In general the overview of Curriculum for Excellence Levels:
Early Level – Nursery and P1
First level – P2 – P4
Second Level – P5 – P7
We also use an online planning and assessment tool (On Track with Learning) that
allows teachers to track the progress of all children in a timely fashion in relation
to the intended learning of lessons. This planning and assessment resource also
builds a profile of every child. In this profile a clear indication of the coverage of
the CfE outcomes throughout all the curricular areas is stated allowing planning
to be very responsive to the needs of the children.
A bank of evaluative comments from teacher observations linked to the intended
learning are built up throughout the year and are used to inform parents and give
a clear picture of where each child is in their learning throughout the whole
curriculum. The assessments that teachers will plan for will be varied – it may be
end of topic tests, scores for spelling tests, results of reading tests that give a
reading age, examples of writing pieces, reports from topic work, pieces of work
selected by the child as a good example of their progress or of which they are
particularly proud. Specialist teachers (for art, PE and music) will contribute at
the end of each teaching block. Self-assessments and peer assessment that the
children make in class will also feature.
All pupils have My Achievement Trackers (MATS) in the school. This folder is
individual to the child. It contains a record work that the teacher and/or the pupil
have chosen to show how well the intended outcome was achieved. This record
of work helps the child become reflective in the learning process so that with the
teacher they are identifying their own next steps.
The MATS also include information on the child's wider achievements. This
includes activities at home or clubs they may attend. We have been developing
the practice of the MATS to ensure that reporting to parents becomes more
effective by keeping parents informed about the progress of their child in a timely
manner. The MATS will come home with each pupil two weeks before the end of
term. Each pupil will keep their MAT at home and work on it with their
parents/carers by looking at the work that they have completed and looking to
see what they need to focus on next. The MATS will return to school on the last
week before every term ends. Every term the Class Teacher will provide an
overview of the progress the pupil has made throughout the term. This new
system replaces the end of year report. In this way, the teachers, pupils and
parents/carers can work in partnership to help pupils develop and progress in
learning.
Support for Learning is provided to assist pupils to achieve their potential at all
levels. A timetable is now in place that allows children to make self-referrals to
the Support for Learning teacher if they are experiencing any difficulties. There
are time slots to accommodate children who are considered very able and require
more challenge and for some other children that require more focused small
group work to help reinforce learning taught.
SCHOOL IMPROVEMENT
Each year in June, the school produces a School Improvement Plan. This is done
by the Head Teacher in collaboration with all staff. It is approved by the authority
and is available in full at the school and on the school website.
Our School Improvement Plan is easily accessed by all who enter the school as it is
displayed in a simplified format in the form of a rainbow in the main foyer. The
Open Evenings give a good insight for parents/community members into the work
being carried out by all staff in the school to fulfil the outcomes stated in the plan.
Copies of the plan are made available for parents to take home.
At the beginning of each year the School Improvement plan is presented to the
Parent Council. Parents are given the opportunity and encouraged to work
alongside staff to take forward aspects of the School Improvement Plan.
Details about the work completed in order to meet the desired outcomes stated
in the plan are given to the parent council and updates are included in the
monthly newsletters.
Future improvements for the school are now being discussed termly by school
staff at evaluation meetings and this informs the school's Standards and Quality
report, a report that indicates the school's self-evaluation in relation to quality
indicators as stated in the HMiE document 'How Good is Our School'. This report
in turn helps the school build a School Improvement Plan that lends itself to the
needs of the pupils and all other stakeholders in the school.
The school's performance in attainment is measured by PIPS (Performance
Indicators in Primary Schools) data. These are tests sat by all pupils at P1, P3, P5
and P7 each year. These can also be viewed at school.
LOOKING TO THE FUTURE:
Strategies for School Improvement

Monitor the attainment of each child in different curricular areas and
concentrate support for children identified as under-achievers and challenge
the children considered to be high achievers.

Continue to involve parents in supporting their children, e.g. Read, Write, Inc
classes for parents led by teachers, review reading homework policy, working
as partners in the school and nursery
 Teachers, pupils and parents to work together closely to track the learning
journey (attainment and achievement) of every pupil using the MATS.

'Attend to Achieve' – encourage all children to come to school punctually, and
emphasise the importance of Friday morning attendance. Enlist the support
of parents in this aim.
With the hard work and dedication of staff and pupils and with the support of
parents, I am confident that we can achieve all of these goals.
SCHOOL POLICIES
Details of school policies are available on the school website. All policies can also
be easily accessed by contacting the school office on 01875 610 211.
COMMUNICATION WITH PARENTS
Parents will be informed of their child's progress throughout the school year.
Parents are contacted every week via text message to let them know if there
child has managed to keep their Golden Time so that this can be celebrated at
home. If a pupil has lost their Golden Time parents are informed of this via text.
Class Teachers like to ensure that good communication exists for the good of the
pupil and if necessary a phone call home will be made. There will be formal
consultation times twice in the year – late autumn and early spring.
Open Evenings happen twice per year, September and March.
As part of the school's Behaviour Policy, whole school assemblies take place every
second Tuesday at 9 a.m. where the achievements of pupils are celebrated.
Parents of the class leading assembly will be invited to attend the class assembly
to join in the celebrations of achievement of the whole school.
The school has the Groupcall system in place which enables the school to contact
parents/carers via text message. Each class has a blog that can be accessed by
entering - Edubuzz St Martin's.
In the event of any emergency school closures all parents/carers will be contacted
by text message/telephone.
The Parent Council can be contacted via [email protected]
It is the policy of the school to regularly update parents via e-mails, text message
service, newsletter and telephone calls.
Parents who have concerns about their child's progress are welcome to contact
the school and arrange an appointment with the class teacher. If a parent feels
that the matter is of a sensitive nature and needs to be discussed with the Head
Teacher then please do not hesitate to arrange an appointment through the
school office.
The Parent Council members must be parents/carers of children who attend the school,
and the chair person must have a child in the school. Teachers and members of the
local community can also attend PC meetings and play an active part.
Local Links for Parents and Families
In St. Martin's RC Primary School we work closely with the other schools in our Tranent
Cluster to support and build our wider community for the benefit of all children, young
people and families. We are supported in this through partnership working with East
Lothian Council Community Learning Development. Community Learning and
Development offer a varied programme across the cluster open to everyone. Whether
it's updating your First Aid or building up your confidence to go back to college or
work, or simply looking for a new hobby there is something for everyone. You can find
services and information about Adult Literacy, youth clubs, women's groups, training
and life skill courses and community events on the East Lothian Learning Partnership
site www.ellp.net
For parents of babies and children to 8 years, Support from the Start is a local network
committed to helping our communities have the best possible start in life. They too,
offer easily accessible advice, groups, events and resources often by local people for
local people especially for babies, young children and families. To see if there is
something for you and keep up to date with what's on in please visit the Tranent
facebook page.
https://www.facebook.com/SupportfromtheStart
For general information for services for children and young people:
http://www.eastlothian.gov.uk/info/543/services_and_advice_for_young_people.
If you would like further local information please contact Lena Hutton on
Lena Hutton
Community Development Officer
Fa'side Villages
George Johnstone Centre
35 Winton Place
Tranent
East Lothian
EH33 1AE
01875 824138
ATTENDANCE
It is the policy of the school that should a child be absent due to sickness or any
other reason that the school is informed no later than 9 a.m. that morning. If a
phone call has not been received by the school by 9.15am, the school will make
every effort to find the cause of the absence to reassure us of your child's
whereabouts. On return to school your child should bring a note from a parent
indicating the cause of their absence.
We try to encourage a punctual 8.45am start in the morning to help all teachers
make a structured start to each day.
The school will not authorise holidays during term time unless exceptional
circumstances meet the required criteria set down by East Lothian Council.
LEARNING AND TEACHING METHODS USED
Learning in the school is based on a range of strategies, including investigating,
problem-solving and discussion, in addition to exposition by the teacher (or
"direct teaching methods") and often involved in activities using a wide variety of
materials.
Active learning is an approach used increasingly by teachers to maximise the
learning potential for every child as it employs a range of strategies to suit the
needs of each child's preferred learning style. It is an approach enabling pupils to
explore solutions to problems using a range of resources and materials which
they choose themselves. It enables pupils to rehearse previous learning at
activities suited to their needs. It also allows pupils to extend their learning
through role-play, imaginative play, relevant and real contexts, as well as
promoting and embedding the idea that learning is fun.
Each child will be assessed to determine his or her level of work. Class, group and
individual methods will form the basis of the teaching in order that the curriculum
can be tailored as far as possible to fit the needs of each child. Formative
assessment strategies are used in classes to enable pupils to see their own
progress daily in each of their curricular areas.
HOMEWORK
Teachers set different types of homework for different reasons to different
pupils. Homework should be well explained to children and match their needs
and abilities. Although homework is used for reinforcing or consolidating on-
going class work, it should also provide opportunities for independent learning
and parental involvement. Parents can help by ensuring that homework is done
efficiently, thoroughly and regularly. A homework policy is in place and can be
found on the school website or a paper copy can be located in the school office.
The reading homework section of the policy is currently under review as part of
the School Improvement Plan.
HOW TO MAKE A COMMENT, COMPLIMENT OR COMPLANIT ABOUT THE
COUNCIL SERVICE
From the outset, we acknowledge the value of parental partnership. Fostering
good relationships is a high priority in our school.
Parents can help in the following ways:






Working in school
Helping children with homework
Attending Parents' Evenings/Curriculum Evenings
Becoming a member of the Parent Council
Helping with educational outings
Being aware of our "Open door" policy
When parents have a concern/worry or change in family circumstances that they
think will affect their child's learning, please come into school. Arrangements will
be made to see you as soon as possible.
We are partners in providing a
productive learning environment for your children. We want them to progress.
We want them to succeed. Together we can do this for the young people in our
care.
We have copies of the Authority's leaflet "Resolving Complaints – Parents and
Schools Working Together" that details other formal avenues you may wish to
take.
CONSULTING WITH PUPILS
Under the Children (Scotland) Act 1995 the views of children should be taken into
account when major decisions are being made which will affect their lives.
Generally children over 12 years of age are presumed in law to have a view but
younger children may also be mature enough to have a view and should be given
the opportunity to express it.
We have an active Pupil Council where pupils have the opportunity to bring
concerns/issues to the school management team and where appropriate, Parent
Council.
ASL ACT 2004
This Act:







Promotes through Code of Practice involvement of children with additional
support needs in decision making processes and support their needs to enable
their involvement
The view of the child/young person and parents/carers will be recorded in the
Co-ordinated Support Plan
Code of Practice to state child/young person should play key part and should
have a supporter available at meetings as above
Expect children to attend or have the opportunity to put their views to
Tribunals
Permits young people or parents/carers to make a reference to a Tribunal –
they can attend or have the opportunity to put their views to the Tribunal if a
Hearing is called.
Parents of pupils with additional support needs can make an application for
Dispute Resolution – they should contact the Inclusion & Equality team to
discuss how to apply.
Common Ground Mediation promotes collaboration among parents, children,
schools and educational services. To use this service parents can contact the
Inclusion & Equality team for further information.
EAST LOTHIAN ACCESSIBILITY STRATEGY AND DISCRIMINATION ACT
In order to comply with current legislation, all East Lothian schools have audited
their provision in educational and physical conditions to determine any barriers
that would/could prevent access to the curriculum and environment for
prospective pupils.
EXCLUSION POLICY
East Lothian Council, Department of Services for People acknowledges the vital
partnership between schools and parents for support, behaviour and guidance of
pupils.
Pupils' views must be taken into account in accordance with the principles of the
U.N. convention 1989 and the Children (Scotland) Act 1995. Council policy
provides for the rights and responsibilities of pupils to be exercised in accordance
with the age, maturity and understanding of the pupil.
In implementing the Council's guidelines and procedures, Head Teachers and
other agencies must take into account the child's best interests. The education
and welfare of the individual pupil has to be given high priority in any balance the
Head Teacher requires to make between the needs and safety of the school as a
whole and the needs of the individual pupil.
In this respect, the secondary school Head Teacher shall be advised by the School
Cluster Group. The Head Teacher will be expected to take this advice into
consideration and to advise the School Cluster Group of the outcome.
Primary Head Teachers should seek advice on exclusions from the Manager, Pupil
Support and consult with associated professionals, e.g. Psychological Services, as
appropriate.
Wherever possible, when "no agreement" on re-admission is
reached, professional advice on alternative placement should accompany the
formal correspondence to the Director of Education and Community Services.
The Council is committed to supporting the Head Teacher in doing everything
possible to ensure good behaviour and effective attendance at school. Where
there is a discipline problem, Head Teachers must use all means at their disposal
to bring about improvements in behaviour and this must include extensive
contact with parents and other agencies, seeking their support.
Two criteria will be used to judge indiscipline; whether the effective education of
the pupil is possible given the indiscipline and whether the level of disruption to
the education of other pupils is such that serious action must be taken to prevent
this. Within the requirements of the Schools General (Scotland) Regulations
1975, where indiscipline is a serious problem, two possible courses of action are
available to Head Teachers to seek improvements in behaviour:-
TEMPORARY EXCLUSION
Under delegated power the Head Teacher may exclude a pupil for a maximum of
5 working days. The aim of such a Temporary Exclusion is to allow a cooling-off
period during which the school, the pupil and the parent can consider and
develop strategies which will help to bring about improvements in behaviour.
Crucial to the success of any strategies will be the willingness of parent, pupil and
school to work together. Every effort should be made to welcome parents as
active partners in the process of improving behaviour, whilst recognising that
changing behaviour is not easy and will require extensive and extended support.
In East Lothian, the Department of Education & Children's Services has delegated
the power to exclude a child from school attendance to the Director of Education
& Children's Services, who has in turn, delegated to Head Teachers the power to
exclude for a period of up to 5 days. When the proposed period of a Temporary
Exclusion is longer than 5 days, the decision reverts to the Director of Education &
Children's Services. Under delegated power a Head Teacher is acting on behalf of
the Council in any decision on Temporary Exclusion. It must be emphasised that
the delegation of power is to the Head Teacher, or in his/her absence, to the
teacher nominated to represent him/her. Therefore, only the Head Teacher, or if
absent, his/her representative, may sign letters dealing with Exclusion matters.
Head Teachers must ensure that a record is kept detailing incidents of pupil's
difficult behaviour and assessments of progress. It is important to record all
strategies employed to support the pupil to remain in school and that copies are
kept of notes of all meetings with parents and of letters to them in respect of
behavioural matters. In view of the fact that there may well be important and
critical events in an appeal case when the Head Teacher has to give evidence and
may be questioned by the Appeal Committee, the appellant and/or the appellant's
representative, reports should be legible, preferably typed and on official
notepaper.
EXCLUSION (Removal from the Register)
A Head Teacher may recommend Exclusion (Removal from the Register) to the
Director of Education & Children's Services when he/she has serious doubts as to
the ability to continue the pupil's education in school. A Head Teacher may not
remove such a pupil's name from the roll unless the Director has agreed to its
removal and the pupil is on the roll of another school. Temporary Exclusion
continues until the pupil is on the roll of another school. Where the Head
Teacher wishes to recommend Exclusion (Removal from the Register) and is
supported in that recommendation by the Director of Education & Children's
Services, the Head Teacher of the excluding school will actively help the Director
of Education & Children's Services to arrange for the admission of the pupil to
another mainstream school where this is indicated. This follows the procedure of
East Lothian Policy (Circular 2/99).
DRESS CODE
The Dress Code adopted at St Martin's is white or grey shirt, or white or blue
blouse with school tie, grey or dark trousers or skirt and plain black sweatshirts,
jumpers or cardigans. Sweatshirts and polo-shirts are also available. They are
embroidered with the school name. Footwear should be shoes or boots, not
trainers. Please ensure that your child's clothing, gym shoes etc. are clearly
identified. School badges and school ties can be bought at the School Office and
cost £4.00 each.
GYM KIT
This consists of a plain t-shirt and black shorts. These can be purchased from the
school. Pupils may choose to wear their own but please note we do not permit
the wearing of team colours.
lessons.
Pupils should remove all jewellery during P.E.
BEHAVIOUR POLICY
A copy of the school's Behaviour Policy is issued to all pupils on starting school.
Good discipline is necessary in a school to make it function smoothly, efficiently
and, most importantly of all, happily. At St Martin's we have a whole school
behaviour policy which is underpinned by Christian values of respect, integrity,
compassion and justice. It reinforces the East Lothian policy of "unconditional
positive regard for all learners" and aims to enable our pupils to realise their
learning potential through the development of positive attitudes towards
learning and achievement.
MEALS and MILK
Meals are provided daily and cost £1.90. Currently all P1, P2 and P3 children have
free school meals.
In order to ensure that every pupil receives the school dinner of their choice and a
reduction in waste a colour-coded cube system in now in operation at the school.
Every morning the class teacher allows time for children to choose their preferred
dinner option for that day and either a blue, green or yellow cube is given to them
at lunch time which they exchange for their dinner. A blue cube represents the
meat option, a green cube represents the vegetarian option and a yellow cube
represents the baked potato.
Provision is made for those children wishing to bring their own packed lunches.
Children in P6 and P7 have the option of having their packed lunch outside at the
picnic benches.
Please note: the school milk provided now is semi-skimmed.
MEDICAL CARE

The School Health Service – "Throughout your child's years at primary and
secondary school, a team of specialist Health Service and Education staff will
be seeing him/her as part of a planned programme to make sure that he/she
benefits as much as possible from all that the school has to offer and to
prepare him/her for life after leaving school. The School Health Service is part
of the Community Child Health Service and has direct links with those who
carry out health checks on children before they start school".
Many different services are provided. The issue of maintaining confidentiality is
taken seriously by the School Health Team at all times. The staff involved make
every effort to work closely with parents and with others who are caring for your
child, both at school and in other branches of the Health Service.
School Nurses are involved with the health promotion and education, prevention
of ill health and immunisation, health surveillance and screening. The attention
of School Doctor is drawn to any possible problems and parents and the family
doctor are informed if any further action is considered necessary. The School
Nurse may be helped by a Health Assistant. The School Nurse acts as an
important link between home and school. She visits school regularly and liaises
with the teachers to find out whether any pupils have a health need that requires
to be addressed. The School Nurse can link with other members of the health
team in the community or in hospital concerned with a child's health.
The Nurse reviews the notes of all children in Primary 1, 4 and 7 as well as those of
all new entrants.
An information booklet about the Health Service is issued to all Primary 1 pupils
and any new pupils coming from out with the Lothian area.
Parents are also asked to complete a health questionnaire about their child in
Primary 1 and 7 and asked if they would like their child to have a medical
consultation with the School Doctor. The School Doctor is trained in community
paediatrics and is part of a team of doctors including a Consultant Community
Paediatrician for your area. In addition, the doctor may ask for your consent to
examine your child if his/her medical records are incomplete or if the doctor
particularly wishes to check up on his/her progress. You will be invited to be
present at any medical examination and be informed if the school doctor wishes
to see your child again or thinks that he/she should be seen by your family doctor
or a specialist in paediatrics. You can, if you wish, arrange for your family doctor
to undertake the examinations instead of the school doctor but you may be
charged a fee for this.
The school doctor will be pleased to see you and your child at a mutually
convenient time if you are concerned about his/her health or general progress at
school.
The audiometric team who check children's hearing will not visit the school to
check pupils' hearing. Instead, they will provide a local clinic based appointment
only service for all school children requiring a hearing assessment. These include:

All children who are due to have a routine re-test as a result of being
found to have a hearing loss at a previous test in school or as a preschool child.

All school age children newly referred for assessment, either Primary 1
or other years.

The school medical officer will inform the school of result of any assessment.
The speech and language therapist can provide assessment, and if necessary,
treatment if you, a teacher, your GP or school doctor feels that your child may
have a speech or language problem.
Any enquiries concerning the provision of dental services should be made to the
Director of the Community Dental Service, 16 Duncan Street, Edinburgh EH9 1SR
(tel. No. 0131 667 7114).
We hope that the School Health Service can, together with yourselves, contribute
to your child's overall well-being and development. Please do not hesitate to
arrange, through the Head Teacher to see the school doctor or school nurse if you
want some more information."
ADMINISTRATION OF MEDICAL PROCEDURES
All members of staff who have agreed to be trained in the administration of
specific drugs to pupils suffering from an epileptic seizure or a severe allergic
reaction and who are required to apply specific drugs to those pupils will be
covered by East Lothian Council's Public Liability Policy.
If your child requires medication throughout the school day, please ensure you
have completed and signed the appropriate form which can be obtained from the
School Office. Please note that no medication can be administered to a pupil
without parental consent.
EARLY CLOSURES
In the event of planned early closures, parents will be given previous warning. In
cases of unforeseen closures all parents/carers will be informed via text message
or telephone call. Where a parent was unable to collect a child, the school will
then phone the emergency contact to make arrangements to have the child
collected. It is therefore vital that contact information is kept up to date.
SCHOOL and COMMUNITY
The vision of our school: St. Martin's - A learning Place for All.
We see our school as integrated into the community and with an active part to
play in it. We welcome liaison and partnership with all community groups and we
encourage all members of the community to interact with the school and the
pupils and to come to events.
We welcome all parent helpers into the school and value the contribution they
make to the everyday practice in the school. We work very closely with our
Parish Priest (Fr. Jim Smith) to take forward the new RME programme called 'This
is Our Faith' and ensure that both pupils and parents are supported on the
sacramental journey of faith.
Class teachers offer an after school club throughout the year and adult night
schools will be available in the new year starting with hair and beauty lead by
parents in the school.
The school is available for use by the community for various events.
Please
contact the school office for details of how to apply for lets or the telephone
number to contact direct is 01620 827406.
St Martin's RCPS Parent Council
Chair Person– Trisha Higginson
Vice Chair – Katie McFarlane
Treasurer – Vicky Bathgate
P1 Parent Rep – Karen Masterton
P2 Parent Rep – Katie McFarlane
P3 Parent Rep – Fiona Buchannan
P4 Parent Rep – Suzanne King/John Fettes
P5 Parent Rep – Vicky Bathgate
P6 Parent Rep – Trisha Higginson
P7 Parent Rep – Pauline Edmond
Clerk – Mrs Beverley Esamal
Advisor to the board - Head Teacher Stephanie McDonald
Staff Rep – Mrs Fiona Hayes (Acting Principal Teacher / P5)
Staff Rep – Miss Lauren Docherty (P1 Class Teacher)
Staff Rep – Angela Carlyle (P4 Class Teacher)
Staff Rep - Anne Orr (Nursery Nurse)
The Parent Council work throughout the year to organise events that raise money
for school funds. Many school trips are subsidised by the Parent Council making
the cost for each family much less. If you would like to offer your support or
simply to get in touch with our Parent Council then please contact them by email
at [email protected] They also have a face book page that
you can contact them on or you can simply speak to one of the stated members in
person.
The types of things our Parent Council get involved in include:
 supporting the work of the school
 gathering and representing parents' views to the Head Teacher, Education
Authority and HMIE

promoting contact between the school, parents, pupils and the local
community (for example running P5/P6 youth club for local cluster schools)
 involvement in the appointment of senior school staff
 fundraising
In St Martins we have a very active fundraising group as part of our Parent
Council. Main events are Summer Fun Day and Christmas Fayre, but we also
organise quiz nights / bingo nights / raffles etc.
We try to make use of local & national funding, such as local community council
funding to help pay for supplies to build the eco greenhouse & national lottery
money.
We actively encourage grandparents, carers, friends of St Martin's and local
community involvement in the school. Everyone who can spare some time to help
within the school is welcome.
PUPIL COUNCIL
We have a core group of pupils from Primaries 3, 4, 5, 6 and 7 who meet eight
times over the school year to discuss issues raised by all the classes. A member
of the Parent Council now helps the teacher who works with the Pupil Council to
aid communication between both councils. The Pupil Council are taking on a
growing amount of responsibility in the whole school and their news can be seen
on the school website and in the school corridor on their Pupil Council notice
board.
HOUSE CAPTAINS / VICE CAPTAINS
This year the house captains and the vice captains of Esk, Tyne and Forth have a
great deal more responsibility. Added to their duties they now have a major role
in ensuring the smooth running of the policy throughout the school on a daily
basis. Some of their duties include collecting house point cards, playground and
dinner hall discs and house point charts from all of the classes.
JUNIOR ROAD SAFETY OFFICERS
Four children from Primary 7 form the core of the J.R.S.O. and attend the launch
of the Walk to School Campaign and record their findings in a school survey as
well as organising competitions to encourage road safety. They have regular
meetings with the appointed member of staff. They work with Iain Reid (East
Lothian Transport Officer) to strive to continue to improve the traffic situation
outside the school.
ANTI-BULLYING CO-ORDINATORS
Two children from Primary 7 ensure that all children feel safe and happy in the
playground at morning and lunchtime breaks. They have regular meetings with a
member of staff.
ECO COMMITTEE
A group of pupils from P4 – P7 who meet 4 times over the school year to discuss
ECO issues raised by the classes and also issues raised locally and nationally. A
Class Teacher takes on the overall responsibility of the delegation of duties and
organisation of meetings outside of school hours but the main responsibilities are
with the pupils to work towards St. Martin's attaining their Green Flag.
ICT CO-ORDINATORS
The ICT co-ordinators have the responsibility of working with a member of staff to
update the school website.