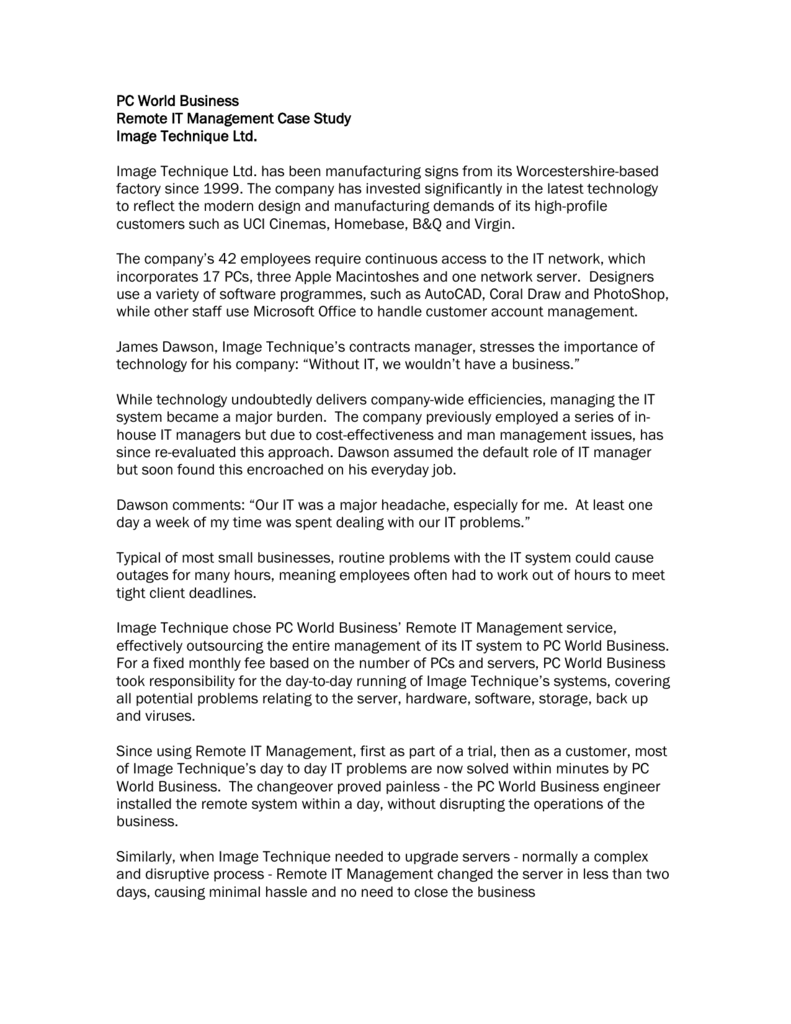 PC World Business
Remote IT Management Case Study
Image Technique Ltd.
Image Technique Ltd. has been manufacturing signs from its Worcestershire-based
factory since 1999. The company has invested significantly in the latest technology
to reflect the modern design and manufacturing demands of its high-profile
customers such as UCI Cinemas, Homebase, B&Q and Virgin.
The company's 42 employees require continuous access to the IT network, which
incorporates 17 PCs, three Apple Macintoshes and one network server. Designers
use a variety of software programmes, such as AutoCAD, Coral Draw and PhotoShop,
while other staff use Microsoft Office to handle customer account management.
James Dawson, Image Technique's contracts manager, stresses the importance of
technology for his company: "Without IT, we wouldn't have a business."
While technology undoubtedly delivers company-wide efficiencies, managing the IT
system became a major burden. The company previously employed a series of inhouse IT managers but due to cost-effectiveness and man management issues, has
since re-evaluated this approach. Dawson assumed the default role of IT manager
but soon found this encroached on his everyday job.
Dawson comments: "Our IT was a major headache, especially for me. At least one
day a week of my time was spent dealing with our IT problems."
Typical of most small businesses, routine problems with the IT system could cause
outages for many hours, meaning employees often had to work out of hours to meet
tight client deadlines.
Image Technique chose PC World Business' Remote IT Management service,
effectively outsourcing the entire management of its IT system to PC World Business.
For a fixed monthly fee based on the number of PCs and servers, PC World Business
took responsibility for the day-to-day running of Image Technique's systems, covering
all potential problems relating to the server, hardware, software, storage, back up
and viruses.
Since using Remote IT Management, first as part of a trial, then as a customer, most
of Image Technique's day to day IT problems are now solved within minutes by PC
World Business. The changeover proved painless - the PC World Business engineer
installed the remote system within a day, without disrupting the operations of the
business.
Similarly, when Image Technique needed to upgrade servers - normally a complex
and disruptive process - Remote IT Management changed the server in less than two
days, causing minimal hassle and no need to close the business
"We're not very technical, so we need to bring in cost effective IT expertise. With
Remote IT Management, general day to day issues are now resolved within minutes.
This includes everything from minor printing problems to keeping up to date with antivirus measures – minor problems that can still eat into your normal working day,"
commented Dawson.
"We've thrown loads of problems at the PC World Business engineers – they remotely
log onto our computers, and because they know our IT network, no problem persists
for longer than a few minutes."
In terms of the benefits that Remote IT Management brings to the overall business,
Dawson is very clear. "Now I'm completely freed up to do my day job. As with many
other small businesses, having dedicated in-house IT support is just not viable. Now I
can safely say that our IT is left to the experts."
PC World Business' Remote IT Management service is available to businesses and
public sector organisations with any number of PCs as long as there is at least one
server, and costs from £200 per server and £12.50 per PC per month. For further
information on the service please call Pete Dutton on 0161 447 3330.