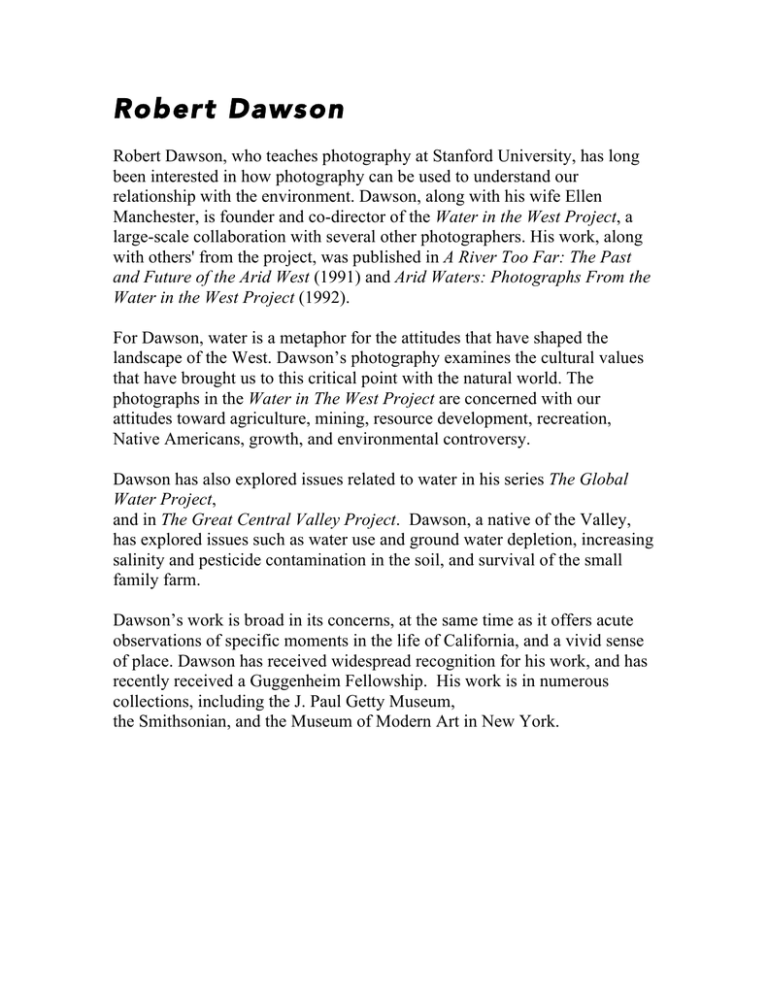 Robert Dawson
Robert Dawson, who teaches photography at Stanford University, has long
been interested in how photography can be used to understand our
relationship with the environment. Dawson, along with his wife Ellen
Manchester, is founder and co-director of the Water in the West Project, a
large-scale collaboration with several other photographers. His work, along
with others' from the project, was published in A River Too Far: The Past
and Future of the Arid West (1991) and Arid Waters: Photographs From the
Water in the West Project (1992).
For Dawson, water is a metaphor for the attitudes that have shaped the
landscape of the West. Dawson's photography examines the cultural values
that have brought us to this critical point with the natural world. The
photographs in the Water in The West Project are concerned with our
attitudes toward agriculture, mining, resource development, recreation,
Native Americans, growth, and environmental controversy.
Dawson has also explored issues related to water in his series The Global
Water Project,
and in The Great Central Valley Project. Dawson, a native of the Valley,
has explored issues such as water use and ground water depletion, increasing
salinity and pesticide contamination in the soil, and survival of the small
family farm.
Dawson's work is broad in its concerns, at the same time as it offers acute
observations of specific moments in the life of California, and a vivid sense
of place. Dawson has received widespread recognition for his work, and has
recently received a Guggenheim Fellowship. His work is in numerous
collections, including the J. Paul Getty Museum,
the Smithsonian, and the Museum of Modern Art in New York.