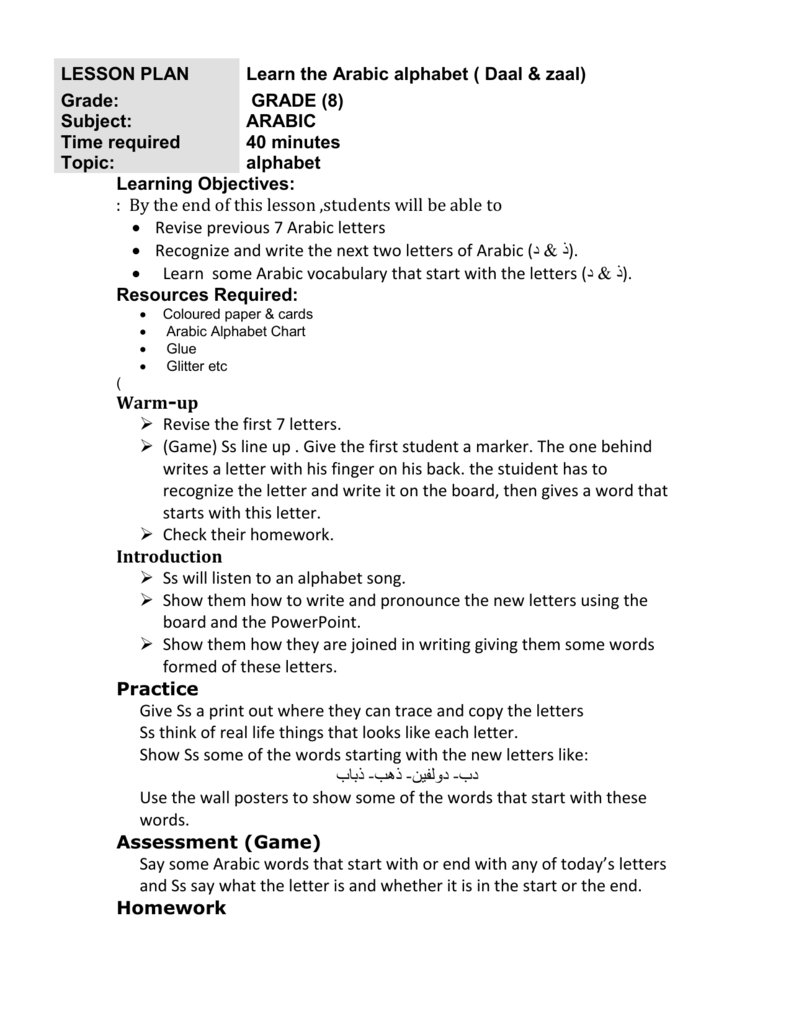 LESSON PLAN
Learn the Arabic alphabet ( Daal & zaal)
Grade:
GRADE (8)
Subject:
ARABIC
Time required
40 minutes
Topic:
alphabet
Learning Objectives:
: By the end of this lesson ,students will be able to
 Revise previous 7 Arabic letters
 Recognize and write the next two letters of Arabic (‫)ذ & د‬.
 Learn some Arabic vocabulary that start with the letters (‫)ذ & د‬.
Resources Required:




Coloured paper & cards
Arabic Alphabet Chart
Glue
Glitter etc
(
Warm-up
 Revise the first 7 letters.
 (Game) Ss line up . Give the first student a marker. The one behind
writes a letter with his finger on his back. the stuident has to
recognize the letter and write it on the board, then gives a word that
starts with this letter.
 Check their homework.
Introduction
 Ss will listen to an alphabet song.
 Show them how to write and pronounce the new letters using the
board and the PowerPoint.
 Show them how they are joined in writing giving them some words
formed of these letters.
Practice
Give Ss a print out where they can trace and copy the letters
Ss think of real life things that looks like each letter.
Show Ss some of the words starting with the new letters like:
‫ ذباب‬-‫ ذهب‬-‫ دولفين‬-‫دب‬
Use the wall posters to show some of the words that start with these
words.
Assessment (Game)
Say some Arabic words that start with or end with any of today's letters
and Ss say what the letter is and whether it is in the start or the end.
Homework
A print out that contains the words for Ss to copy.
Evaluation:
After the lesson write on the reverse of this plan what went well and
what didn't go so well. Make a note of any improvements that could be
made to this lesson plan.