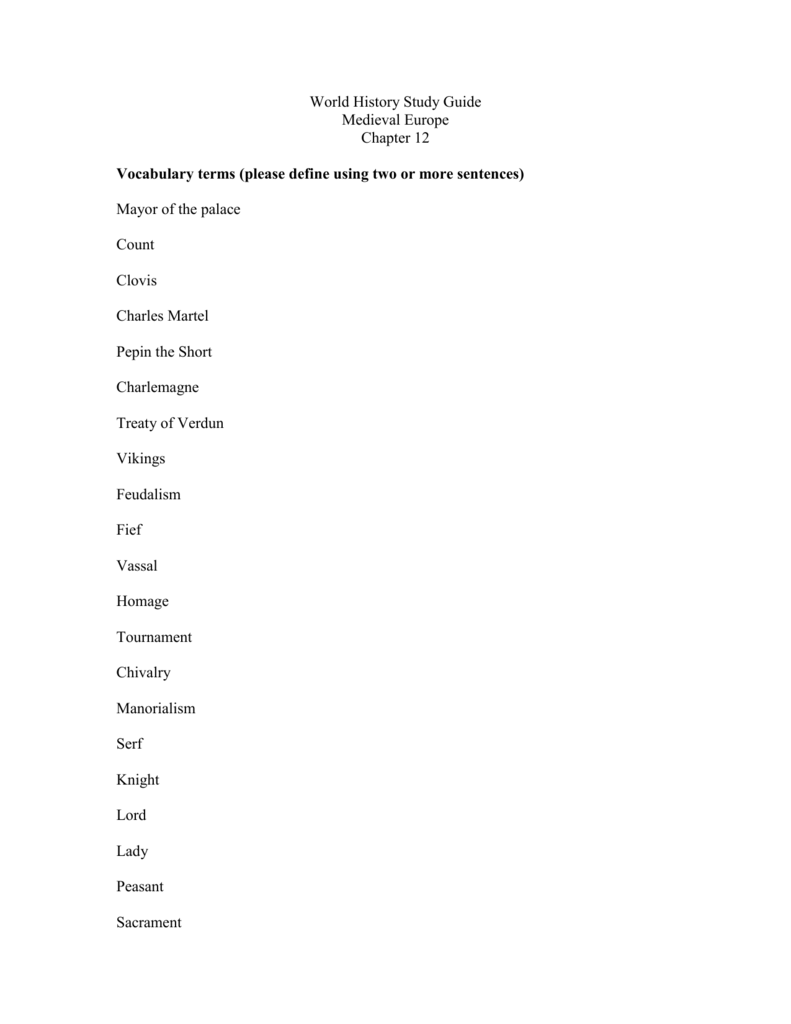 World History Study Guide
Medieval Europe
Chapter 12
Vocabulary terms (please define using two or more sentences)
Mayor of the palace
Count
Clovis
Charles Martel
Pepin the Short
Charlemagne
Treaty of Verdun
Vikings
Feudalism
Fief
Vassal
Homage
Tournament
Chivalry
Manorialism
Serf
Knight
Lord
Lady
Peasant
Sacrament
Abbot
Abbess
Cardinal
Lay investitutre
Heresy
Excommunication
Friar
Benedict
Gergory I
Grergory VII
Innocent III
Francis of Assisi
Dominic
Common law
Grand jury
Petit jury
Middle class
Alfred the Great
William he Conqueror
Henry II
Eleanor of Aquitaine
Magna Carta
Philip Augustus
Henry IV
Short Answer Questions (complete answer should result in several sentences)
1. How did Charlemagne work to achieve European unity? How are European leaders
trying to achieve the same goal in Europe today?
2. Why did the Vikings, the Magyars and the Slavs leave their homelands and invade
western Europe?
3. Compare and contrast the feudal class structure in medieval Europe with the varna
system in early India discussed in chapter 8.
4. Diagram the ways nobles, knights and peasants cooperated during the medieval
period.
5. Imagine that you are a religious but superstitious peasant living during the Middle
Ages. Invent an explanation for the famine that has struck your village.
6. How effective were the actions of the Catholic Church in trying to make all western
European believe and practice one faith?
7. Judge the importance of the Magna Carta and the English Parliament in the
development of representative government
8. What caused conflicts between popes and monarchs? Could they have been avoided?