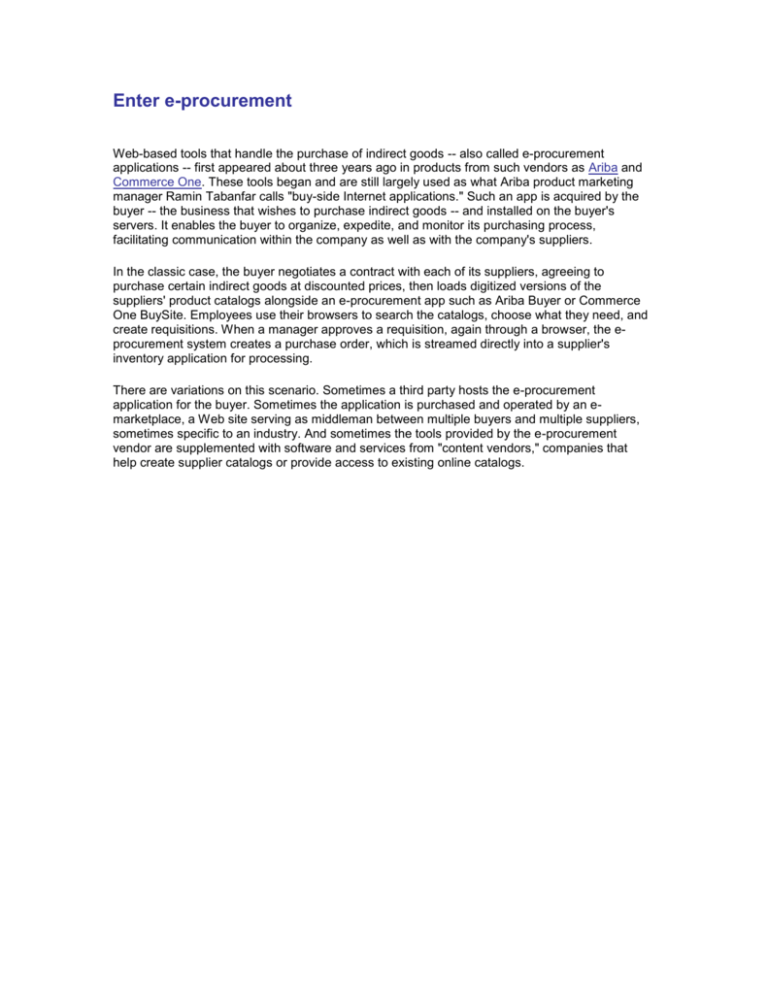 Enter e-procurement
Web-based tools that handle the purchase of indirect goods -- also called e-procurement
applications -- first appeared about three years ago in products from such vendors as Ariba and
Commerce One. These tools began and are still largely used as what Ariba product marketing
manager Ramin Tabanfar calls "buy-side Internet applications." Such an app is acquired by the
buyer -- the business that wishes to purchase indirect goods -- and installed on the buyer's
servers. It enables the buyer to organize, expedite, and monitor its purchasing process,
facilitating communication within the company as well as with the company's suppliers.
In the classic case, the buyer negotiates a contract with each of its suppliers, agreeing to
purchase certain indirect goods at discounted prices, then loads digitized versions of the
suppliers' product catalogs alongside an e-procurement app such as Ariba Buyer or Commerce
One BuySite. Employees use their browsers to search the catalogs, choose what they need, and
create requisitions. When a manager approves a requisition, again through a browser, the eprocurement system creates a purchase order, which is streamed directly into a supplier's
inventory application for processing.
There are variations on this scenario. Sometimes a third party hosts the e-procurement
application for the buyer. Sometimes the application is purchased and operated by an emarketplace, a Web site serving as middleman between multiple buyers and multiple suppliers,
sometimes specific to an industry. And sometimes the tools provided by the e-procurement
vendor are supplemented with software and services from "content vendors," companies that
help create supplier catalogs or provide access to existing online catalogs.