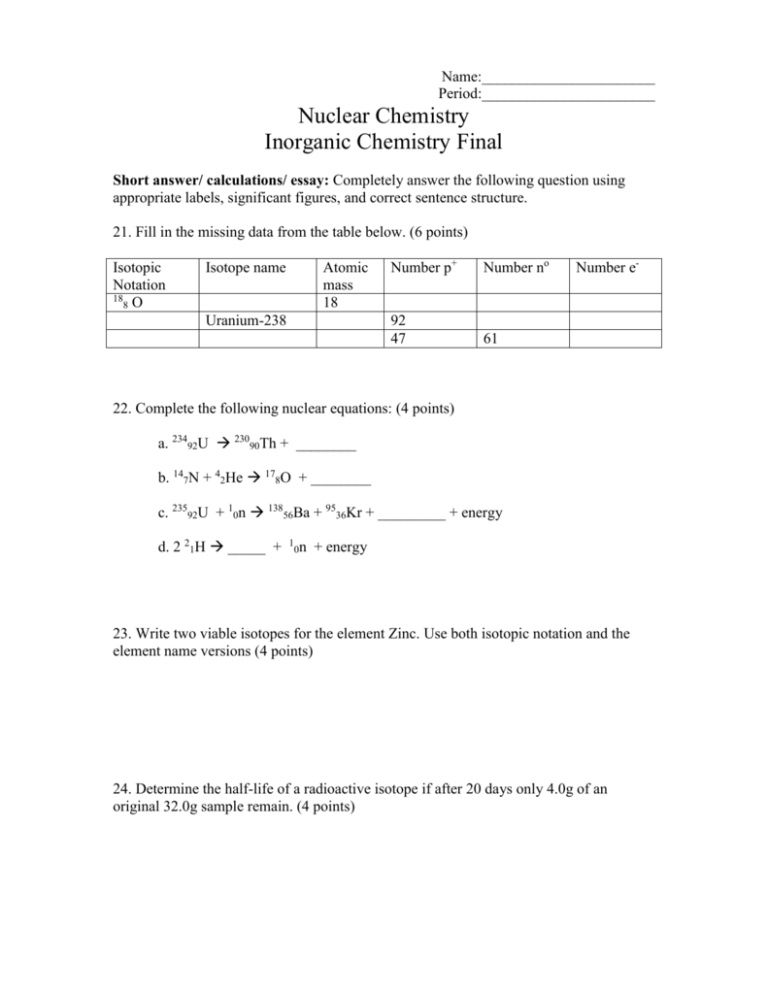 Name:_______________________
Period:_______________________
Nuclear Chemistry
Inorganic Chemistry Final
Short answer/ calculations/ essay: Completely answer the following question using
appropriate labels, significant figures, and correct sentence structure.
21. Fill in the missing data from the table below. (6 points)
Isotopic
Notation
18
8O
Isotope name
Atomic
mass
18
Uranium-238
Number p+
Number no
92
47
61
Number e-
22. Complete the following nuclear equations: (4 points)
a. 23492U  23090Th + ________
b. 147N + 42He  178O + ________
c. 23592U + 10n  13856Ba + 9536Kr + _________ + energy
d. 2 21H  _____ +
1
0n
+ energy
23. Write two viable isotopes for the element Zinc. Use both isotopic notation and the
element name versions (4 points)
24. Determine the half-life of a radioactive isotope if after 20 days only 4.0g of an
original 32.0g sample remain. (4 points)
25. a. How is nuclear fission different from radioactive decay?
b. How is nuclear fission different from nuclear fusion?
c. Why isn't nuclear fusion used as a controlled source of energy?
26. What do we mean by one radioactive nucleus is 'hotter' than another? Which element
would have more decay over a given period of time?
27. The most abundant isotope of helium has a 42 He nucleus whose mass is
6.6447 x 10 -27 kg. Find (a) the mass defect and (b) the binding energy
28. For lead 20682 Pb (atomic mass = 205.974440 amu) obtain (a) the mass defect in
atomic mass units, (b) the mass defect in kilograms, and (c) the binding energy in Joules
Bonus Extra Credit: 5% Added to test score
What is the STUDY TIP on the page of May 25-31 in your Planner?