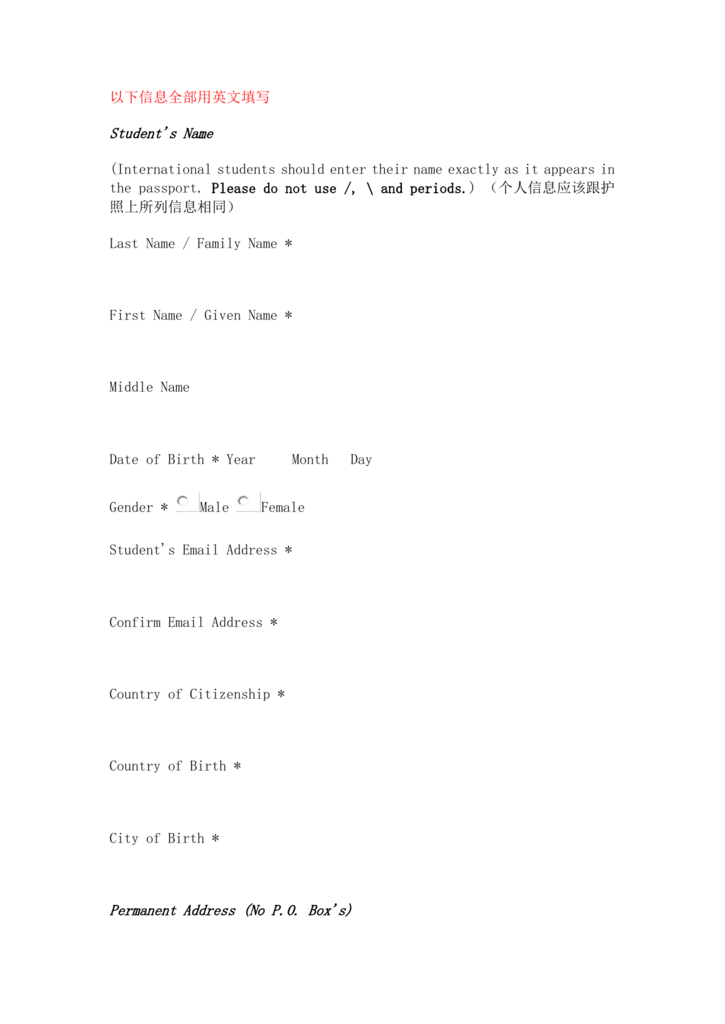 以下信息全部用英文填写
Student's Name
(International students should enter their name exactly as it appears in
the passport. Please do not use /, \ and periods.) (个人信息应该跟护
照上所列信息相同)
Last Name / Family Name *
First Name / Given Name *
Middle Name
Date of Birth * Year
Gender *
Male
Month
Day
Female
Student's Email Address *
Confirm Email Address *
Country of Citizenship *
Country of Birth *
City of Birth *
Permanent Address (No P.O. Box's)
Street Address 1 (No. P.O. Boxes) *
Street Address 2
City *
Zip / Postal Code
Country *
Home Telephone Number (include area code first) *
ACADEMIC BACKGROUND
UCLA Experience
Have you ever attended, applied to, or worked at UCLA before? *
Yes
No
Academic Experience
Do you have a University degree? *
Yes
No
If not, are you expecting your degree before summer?
Yes
No
EMERGENCY CONTACT INFORMATION - PLEASE NOTE THAT THE CONTACT(S) MUST BE
18 OR OLDER (此信息用于在紧急情况下联系,这里的联系人最后会讲英文,可
以为父母,亲戚,监护人或者其他可以在紧急情况下联系到你父母的人)
Name of Emergency Contact *
Relationship *
Primary telephone (include area code first) *
Work telephone (include area code first)
Mobile telephone (include area code first)
Email Address *
Street Address 1 (No P.O. Boxes) *
Street Address 2
City *
State / Province / Region (if applicable)
Zip Code
Country *
COURSE SELECTION
Please carefully list the complete 9-digit course ID number for only the
courses you intend to enroll in. You can find the course ID numbers in
the Schedule of Classes.
NOTE: Enrollment is not guaranteed as it is a competitive process. You
can confirm enrollments by logging into your MyUCLA account within 24
hours of submitting this form.
Courses
Course ID
Units
Grade Option
for variable unit courses only
Course 1
Course 2
Course 3
Course 4

students
should
go
to
the
schedule
of
classes
at
http://www.registrar.ucla.edu/schedule/schedulehome.aspx to select courses ID numbers.
To search for courses select Summer 2014, then the subject, then click "Get Classes".
Click on a course title, then click "View Course" to see detailed infor-mation.
Select a minimum of 2 courses and write down or copy the 9 digit ID number for each
desired course.
Enter course IDs on the registration form.
Units - In most cases, the unit field can be left blank as most courses have a set number of
units. However, variable unit courses are those which do not have a default unit setting. The
student must therefore choose the number of units. An error will appear if the field is left
blank for a variable unit course.
Grade Option – L for Letter Grade of A,B, C, D, or F. P/NP for Passed/ Not Passed. If left blank,
the default for the course will be applied and may be changed from URSA. Some courses will
have a default setting which cannot be changed.