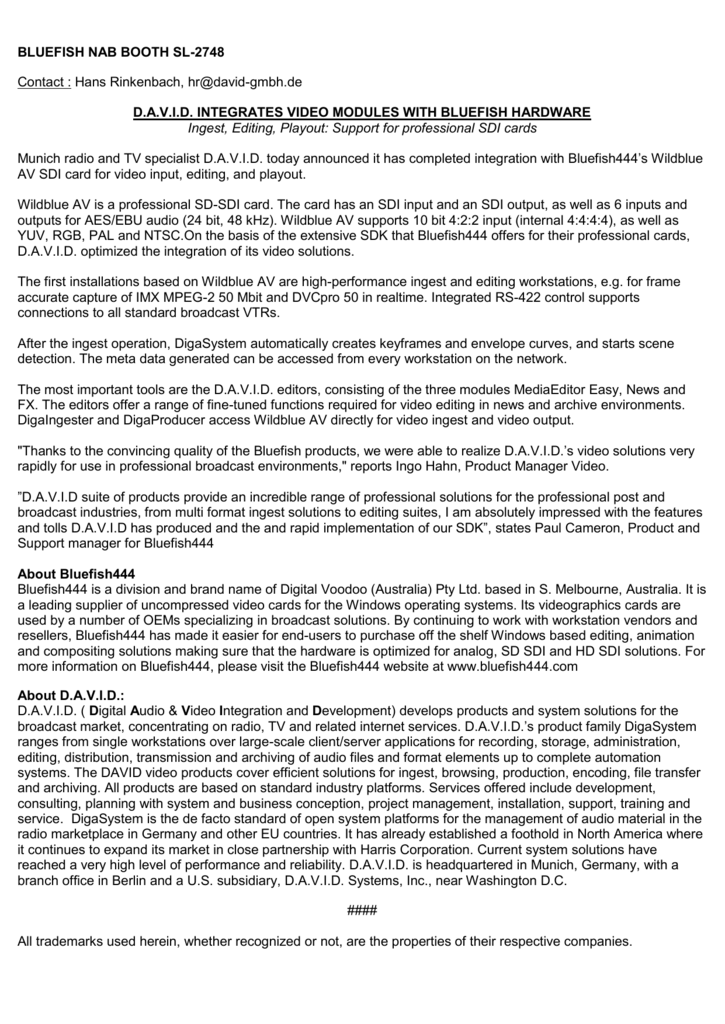 BLUEFISH NAB BOOTH SL-2748
Contact : Hans Rinkenbach, [email protected]
D.A.V.I.D. INTEGRATES VIDEO MODULES WITH BLUEFISH HARDWARE
Ingest, Editing, Playout: Support for professional SDI cards
Munich radio and TV specialist D.A.V.I.D. today announced it has completed integration with Bluefish444's Wildblue
AV SDI card for video input, editing, and playout.
Wildblue AV is a professional SD-SDI card. The card has an SDI input and an SDI output, as well as 6 inputs and
outputs for AES/EBU audio (24 bit, 48 kHz). Wildblue AV supports 10 bit 4:2:2 input (internal 4:4:4:4), as well as
YUV, RGB, PAL and NTSC.On the basis of the extensive SDK that Bluefish444 offers for their professional cards,
D.A.V.I.D. optimized the integration of its video solutions.
The first installations based on Wildblue AV are high-performance ingest and editing workstations, e.g. for frame
accurate capture of IMX MPEG-2 50 Mbit and DVCpro 50 in realtime. Integrated RS-422 control supports
connections to all standard broadcast VTRs.
After the ingest operation, DigaSystem automatically creates keyframes and envelope curves, and starts scene
detection. The meta data generated can be accessed from every workstation on the network.
The most important tools are the D.A.V.I.D. editors, consisting of the three modules MediaEditor Easy, News and
FX. The editors offer a range of fine-tuned functions required for video editing in news and archive environments.
DigaIngester and DigaProducer access Wildblue AV directly for video ingest and video output.
"Thanks to the convincing quality of the Bluefish products, we were able to realize D.A.V.I.D.'s video solutions very
rapidly for use in professional broadcast environments," reports Ingo Hahn, Product Manager Video.
"D.A.V.I.D suite of products provide an incredible range of professional solutions for the professional post and
broadcast industries, from multi format ingest solutions to editing suites, I am absolutely impressed with the features
and tolls D.A.V.I.D has produced and the and rapid implementation of our SDK", states Paul Cameron, Product and
Support manager for Bluefish444
About Bluefish444
Bluefish444 is a division and brand name of Digital Voodoo (Australia) Pty Ltd. based in S. Melbourne, Australia. It is
a leading supplier of uncompressed video cards for the Windows operating systems. Its videographics cards are
used by a number of OEMs specializing in broadcast solutions. By continuing to work with workstation vendors and
resellers, Bluefish444 has made it easier for end-users to purchase off the shelf Windows based editing, animation
and compositing solutions making sure that the hardware is optimized for analog, SD SDI and HD SDI solutions. For
more information on Bluefish444, please visit the Bluefish444 website at www.bluefish444.com
About D.A.V.I.D.:
D.A.V.I.D. ( Digital Audio & Video Integration and Development) develops products and system solutions for the
broadcast market, concentrating on radio, TV and related internet services. D.A.V.I.D.'s product family DigaSystem
ranges from single workstations over large-scale client/server applications for recording, storage, administration,
editing, distribution, transmission and archiving of audio files and format elements up to complete automation
systems. The DAVID video products cover efficient solutions for ingest, browsing, production, encoding, file transfer
and archiving. All products are based on standard industry platforms. Services offered include development,
consulting, planning with system and business conception, project management, installation, support, training and
service. DigaSystem is the de facto standard of open system platforms for the management of audio material in the
radio marketplace in Germany and other EU countries. It has already established a foothold in North America where
it continues to expand its market in close partnership with Harris Corporation. Current system solutions have
reached a very high level of performance and reliability. D.A.V.I.D. is headquartered in Munich, Germany, with a
branch office in Berlin and a U.S. subsidiary, D.A.V.I.D. Systems, Inc., near Washington D.C.
####
All trademarks used herein, whether recognized or not, are the properties of their respective companies.