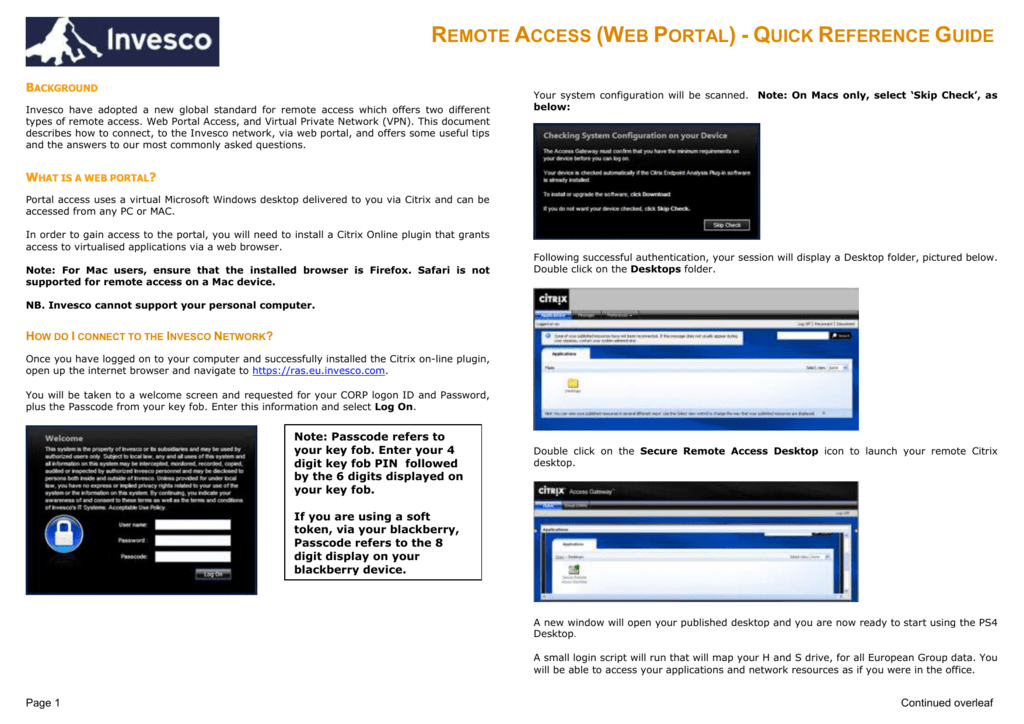 REMOTE ACCESS (WEB PORTAL) - QUICK REFERENCE GUIDE
BACKGROUND
Invesco have adopted a new global standard for remote access which offers two different
types of remote access. Web Portal Access, and Virtual Private Network (VPN). This document
describes how to connect, to the Invesco network, via web portal, and offers some useful tips
and the answers to our most commonly asked questions.
Your system configuration will be scanned. Note: On Macs only, select 'Skip Check', as
below:
WHAT IS A WEB PORTAL?
Portal access uses a virtual Microsoft Windows desktop delivered to you via Citrix and can be
accessed from any PC or MAC.
In order to gain access to the portal, you will need to install a Citrix Online plugin that grants
access to virtualised applications via a web browser.
Note: For Mac users, ensure that the installed browser is Firefox. Safari is not
supported for remote access on a Mac device.
Following successful authentication, your session will display a Desktop folder, pictured below.
Double click on the Desktops folder.
NB. Invesco cannot support your personal computer.
HOW DO I CONNECT TO THE INVESCO NETWORK?
Once you have logged on to your computer and successfully installed the Citrix on-line plugin,
open up the internet browser and navigate to https://ras.eu.invesco.com.
You will be taken to a welcome screen and requested for your CORP logon ID and Password,
plus the Passcode from your key fob. Enter this information and select Log On.
Note: Passcode refers to
your key fob. Enter your 4
digit key fob PIN followed
by the 6 digits displayed on
your key fob.
Double click on the Secure Remote Access Desktop icon to launch your remote Citrix
desktop.
If you are using a soft
token, via your blackberry,
Passcode refers to the 8
digit display on your
blackberry device.
A new window will open your published desktop and you are now ready to start using the PS4
Desktop.
A small login script will run that will map your H and S drive, for all European Group data. You
will be able to access your applications and network resources as if you were in the office.
Page 1
Continued overleaf
HOW DO I ACCESS APPLICATIONS IN THE PUBLISHED DESKTOP?
Select Start, in the bottom left hand corner and All Programs. This will display a list of
available applications. Most of your Citrix applications will also be available, with the
exception of Project and Visio.
HOW DO I DISCONNECT FROM THE INVESCO NETWORK
Before disconnecting from the network ensure you have saved any work, you may have open,
and closed any open applications; then select start and Logoff. This will end your published
desktop session. Then select Disconnect, as pictured below, to end your Citrix session
HELP
Your first point of contact for all IT related issues is the IT Service Desk. Telephone: EMEA &
Asia Pacific: 0044 1491 417300 or North America: 877-992-8972
The Secure Remote Access Desktop is fully integrated to use local printers. If you have a
printer attached to your personal computer, you can use this to print documents from the
published desktop.