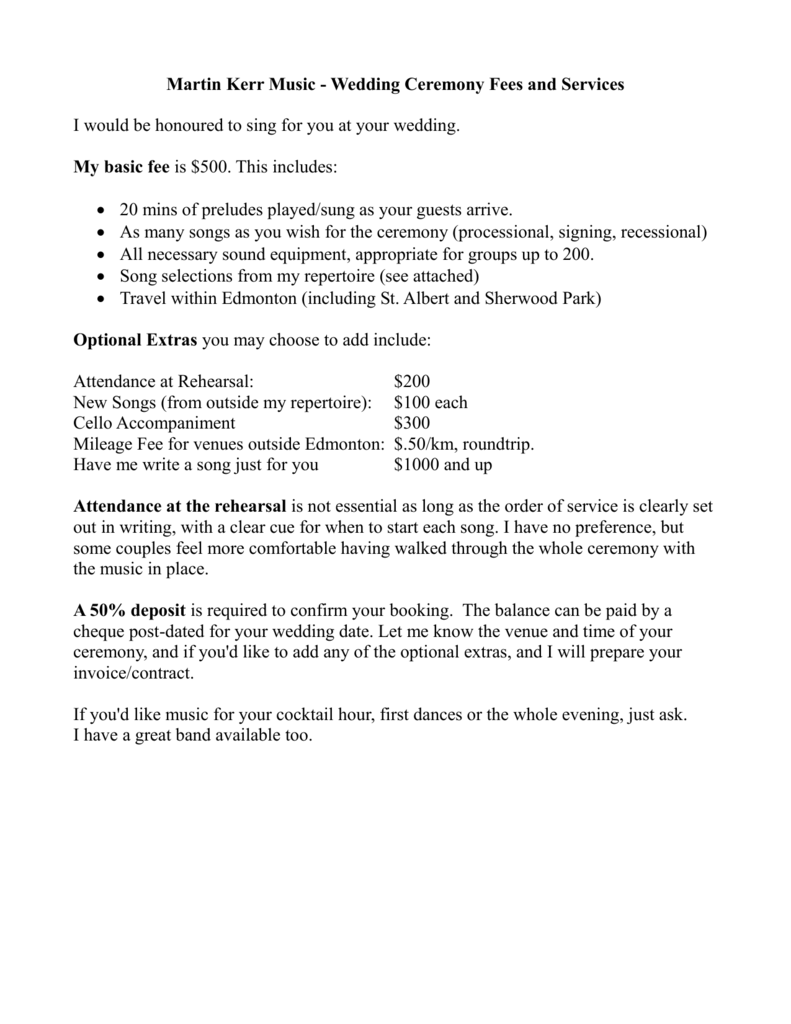 Martin Kerr Music - Wedding Ceremony Fees and Services
I would be honoured to sing for you at your wedding.
My basic fee is $500. This includes:





20 mins of preludes played/sung as your guests arrive.
As many songs as you wish for the ceremony (processional, signing, recessional)
All necessary sound equipment, appropriate for groups up to 200.
Song selections from my repertoire (see attached)
Travel within Edmonton (including St. Albert and Sherwood Park)
Optional Extras you may choose to add include:
Attendance at Rehearsal:
New Songs (from outside my repertoire):
Cello Accompaniment
Mileage Fee for venues outside Edmonton:
Have me write a song just for you
$200
$100 each
$300
$.50/km, roundtrip.
$1000 and up
Attendance at the rehearsal is not essential as long as the order of service is clearly set
out in writing, with a clear cue for when to start each song. I have no preference, but
some couples feel more comfortable having walked through the whole ceremony with
the music in place.
A 50% deposit is required to confirm your booking. The balance can be paid by a
cheque post-dated for your wedding date. Let me know the venue and time of your
ceremony, and if you'd like to add any of the optional extras, and I will prepare your
invoice/contract.
If you'd like music for your cocktail hour, first dances or the whole evening, just ask.
I have a great band available too.
Popular Songs for Wedding Ceremonies (alphabetical)
1. A Woman Like You – Lee Brice
2. All You Need is Love – The Beatles
3. Amazed – Lonestar
4. Angels – Robbie Williams
5. As the World Falls Down – David Bowie (from 'Labyrinth')
6. Baby Can I hold You – Tracy Chapman
7. ǂBetter Together – Jack Johnson
8. Brown Eyed Girl – Van Morrison
9. *Crazy Love – Van Morisson
10.Gone, Gone, Gone – Phillip Phillips
11.Grow Old With You – Adam Sandler (from 'The Wedding Singer')
12.Hallelujah – Leonard Cohen
13.Here Comes the Sun – The Beatles
14.Hey There Delilah – Plain White Tees
15.I Cross my heart – George Strait
16.ǂI'm Yours – Jason Mraz
17.In My Life – the Beatles
18.In This Life – Chantal Kreviazuk
19.*Into the Mystic – Van Morrison
20.In Your Eyes – Peter Gabriel
21.I Won't Give Up – Jason Mraz
22.I Will Follow You Into The Dark – Death Cab for Cutie
23.Lost Together – Blue Rodeo
24.Lovely Tonight – Josh Radin
25.Making Memories of Us – Keith Urban
26.Marry Me - Train
27.Morning Has Broken – Cat Stevens
28.My Girl – The Temptations
29.The Blower's Daughter – Damien Rice
30.*The Book of Love – Magnetic Fields / Peter Gabriel
31.The First Time ever I saw your face – Ewan Macoll / Roberta Flack
32.*True Companion – Marc Cohn
33.ǂWhen I'm 64 – The Beatles
34.*When You Say Nothing at All – Keith Whitley / Alison Krauss
35.ǂ(What a) Wonderful World – Sam Cooke [not the Louis Armstrong song]
36.Yellow - Coldplay
* My favourites for the processional.
ǂ My favourites for the signing or recessional.