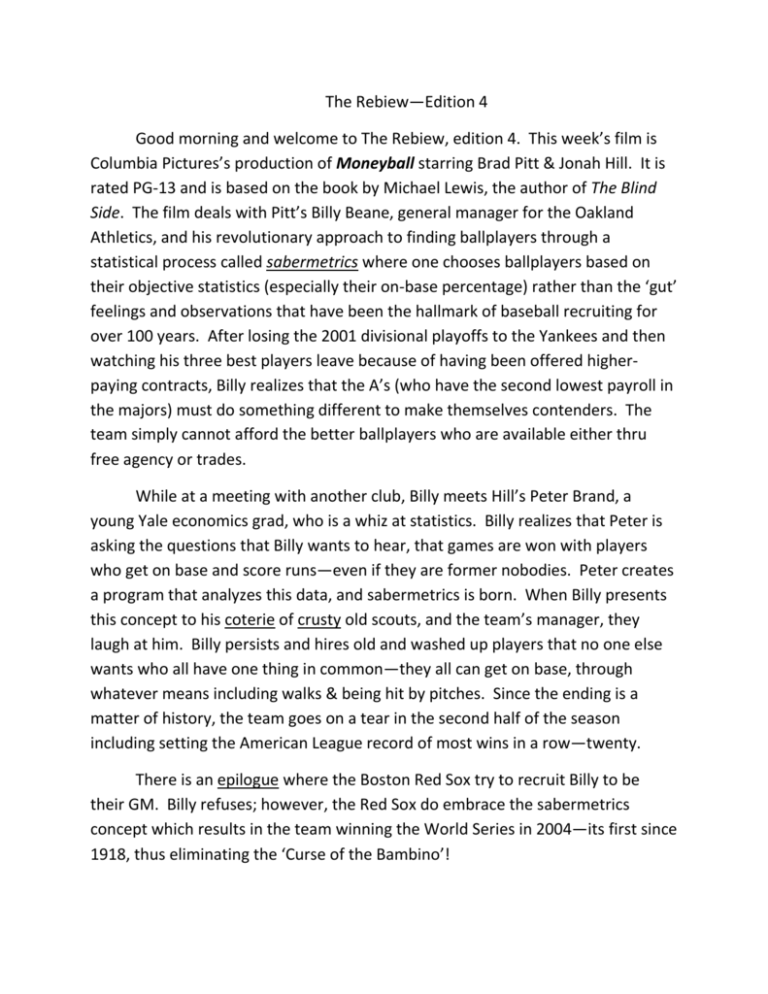 The Rebiew—Edition 4
Good morning and welcome to The Rebiew, edition 4. This week's film is
Columbia Pictures's production of Moneyball starring Brad Pitt & Jonah Hill. It is
rated PG-13 and is based on the book by Michael Lewis, the author of The Blind
Side. The film deals with Pitt's Billy Beane, general manager for the Oakland
Athletics, and his revolutionary approach to finding ballplayers through a
statistical process called sabermetrics where one chooses ballplayers based on
their objective statistics (especially their on-base percentage) rather than the 'gut'
feelings and observations that have been the hallmark of baseball recruiting for
over 100 years. After losing the 2001 divisional playoffs to the Yankees and then
watching his three best players leave because of having been offered higherpaying contracts, Billy realizes that the A's (who have the second lowest payroll in
the majors) must do something different to make themselves contenders. The
team simply cannot afford the better ballplayers who are available either thru
free agency or trades.
While at a meeting with another club, Billy meets Hill's Peter Brand, a
young Yale economics grad, who is a whiz at statistics. Billy realizes that Peter is
asking the questions that Billy wants to hear, that games are won with players
who get on base and score runs—even if they are former nobodies. Peter creates
a program that analyzes this data, and sabermetrics is born. When Billy presents
this concept to his coterie of crusty old scouts, and the team's manager, they
laugh at him. Billy persists and hires old and washed up players that no one else
wants who all have one thing in common—they all can get on base, through
whatever means including walks & being hit by pitches. Since the ending is a
matter of history, the team goes on a tear in the second half of the season
including setting the American League record of most wins in a row—twenty.
There is an epilogue where the Boston Red Sox try to recruit Billy to be
their GM. Billy refuses; however, the Red Sox do embrace the sabermetrics
concept which results in the team winning the World Series in 2004—its first since
1918, thus eliminating the 'Curse of the Bambino'!
This is a superb film in almost all respects. It was written by two of our
most accomplished screen writers: Steven Zaillian who wrote Schindler's List and
A Civil Action and Aaron Sorkin who wrote The Social Network and A Few Good
Men. The plot contains both the main story of Billy and Peter and a substory, told
thru flashbacks, that reveals that Billy was a major high school prospect who gave
up a full-ride to Stanford in order to be drafted by the NY Mets. Unfortunately,
Billy's career went nowhere. It was this life experience that led to Billy's
disillusionment with the 'old' way of choosing ballplayers. Pitt handles this
complex role with aplomb. Billy is a failed ballplayer, a failed husband, and an
almost-failed general manager. This tale, then, follows the archetype of a flawed
man seeking redemption. Weaved throughout the narrative is Billy's one
success—his relationship with his 12-year old daughter. In their scenes together,
his daughter acts as his muse, gently keeping him on track—especially with her
singing of a song, a song that eerily echoes the main song in the film Juno. Brad
Pitt is one of our four finest film actors. His performance here is deep and never
sinks to the level of a 'star vehicle'. He, Johnny Depp, George Clooney, and Ryan
Gosling are true character actors who just happen to be encased within leading
men's bodies. Jonah Hill, cast against type as Peter, lends the right amount of
geekiness and honesty to his role, a role that appears to be a composite of several
real-life persons.
The film stays true in tone and atmosphere throughout its length. While
there is not much true baseball in the movie, as with those such as Major League
or The Natural, the plot holds the interest of baseball and non-baseball fans alike.
The main criticism I have is with the pacing. There are a few times when the film
lagged in momentum. At 2 hours and 13 minutes, the film could have used more
judicious editing and lopped off at least 20 minutes.
I give Moneyball four out of five Panther Paws. You cannot go wrong
putting down your money and letting the ball roll on this one!!