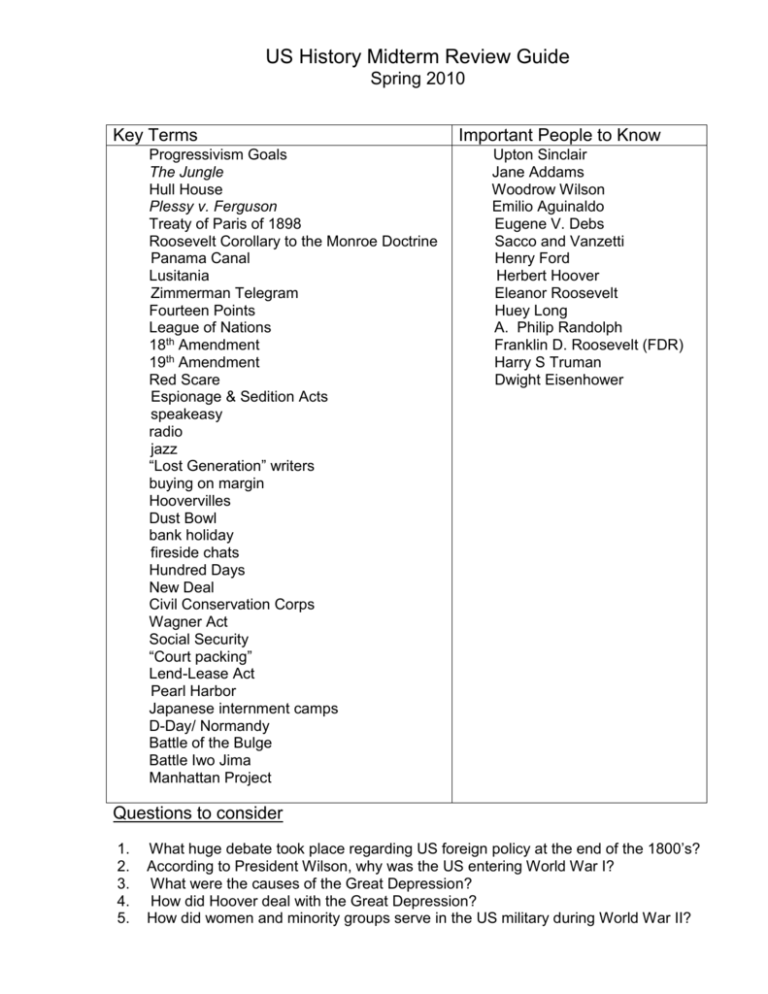 US History Midterm Review Guide
Spring 2010
Key Terms
Progressivism Goals
The Jungle
Hull House
Plessy v. Ferguson
Treaty of Paris of 1898
Roosevelt Corollary to the Monroe Doctrine
Panama Canal
Lusitania
Zimmerman Telegram
Fourteen Points
League of Nations
18th Amendment
19th Amendment
Red Scare
Espionage & Sedition Acts
speakeasy
radio
jazz
"Lost Generation" writers
buying on margin
Hoovervilles
Dust Bowl
bank holiday
fireside chats
Hundred Days
New Deal
Civil Conservation Corps
Wagner Act
Social Security
"Court packing"
Lend-Lease Act
Pearl Harbor
Japanese internment camps
D-Day/ Normandy
Battle of the Bulge
Battle Iwo Jima
Manhattan Project
Important People to Know
Upton Sinclair
Jane Addams
Woodrow Wilson
Emilio Aguinaldo
Eugene V. Debs
Sacco and Vanzetti
Henry Ford
Herbert Hoover
Eleanor Roosevelt
Huey Long
A. Philip Randolph
Franklin D. Roosevelt (FDR)
Harry S Truman
Dwight Eisenhower
Questions to consider
1.
2.
3.
4.
5.
What huge debate took place regarding US foreign policy at the end of the 1800's?
According to President Wilson, why was the US entering World War I?
What were the causes of the Great Depression?
How did Hoover deal with the Great Depression?
How did women and minority groups serve in the US military during World War II?