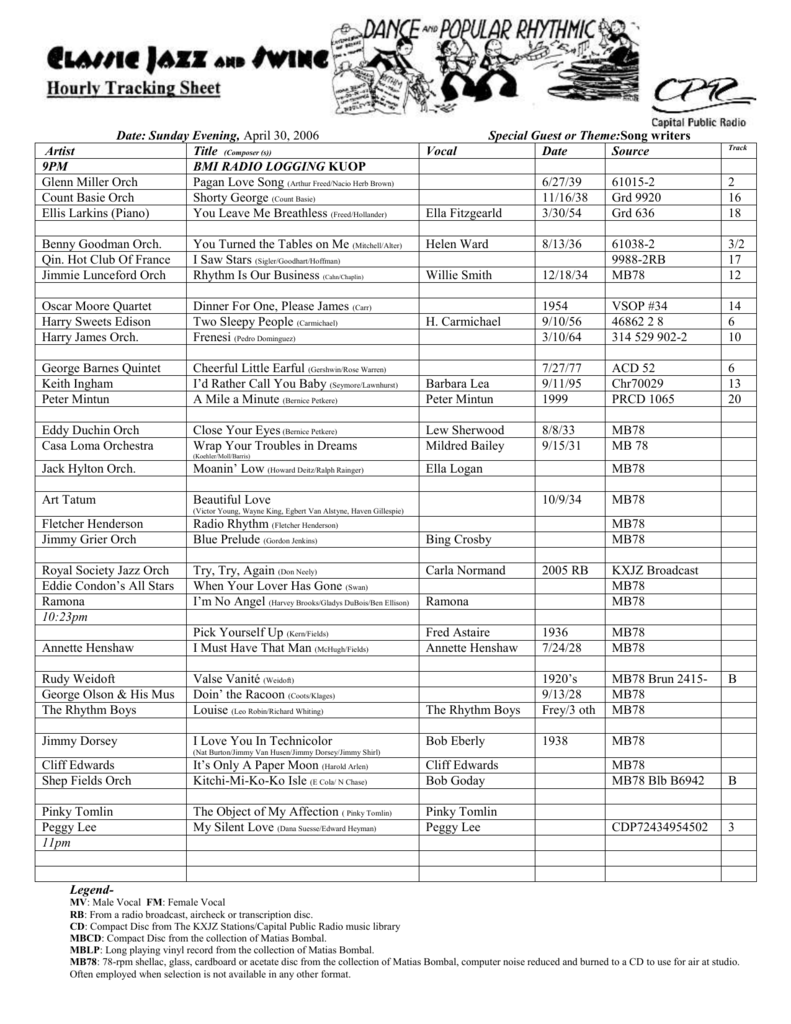 Date: Sunday Evening, April 30, 2006
Artist
Title (Composer (s))
9PM
BMI RADIO LOGGING KUOP
Glenn Miller Orch
Pagan Love Song (Arthur Freed/Nacio Herb Brown)
Count Basie Orch
Shorty George (Count Basie)
Ellis Larkins (Piano)
You Leave Me Breathless (Freed/Hollander)
Vocal
Special Guest or Theme:Song writers
Date
Source
Track
Ella Fitzgearld
6/27/39
11/16/38
3/30/54
61015-2
Grd 9920
Grd 636
2
16
18
Helen Ward
8/13/36
Willie Smith
12/18/34
61038-2
9988-2RB
MB78
3/2
17
12
H. Carmichael
1954
9/10/56
3/10/64
VSOP #34
46862 2 8
314 529 902-2
14
6
10
6
13
20
Benny Goodman Orch.
Qin. Hot Club Of France
Jimmie Lunceford Orch
You Turned the Tables on Me (Mitchell/Alter)
I Saw Stars (Sigler/Goodhart/Hoffman)
Rhythm Is Our Business (Cahn/Chaplin)
Oscar Moore Quartet
Harry Sweets Edison
Harry James Orch.
Dinner For One, Please James (Carr)
Two Sleepy People (Carmichael)
Frenesi (Pedro Dominguez)
George Barnes Quintet
Keith Ingham
Peter Mintun
Cheerful Little Earful (Gershwin/Rose Warren)
I'd Rather Call You Baby (Seymore/Lawnhurst)
A Mile a Minute (Bernice Petkere)
Barbara Lea
Peter Mintun
7/27/77
9/11/95
1999
ACD 52
Chr70029
PRCD 1065
Eddy Duchin Orch
Casa Loma Orchestra
Close Your Eyes (Bernice Petkere)
Wrap Your Troubles in Dreams
Lew Sherwood
Mildred Bailey
8/8/33
9/15/31
MB78
MB 78
(Koehler/Moll/Barris)
Jack Hylton Orch.
Moanin' Low (Howard Deitz/Ralph Rainger)
Art Tatum
Beautiful Love
Ella Logan
MB78
10/9/34
MB78
(Victor Young, Wayne King, Egbert Van Alstyne, Haven Gillespie)
Fletcher Henderson
Jimmy Grier Orch
Radio Rhythm (Fletcher Henderson)
Blue Prelude (Gordon Jenkins)
Royal Society Jazz Orch
Eddie Condon's All Stars
Ramona
10:23pm
Try, Try, Again (Don Neely)
When Your Lover Has Gone (Swan)
I'm No Angel (Harvey Brooks/Gladys DuBois/Ben Ellison)
Carla Normand
Annette Henshaw
Pick Yourself Up (Kern/Fields)
I Must Have That Man (McHugh/Fields)
Rudy Weidoft
George Olson & His Mus
The Rhythm Boys
Jimmy Dorsey
MB78
MB78
Bing Crosby
2005 RB
KXJZ Broadcast
MB78
MB78
Fred Astaire
Annette Henshaw
1936
7/24/28
MB78
MB78
Valse Vanité (Weidoft)
Doin' the Racoon (Coots/Klages)
Louise (Leo Robin/Richard Whiting)
The Rhythm Boys
1920's
9/13/28
Frey/3 oth
MB78 Brun 2415MB78
MB78
I Love You In Technicolor
Bob Eberly
1938
MB78
Ramona
B
(Nat Burton/Jimmy Van Husen/Jimmy Dorsey/Jimmy Shirl)
Cliff Edwards
Shep Fields Orch
It's Only A Paper Moon (Harold Arlen)
Kitchi-Mi-Ko-Ko Isle (E Cola/ N Chase)
Cliff Edwards
Bob Goday
MB78
MB78 Blb B6942
B
Pinky Tomlin
Peggy Lee
11pm
The Object of My Affection ( Pinky Tomlin)
My Silent Love (Dana Suesse/Edward Heyman)
Pinky Tomlin
Peggy Lee
CDP72434954502
3
dgdfgd
LegendMV: Male Vocal FM: Female Vocal
RB: From a radio broadcast, aircheck or transcription disc.
CD: Compact Disc from The KXJZ Stations/Capital Public Radio music library
MBCD: Compact Disc from the collection of Matias Bombal.
MBLP: Long playing vinyl record from the collection of Matias Bombal.
MB78: 78-rpm shellac, glass, cardboard or acetate disc from the collection of Matias Bombal, computer noise reduced and burned to a CD to use for air at studio.
Often employed when selection is not available in any other format.