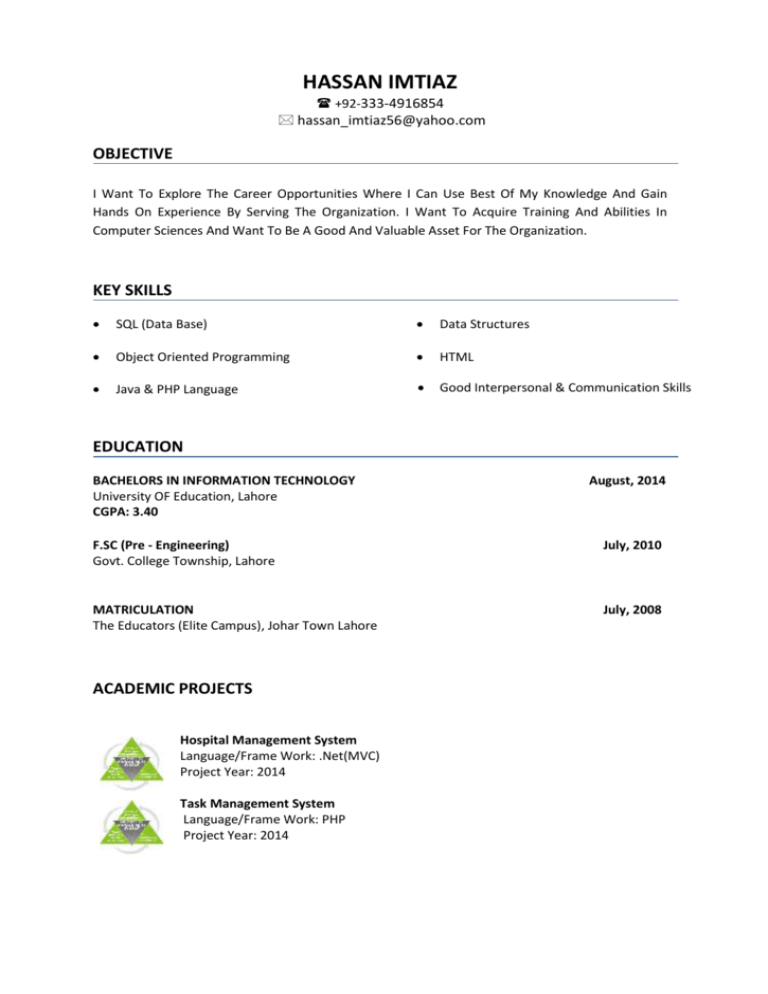 HASSAN IMTIAZ
 +92-333-4916854
 hassan_imtiaz56@yahoo.com
OBJECTIVE
I Want To Explore The Career Opportunities Where I Can Use Best Of My Knowledge And Gain
Hands On Experience By Serving The Organization. I Want To Acquire Training And Abilities In
Computer Sciences And Want To Be A Good And Valuable Asset For The Organization.
KEY SKILLS

SQL (Data Base)

Data Structures

Object Oriented Programming

HTML

Java & PHP Language

Good Interpersonal & Communication Skills
EDUCATION
BACHELORS IN INFORMATION TECHNOLOGY
University OF Education, Lahore
CGPA: 3.40
August, 2014
F.SC (Pre - Engineering)
Govt. College Township, Lahore
July, 2010
MATRICULATION
The Educators (Elite Campus), Johar Town Lahore
July, 2008
ACADEMIC PROJECTS
Hospital Management System
Language/Frame Work: .Net(MVC)
Project Year: 2014
Task Management System
Language/Frame Work: PHP
Project Year: 2014
WORK EXPERIENCE
 Fresh Graduated
CERTIFICATIONS

IT-BASIC
CAREER COLLEGE, LHR.

HARDWARE
CAREER COLLEGE, LHR.
SELF ASSESMENT

Ability To Work Under Pressures And Time Deadlines.

Highly Motivated And Devoted With Job.

Keen To Learn New Tools, Technologies.

Excellent team player and proactive worker
ACTIVITIES AND INTERESTS

Participated In Online Gaming.

Internet Apps

Playing Football & Cricket

Reading IT Blogs

Want To Get Expertise In Software Quality Assurance.

Want To Get Expertise In Programming Languages, Software Development.
REFERENCES

References Will Be Furnished On Demand.