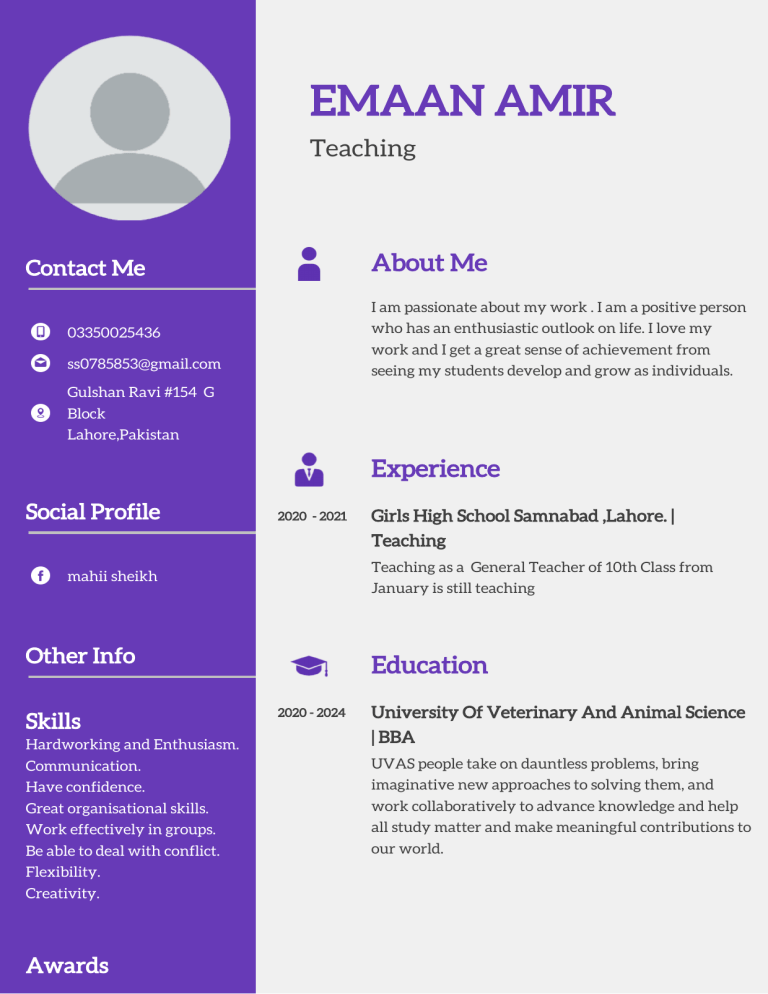 EMAAN AMIR
Teaching
About Me
Contact Me
I am passionate about my work . I am a positive person
who has an enthusiastic outlook on life. I love my
work and I get a great sense of achievement from
seeing my students develop and grow as individuals.
03350025436
ss0785853@gmail.com
Gulshan Ravi #154 G
Block
Lahore,Pakistan
Experience
Social Profile
2020 - 2021
Teaching as a General Teacher of 10th Class from
January is still teaching
mahii sheikh
Other Info
Skills
Hardworking and Enthusiasm.
Communication.
Have confidence.
Great organisational skills.
Work effectively in groups.
Be able to deal with conflict.
Flexibility.
Creativity.
Awards
Girls High School Samnabad ,Lahore. |
Teaching
Education
2020 - 2024
University Of Veterinary And Animal Science
| BBA
UVAS people take on dauntless problems, bring
imaginative new approaches to solving them, and
work collaboratively to advance knowledge and help
all study matter and make meaningful contributions to
our world.
best position in debates .
best Writing Award .
Languages
English
Urdu
Interest
To teach.
Give advice.
Help to other.
Service to others.
debates and declamation.