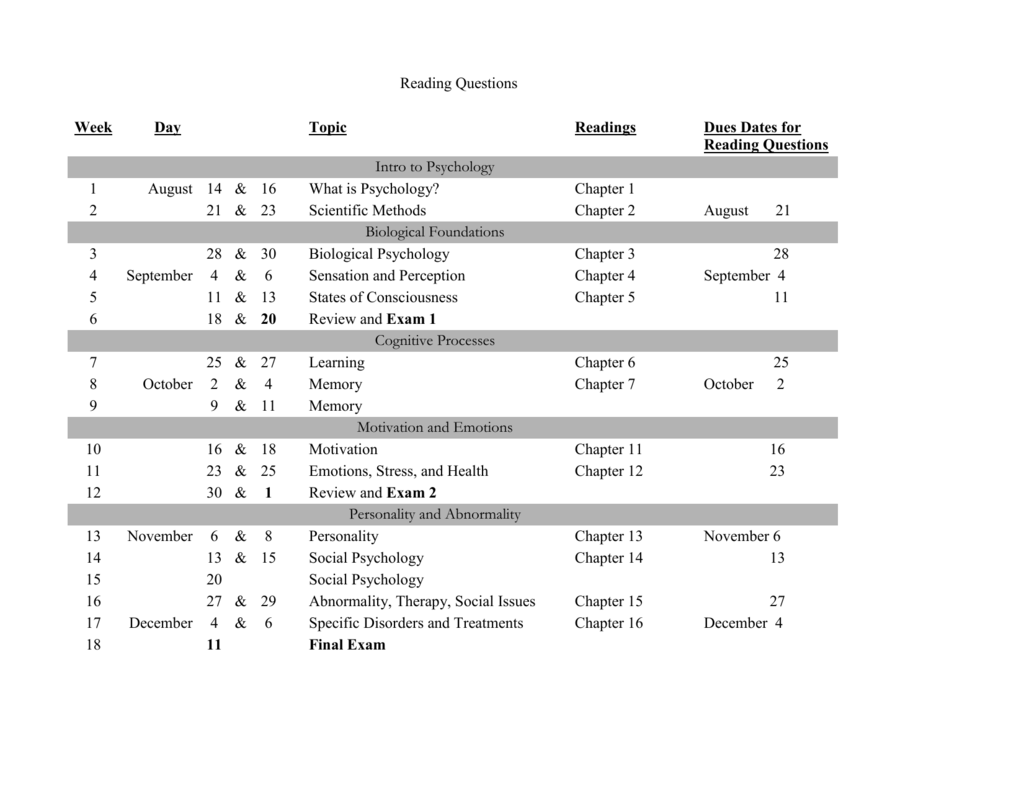 Reading Questions
Week
1
2
3
4
5
6
Day
Topic
August 14 & 16
21 & 23
28
September 4
11
18
& 30
& 6
& 13
& 20
7
8
9
25 & 27
October 2 & 4
9 & 11
10
11
12
16 & 18
23 & 25
30 & 1
13
14
15
16
17
18
November
6
13
20
27
December 4
11
& 8
& 15
& 29
& 6
Intro to Psychology
What is Psychology?
Scientific Methods
Biological Foundations
Biological Psychology
Sensation and Perception
States of Consciousness
Review and Exam 1
Cognitive Processes
Learning
Memory
Memory
Motivation and Emotions
Motivation
Emotions, Stress, and Health
Review and Exam 2
Personality and Abnormality
Personality
Social Psychology
Social Psychology
Abnormality, Therapy, Social Issues
Specific Disorders and Treatments
Final Exam
Readings
Dues Dates for
Reading Questions
Chapter 1
Chapter 2
August
Chapter 3
Chapter 4
Chapter 5
28
September 4
11
Chapter 6
Chapter 7
25
2
October
21
Chapter 11
Chapter 12
16
23
Chapter 13
Chapter 14
November 6
13
Chapter 15
Chapter 16
27
December 4
Chapter 2:
Question #1 - Experiments are sometimes criticized because they are considered artificial. Many psychology experiments use
college students in introductory psychology courses as participants. From your readings on pages 41-42, do you feel there is a
problem in generalizing the findings from these studies to the whole population?
Question #2 - Grade point average is typically calculated using the mean. Suppose the mean was replaced with a grade point
mode or a grade point median. What do you see as the advantages and disadvantages of calculating grade point in these
ways?
Chapter 3:
Question #1 - Neurotransmitters and Behavior: One hypothesis is that any unusual behavior is due to an excess or deficiency
of some kind of synaptic activity. Let's assume drugs are developed to perfectly control unusual behavior by affecting
synaptic activity. Would you be willing to mandate that people with unusual behavior must take medications to control the
behavior? Why or why not?
Question #2 - Other than as a treatment for epilepsy, can you think of any situations in which having a split brain might
actually be more beneficial than a unified brain?
Chapter 4:
Question #1 - In the introduction to this chapter, the author suggested that we would see no new colors on another planet and
that we cannot be certain that different people on Earth really have the same color experiences. Based upon your readings in
Chapter 4, what is your opinion about those statements.
Question #2 - Based on what you've learned about color vision, why do you think traffic lights change between red and
green?
Chapter 5:
Question #1 - Sleep Cycles- Imagine someone who cannot get to sleep until 3 A.M.; for months she has been trying to get to
bed earlier but failing. What advice would you offer?
Question #2 - Can you think of any situations in which memories accessed through hypnosis should be admitted in court?
Why or why not?
Chapter 6:
Question #1 - How could you use conditioning to influence your own behavior? What types of behaviors would you want to
influence?
Question #2 - Given what you've learned about modeling on page 223, do you now favor the passage of laws that will
control the amount of violence shown on television? Why or why not?
Chapter 7:
Question #1 - What are some techniques for improving your own memory for test-taking based upon the information on
pages 247-248?
Question #2 - Hindsight Bias - Can you interpret people's beliefs that they had a "psychic hunch" in terms of hindsight bias?
Question #3 - Some people claim to have been abducted by aliens from another planet. Most of these people are not mentally
ill, nor deliberately lying (Banaji && Kihlstrom, 1996). Presuming that they were not actually abducted by aliens, what is
your opinion about how we might explain their reports?
Chapter 11:
Question #1 - Of the different views of motivation, which one do you think is the most accurate depiction of "motivation",
and why?
Question #2 - After reading module 11.4, what are your goals for being a student in a class?
Chapter 12:
Question #1 - What is your opinion about whether there are cultural differences in the expression of emotion?
Question #2 - Try listing and ranking the life events that cause, or have caused, you the most stress. Try listing and ranking
the life events that cause, or have caused, you to reduce stress. How do your rank orderings differ from those listed in Table
12.1
Chapter 13:
Question #1 - Evaluate your friends according to the Big Five Personality Traits. What kind of traits do your friends possess,
and what does this say about who you prefer to be around?
Question #2 - Look at your own personality. Are you a different person today than 5 years ago? If so, how? Do you think you
will be a different person 5 year from now? If so, how?
Chapter 14:
Question #1 - Here is one version of the experiment that Milgram never tried: At the start of the experiment, we announce
that the teacher and the learner will trade places halfway through the experiment so that the previous learner will start
delivering shocks to the teacher. How do you think the teachers would behave then? What other changes in procedure can
you imagine that might influence the degree of obedience?
Question #2 - The textbook on page 552 asks an interesting question, "Do men and women choose partners for the same
reasons?" What is your opinion?
Chapter 15:
Question #1 - Involuntary Treatment - Thomas Szasz (1982) proposed that psychologically "normal" people write a
"psychiatric will," specifying what treatments to give them, and what treatments to avoid, if they ever develop a severe
psychological disorder. If you wrote such a will, what would you include? Or would you prefer to trust your judgment later,
at the onset of the disorder?
Question #2 - How would you define abnormal behavior? Suppose a 70-year-old entered college and started acting exactly
the same way as a 20-year-old sophomore. Would you consider his or her behavior to be abnormal?
Chapter 16:
Question #1 - Do you suffer from any kind of specific phobia? Can you trace the fear to any particular experience in your
life? Does anyone else in your family share the same fear?
Question #2 - On page 643, the textbook explains that anxiety disorders, substance abuse disorders, and depression disorders
have significant overlap. Why do you think the overlap occurs?