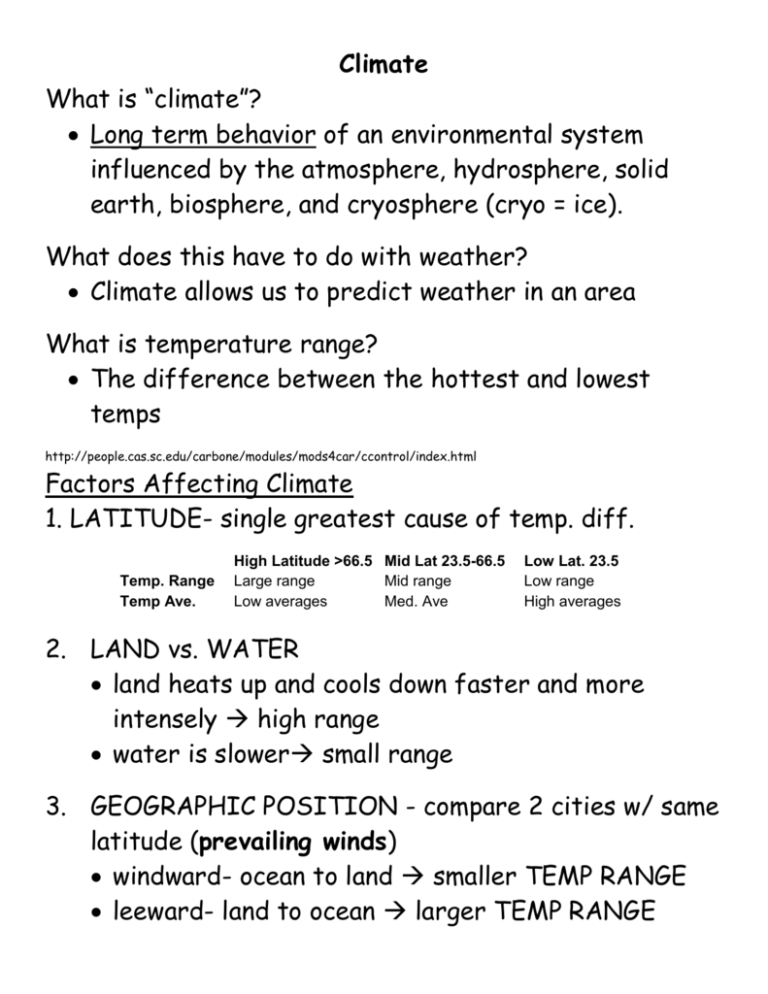 Climate
What is "climate"?
 Long term behavior of an environmental system
influenced by the atmosphere, hydrosphere, solid
earth, biosphere, and cryosphere (cryo = ice).
What does this have to do with weather?
 Climate allows us to predict weather in an area
What is temperature range?
 The difference between the hottest and lowest
temps
http://people.cas.sc.edu/carbone/modules/mods4car/ccontrol/index.html
Factors Affecting Climate
1. LATITUDE- single greatest cause of temp. diff.
Temp. Range
Temp Ave.
High Latitude >66.5 Mid Lat 23.5-66.5
Large range
Mid range
Low averages
Med. Ave
Low Lat. 23.5
Low range
High averages
2. LAND vs. WATER
 land heats up and cools down faster and more
intensely  high range
 water is slower small range
3. GEOGRAPHIC POSITION - compare 2 cities w/ same
latitude (prevailing winds)
 windward- ocean to land  smaller TEMP RANGE
 leeward- land to ocean  larger TEMP RANGE
 rain shadow desert
4. ELEVATION
 Temp average is higher for low alt
 Low & high altitude have same range (if all else is
equal)
5. OCEAN CURRENTS
 poleward moving currents (Gulf Stream) bring warm
water
 equator bound currents (Peruvian Current)cold
6. PRESSURE & WIND BELTS
 equatorial low (ITCZ), subtropical highs, subpolar
low, polar high
 These do not form perfect "belts" but a pattern
can be seen.