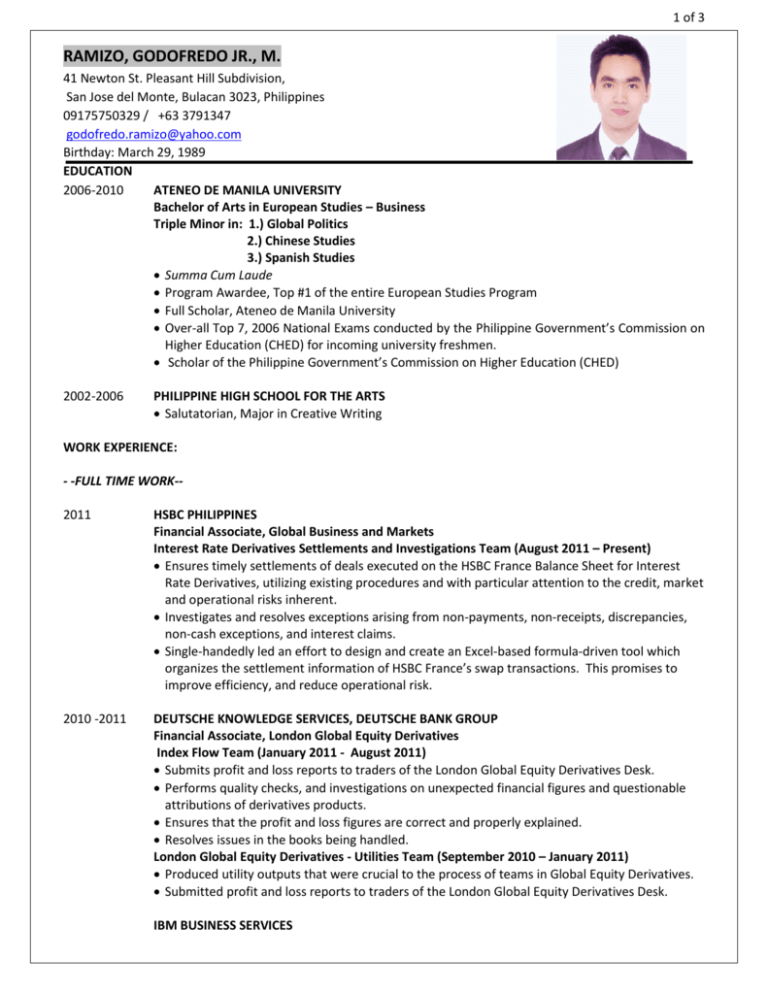 1 of 3
RAMIZO, GODOFREDO JR., M.
41 Newton St. Pleasant Hill Subdivision,
San Jose del Monte, Bulacan 3023, Philippines
09175750329 / +63 3791347
godofredo.ramizo@yahoo.com
Birthday: March 29, 1989
EDUCATION
2006-2010
ATENEO DE MANILA UNIVERSITY
Bachelor of Arts in European Studies – Business
Triple Minor in: 1.) Global Politics
2.) Chinese Studies
3.) Spanish Studies
 Summa Cum Laude
 Program Awardee, Top #1 of the entire European Studies Program
 Full Scholar, Ateneo de Manila University
 Over-all Top 7, 2006 National Exams conducted by the Philippine Government's Commission on
Higher Education (CHED) for incoming university freshmen.
 Scholar of the Philippine Government's Commission on Higher Education (CHED)
2002-2006
PHILIPPINE HIGH SCHOOL FOR THE ARTS
 Salutatorian, Major in Creative Writing
WORK EXPERIENCE:
- -FULL TIME WORK-2011
HSBC PHILIPPINES
Financial Associate, Global Business and Markets
Interest Rate Derivatives Settlements and Investigations Team (August 2011 – Present)
 Ensures timely settlements of deals executed on the HSBC France Balance Sheet for Interest
Rate Derivatives, utilizing existing procedures and with particular attention to the credit, market
and operational risks inherent.
 Investigates and resolves exceptions arising from non-payments, non-receipts, discrepancies,
non-cash exceptions, and interest claims.
 Single-handedly led an effort to design and create an Excel-based formula-driven tool which
organizes the settlement information of HSBC France's swap transactions. This promises to
improve efficiency, and reduce operational risk.
2010 -2011
DEUTSCHE KNOWLEDGE SERVICES, DEUTSCHE BANK GROUP
Financial Associate, London Global Equity Derivatives
Index Flow Team (January 2011 - August 2011)
 Submits profit and loss reports to traders of the London Global Equity Derivatives Desk.
 Performs quality checks, and investigations on unexpected financial figures and questionable
attributions of derivatives products.
 Ensures that the profit and loss figures are correct and properly explained.
 Resolves issues in the books being handled.
London Global Equity Derivatives - Utilities Team (September 2010 – January 2011)
 Produced utility outputs that were crucial to the process of teams in Global Equity Derivatives.
 Submitted profit and loss reports to traders of the London Global Equity Derivatives Desk.
IBM BUSINESS SERVICES
2 of 3
Senior Case Specialist (April – July 2010)
 Led a team of three case managers in handling cases from colleagues.
--PART TIME WORK-2011
ATENEO DE MANILA UNIVERSITY
Part-time Instructor (November 2011 – Present)
 Teaches a Political Economy course on Asia-Europe relations.
2009
COLAYCO FOUNDATION FOR FINANCIAL EDUCATION
Translator (September 2009 - Present)
Editor, Pisobilities (September 2009 – August 2010)
 Edited Pisobilities, a best-selling book which teaches personal finance to the Filipino masses,
and Overseas Filipino Workers.
 The said book on Personal Finance has quickly become a certified National Best-seller in just a
few weeks after publication.
--INTERNSHIP-2009
SAN MIGUEL-YAMAMURA PACKAGING CORPORATION, SAN MIGUEL CORP.
Intern, Market Research and Information Management (April – June 2009)
 Researched sensitive data on 23 markets worldwide in 4 different industries. Said data was used
by upper management in assessing opportunities and entry strategies.
LANGUAGES
English
 Native level, Oral and Written
 TOEFL (Internet Based Test, taken June 13, 2010)
TOTAL SCORE = 115/120
Writing = 30
Reading = 29
Listening = 29
Speaking = 27
 Honors English Class, Ateneo de Manila
Spanish
 Advanced level, Oral and Written; Minor in Spanish
 Completed 18 units of Spanish courses at the Ateneo de Manila and received the Highest Marks
 Berlitz Assessment Results (taken on February 2, 2010) :
Business Writing = 8/10
Conversation
= 8/10
Online Test
= 8/10
Mandarin Chinese
 Intermediate level, Oral skills
 Minor in Chinese Studies
 Took 9 units of Mandarin courses at the Ateneo de Manila and received the Highest Marks
 Joined the 8th Bridge Chinese Proficiency Competition
Filipino
 Native level, Oral and Written
3 of 3
ADVOCACY WORK
2010 - 2011
Fellow, World Bank – Ateneo School of Government's (ASG) Youth Leaders for Knowledge and
Development
 Part of a select group of young professionals chosen by the World Bank and ASG to undergo a
year of seminars on developmental issues, and generate ideas to spur development.
2009 – 2011
Editor and Translator of publications of the Colayco Foundation for Education (CFE)
 Active in supporting publications such as the Pisobilities - a national bestseller – which
contribute to CFE's advocacy of teaching financial literacy to the Filipino masses and Filipino
Overseas Workers.
ACADEMIC ACTIVITIES:
2010
Co-author, Commercial relations between the Philippines and Spain
 Researched information regarding the commercial relations between the two countries through
interviews with trade officials.
2009
Author, Comparative Study of Fiscal Decentralization in Mexico and Brazil
 Reviewed the literature and indicated reasons why Brazil has been able to financially
decentralize both its revenue and expenditure, while Mexico has been unable to do so.
2008
An extensive analysis of Globe Philippine's financial position in 2007 (co-author)
 Gathered financial data of the industry, compared ratios, made forecasts and analyzed the
financial position of Globe while taking into account its competitors in the industry.
Co-author, A Marketing Plan Proposing a line of Jam products as a Product Diversification
Strategy for Gardenia Bakery Philippines
 Proposed and developed the idea of a Jam product line as a diversification strategy.
 Prepared the costing, financial feasibility, and financial forecast for the product.
OTHER ACTIVITIES:
2009
Head, International Relations, Study Abroad Fair, Ateneo Student Exchange Council
 Led a team of students in coordinating with foreign institutions to join the Study Abroad Fair
2007
Project Head, Language Institutes Tour, Ateneo Lingua Ars Cultura
 Coordinated with foreign institutions to encourage students to improve communication skills.
Executive Secretary, Ateneo College Glee Club
 Helped formulate the organization's plans and assesed past activities.
2006
Baritone, Ateneo College Glee Club
 Performed in various concerts and engagements in Manila, and a Tour in Northern Philippines
SKILLS AND INTERESTS:
Has excellent research abilities, technical writing skills, multi-tasking skills, and an aptitude for languages. Has
excellent interpersonal and public relations skills. Can competently work in teams or as an individual, with
minimal supervision. Enjoys reading texts and materials on finance, specifically on investments and currencies.
Occasionally sings neo-classical pieces in foreign languages. Learns Chinese swordplay (Taijichuan) during free
time. Enjoys learning more about other cultures, especially their arts, languages, architecture, and gastronomy.