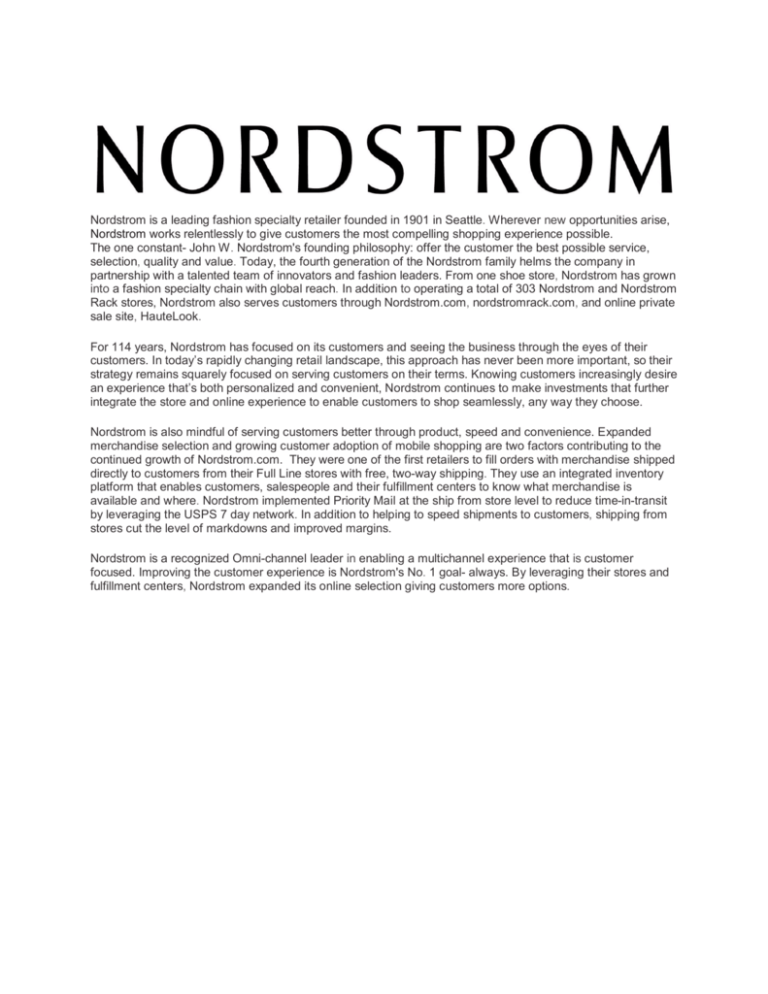 Nordstrom is a leading fashion specialty retailer founded in 1901 in Seattle. Wherever new opportunities arise,
Nordstrom works relentlessly to give customers the most compelling shopping experience possible.
The one constant- John W. Nordstrom's founding philosophy: offer the customer the best possible service,
selection, quality and value. Today, the fourth generation of the Nordstrom family helms the company in
partnership with a talented team of innovators and fashion leaders. From one shoe store, Nordstrom has grown
into a fashion specialty chain with global reach. In addition to operating a total of 303 Nordstrom and Nordstrom
Rack stores, Nordstrom also serves customers through Nordstrom.com, nordstromrack.com, and online private
sale site, HauteLook.
For 114 years, Nordstrom has focused on its customers and seeing the business through the eyes of their
customers. In today's rapidly changing retail landscape, this approach has never been more important, so their
strategy remains squarely focused on serving customers on their terms. Knowing customers increasingly desire
an experience that's both personalized and convenient, Nordstrom continues to make investments that further
integrate the store and online experience to enable customers to shop seamlessly, any way they choose.
Nordstrom is also mindful of serving customers better through product, speed and convenience. Expanded
merchandise selection and growing customer adoption of mobile shopping are two factors contributing to the
continued growth of Nordstrom.com. They were one of the first retailers to fill orders with merchandise shipped
directly to customers from their Full Line stores with free, two-way shipping. They use an integrated inventory
platform that enables customers, salespeople and their fulfillment centers to know what merchandise is
available and where. Nordstrom implemented Priority Mail at the ship from store level to reduce time-in-transit
by leveraging the USPS 7 day network. In addition to helping to speed shipments to customers, shipping from
stores cut the level of markdowns and improved margins.
Nordstrom is a recognized Omni-channel leader in enabling a multichannel experience that is customer
focused. Improving the customer experience is Nordstrom's No. 1 goal- always. By leveraging their stores and
fulfillment centers, Nordstrom expanded its online selection giving customers more options.