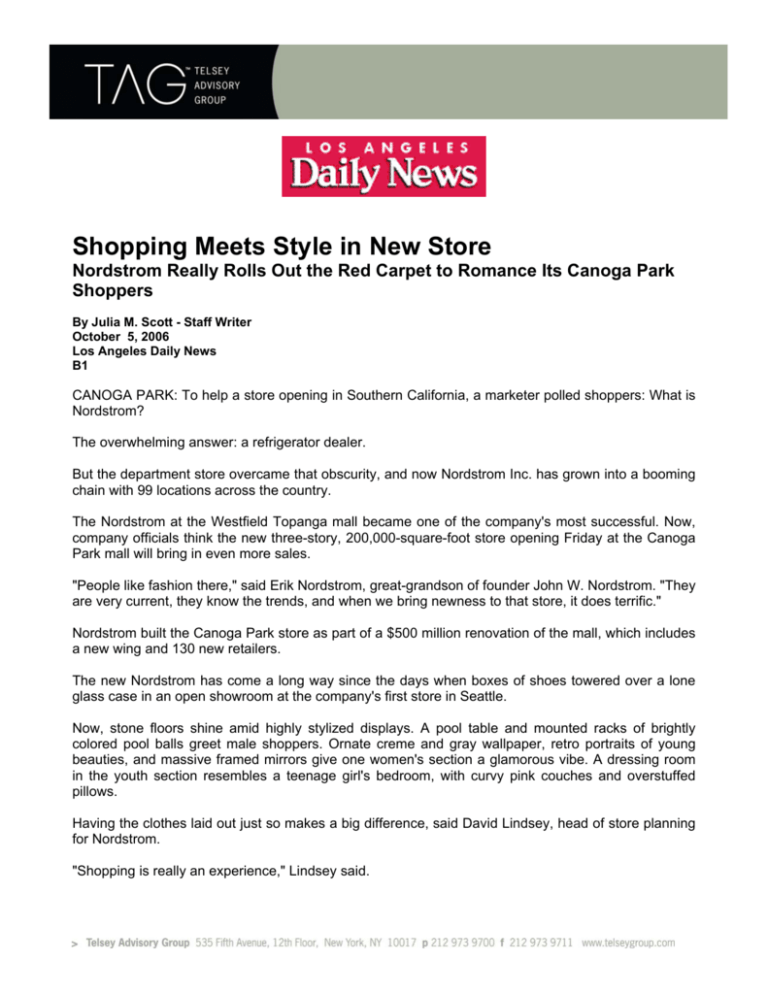 Shopping Meets Style in New Store
Nordstrom Really Rolls Out the Red Carpet to Romance Its Canoga Park
Shoppers
By Julia M. Scott - Staff Writer
October 5, 2006
Los Angeles Daily News
B1
CANOGA PARK: To help a store opening in Southern California, a marketer polled shoppers: What is
Nordstrom?
The overwhelming answer: a refrigerator dealer.
But the department store overcame that obscurity, and now Nordstrom Inc. has grown into a booming
chain with 99 locations across the country.
The Nordstrom at the Westfield Topanga mall became one of the company's most successful. Now,
company officials think the new three-story, 200,000-square-foot store opening Friday at the Canoga
Park mall will bring in even more sales.
"People like fashion there," said Erik Nordstrom, great-grandson of founder John W. Nordstrom. "They
are very current, they know the trends, and when we bring newness to that store, it does terrific."
Nordstrom built the Canoga Park store as part of a $500 million renovation of the mall, which includes
a new wing and 130 new retailers.
The new Nordstrom has come a long way since the days when boxes of shoes towered over a lone
glass case in an open showroom at the company's first store in Seattle.
Now, stone floors shine amid highly stylized displays. A pool table and mounted racks of brightly
colored pool balls greet male shoppers. Ornate creme and gray wallpaper, retro portraits of young
beauties, and massive framed mirrors give one women's section a glamorous vibe. A dressing room
in the youth section resembles a teenage girl's bedroom, with curvy pink couches and overstuffed
pillows.
Having the clothes laid out just so makes a big difference, said David Lindsey, head of store planning
for Nordstrom.
"Shopping is really an experience," Lindsey said.
Wide aisles, bright lighting and views stretching across each floor complement mannequins dressed
to the nines.
"We call it romancing the merchandise," he said.
Along the back walls, cubbyholes hold offerings by top-tier designers such as Channel, Gucci and
Dior.
This Nordstrom will have the broadest selection of designer labels, store officials said.
Mixed with the slick newness of the store are slices of the original Nordstrom.
Nordstrom's shoe departments are some of the biggest around, a nod to the business's beginnings as
a shoe-repair and retail store.
Founder John W. Nordstrom, a Swedish immigrant, made a small fortune gold mining in Alaska. He
used the money to open a business with a friend who repaired shoes.
More than 100 years later, the Topanga store will have six shoe departments, three for women and
one each for men, children and teens.
The store carries enormous shoe sizes, up to 14 in women's and 20 in men's. That tradition dates
back to the days when the original Nordstrom stocked sizes for his big-footed Swedish immigrant
friends.
But Nordstrom will have competition.
A slew of specialty stores such as Furla, Coach and Burberry will also open in the Topanga mall
Friday. And Neiman Marcus is slated to open in 2008 after rebuilding the old Nordstrom building.
Analyst Dana Telsey thinks that won't be a problem.
"There's room for both of them," Telsey said of the two department stores.
As for the smaller retailers, "there can be a difference between a specialty-store shopper and a
department-store shopper," she said.