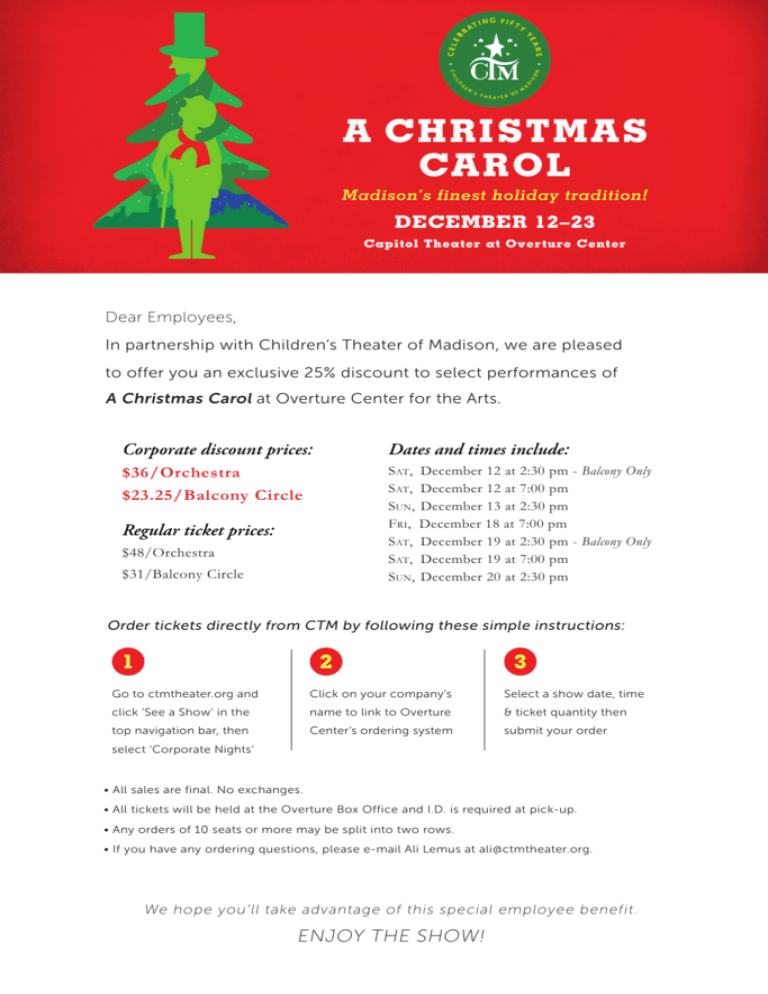 EB
AT
ING FIFT
Y
YE
R
ON
CEL
ARS
CH
D
D
IS
IL
R
E
N
'S
THE
ATER
OF
M
A
A CHRISTMAS
CARO L
Madison's finest holiday tradition!
DECEMBER 12–23
Capitol Theater at Overture Center
Dear Employees,
In partnership with Children's Theater of Madison, we are pleased
to offer you an exclusive 25% discount to select performances of
A Christmas Carol at Overture Center for the Arts.
Corporate discount prices:
Dates and times include:
$36/Orchestra
$23.25/Balcony Circle
Sat, December 12 at 2:30 pm - Balcony Only
Sat, December 12 at 7:00 pm
Sun, December 13 at 2:30 pm
Fri, December 18 at 7:00 pm
Sat, December 19 at 2:30 pm - Balcony Only
Sat, December 19 at 7:00 pm
Sun, December 20 at 2:30 pm
Regular ticket prices:
$48/Orchestra
$31/Balcony Circle
Order tickets directly from CTM by following these simple instructions:
1
2
3
Go to ctmtheater.org and
Click on your company's
Select a show date, time
click 'See a Show' in the
name to link to Overture
& ticket quantity then
top navigation bar, then
Center's ordering system
submit your order
select 'Corporate Nights'
• All sales are final. No exchanges.
• All tickets will be held at the Overture Box Office and I.D. is required at pick-up.
• Any orders of 10 seats or more may be split into two rows.
• If you have any ordering questions, please e-mail Ali Lemus at ali@ctmtheater.org.
We hope you'll take advantage of this special employee benefit.
Enjoy the show!