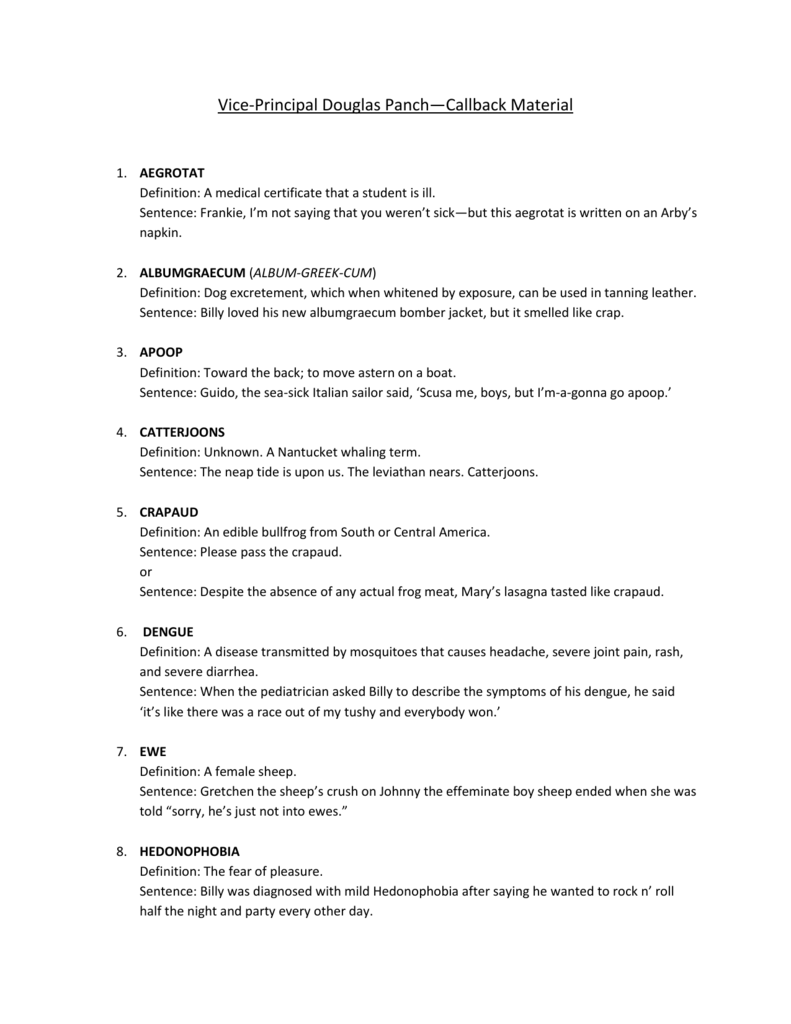 Vice-Principal Douglas Panch—Callback Material
1. AEGROTAT
Definition: A medical certificate that a student is ill.
Sentence: Frankie, I'm not saying that you weren't sick—but this aegrotat is written on an Arby's
napkin.
2. ALBUMGRAECUM (ALBUM-GREEK-CUM)
Definition: Dog excretement, which when whitened by exposure, can be used in tanning leather.
Sentence: Billy loved his new albumgraecum bomber jacket, but it smelled like crap.
3. APOOP
Definition: Toward the back; to move astern on a boat.
Sentence: Guido, the sea-sick Italian sailor said, 'Scusa me, boys, but I'm-a-gonna go apoop.'
4. CATTERJOONS
Definition: Unknown. A Nantucket whaling term.
Sentence: The neap tide is upon us. The leviathan nears. Catterjoons.
5. CRAPAUD
Definition: An edible bullfrog from South or Central America.
Sentence: Please pass the crapaud.
or
Sentence: Despite the absence of any actual frog meat, Mary's lasagna tasted like crapaud.
6.
DENGUE
Definition: A disease transmitted by mosquitoes that causes headache, severe joint pain, rash,
and severe diarrhea.
Sentence: When the pediatrician asked Billy to describe the symptoms of his dengue, he said
'it's like there was a race out of my tushy and everybody won.'
7. EWE
Definition: A female sheep.
Sentence: Gretchen the sheep's crush on Johnny the effeminate boy sheep ended when she was
told "sorry, he's just not into ewes."
8. HEDONOPHOBIA
Definition: The fear of pleasure.
Sentence: Billy was diagnosed with mild Hedonophobia after saying he wanted to rock n' roll
half the night and party every other day.
9. MIZZLE
Definition: Rain in very fine droplets; a light drizzle.
Sentence: The hip-hop weather man left no question as to Monday's forecast: fo' shizzle, it's
mizzle.
10. OUBLIETTE
Definition: A dungeon with an opening only at the top.
Sentence: 'Lars, can you see an opening up there?'
'Why no Stan, my neck is bracketed to the wall.'
'Well, I feel a draft from above; I think we're in an oubliette.
11. PHEOCHROMOCYTOMATA
Definition: A tumor that produces excess epinephrine and causes hypertension, nausea, and
diarrhea in one's sympathetic nervous system.
Sentence: When the doctor told John about his Pheochromocytomata, he wondered how
nausea and diarrhea could be part of a sympathetic nervous system.
12. RAGSPLAWGER
Definition: A wealthy man.
Sentence: All day long, I'd biddy-biddy-bum, if I were a ragslawger.
13. SERMUNCLE
Definition: A short sermon by a priest.
Sentence: There is no such thing as a sermunckle.
14. SMOOGLIGAN or CRIZZLEMUM (phonetic)
Definition: Unknown. An old London Street Urchin term, circa 1760. Just one written citation.
Possibly has something to do with mutton.
Sentence: Smoogligan (crizzlemum) for me troubles, gov'nor.
15. ZUUZUU
Definition: A candy or confectionary sold to prisoners from a vending machine.
Sentence: On his field trip to Sing Sing, Billy learned bending over to retrieve your ZuuZuu is a
no-no.