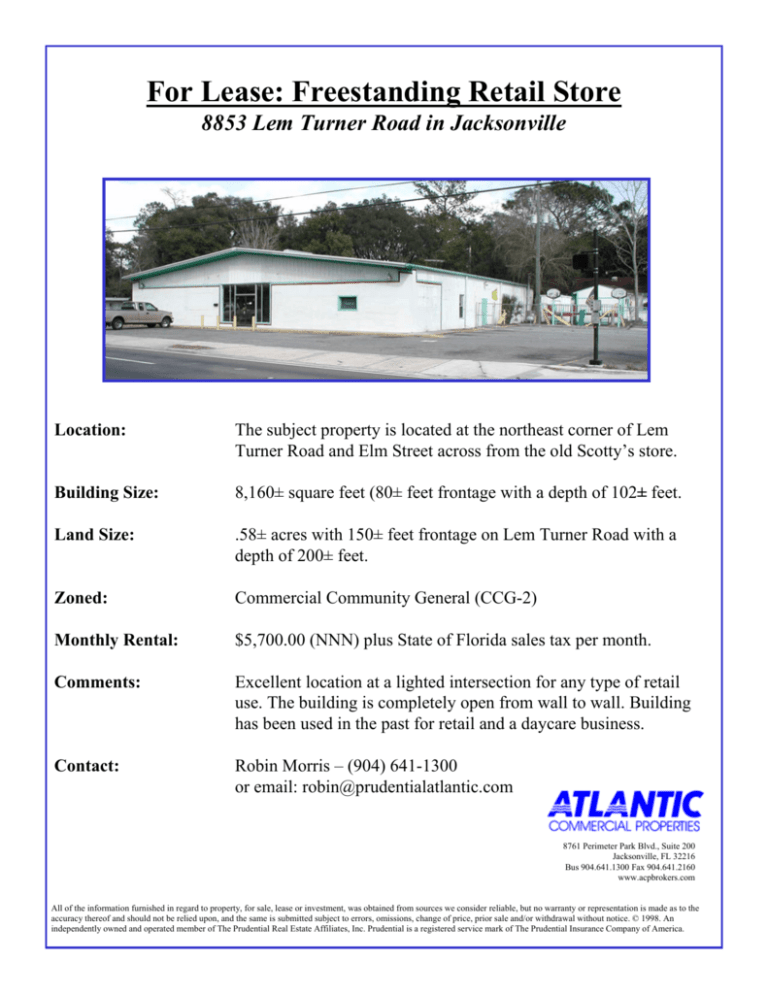 For Lease: Freestanding Retail Store
8853 Lem Turner Road in Jacksonville
Location:
The subject property is located at the northeast corner of Lem
Turner Road and Elm Street across from the old Scotty's store.
Building Size:
8,160± square feet (80± feet frontage with a depth of 102± feet.
Land Size:
.58± acres with 150± feet frontage on Lem Turner Road with a
depth of 200± feet.
Zoned:
Commercial Community General (CCG-2)
Monthly Rental:
$5,700.00 (NNN) plus State of Florida sales tax per month.
Comments:
Excellent location at a lighted intersection for any type of retail
use. The building is completely open from wall to wall. Building
has been used in the past for retail and a daycare business.
Contact:
Robin Morris – (904) 641-1300
or email: robin@prudentialatlantic.com
8761 Perimeter Park Blvd., Suite 200
Jacksonville, FL 32216
Bus 904.641.1300 Fax 904.641.2160
www.acpbrokers.com
All of the information furnished in regard to property, for sale, lease or investment, was obtained from sources we consider reliable, but no warranty or representation is made as to the
accuracy thereof and should not be relied upon, and the same is submitted subject to errors, omissions, change of price, prior sale and/or withdrawal without notice. © 1998. An
independently owned and operated member of The Prudential Real Estate Affiliates, Inc. Prudential is a registered service mark of The Prudential Insurance Company of America.