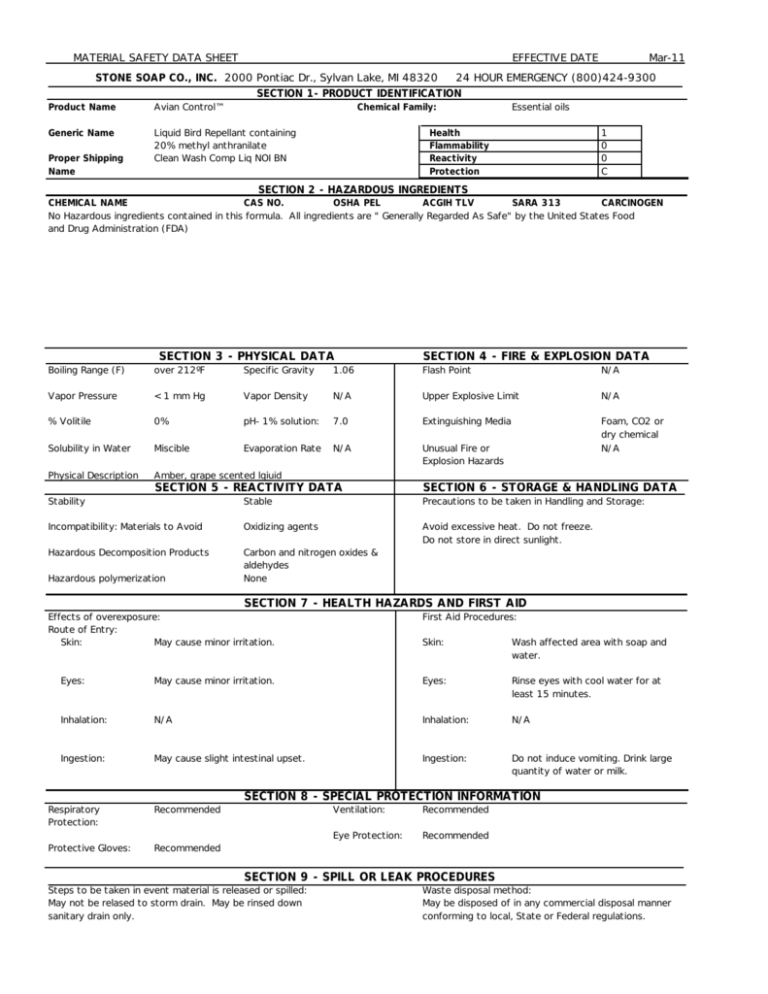 MATERIAL SAFETY DATA SHEET
EFFECTIVE DATE
Mar-11
STONE SOAP CO., INC. 2000 Pontiac Dr., Sylvan Lake, MI 48320
24 HOUR EMERGENCY (800)424-9300
SECTION 1- PRODUCT IDENTIFICATION
Product Name
Avian Control™
Generic Name
Liquid Bird Repellant containing
20% methyl anthranilate
Clean Wash Comp Liq NOI BN
Proper Shipping
Name
Chemical Family:
Essential oils
Health
Flammability
Reactivity
Protection
1
0
0
C
SECTION 2 - HAZARDOUS INGREDIENTS
CHEMICAL NAME
CAS NO.
OSHA PEL
ACGIH TLV
SARA 313
CARCINOGEN
No Hazardous ingredients contained in this formula. All ingredients are " Generally Regarded As Safe" by the United States Food
and Drug Administration (FDA)
SECTION 3 - PHYSICAL DATA
SECTION 4 - FIRE & EXPLOSION DATA
Boiling Range (F)
over 212ºF
Specific Gravity
1.06
Flash Point
N/A
Vapor Pressure
< 1 mm Hg
Vapor Density
N/A
Upper Explosive Limit
N/A
% Volitile
0%
pH- 1% solution:
7.0
Extinguishing Media
Solubility in Water
Miscible
Evaporation Rate
N/A
Unusual Fire or
Explosion Hazards
Foam, CO2 or
dry chemical
N/A
Physical Description
Amber, grape scented lqiuid
SECTION 5 - REACTIVITY DATA
SECTION 6 - STORAGE & HANDLING DATA
Stability
Stable
Precautions to be taken in Handling and Storage:
Incompatibility: Materials to Avoid
Oxidizing agents
Avoid excessive heat. Do not freeze.
Do not store in direct sunlight.
Hazardous Decomposition Products
Carbon and nitrogen oxides &
aldehydes
None
Hazardous polymerization
SECTION 7 - HEALTH HAZARDS AND FIRST AID
Effects of overexposure:
Route of Entry:
Skin:
May cause minor irritation.
First Aid Procedures:
Skin:
Wash affected area with soap and
water.
Eyes:
May cause minor irritation.
Eyes:
Rinse eyes with cool water for at
least 15 minutes.
Inhalation:
N/A
Inhalation:
N/A
Ingestion:
May cause slight intestinal upset.
Ingestion:
Do not induce vomiting. Drink large
quantity of water or milk.
SECTION 8 - SPECIAL PROTECTION INFORMATION
Respiratory
Protection:
Recommended
Protective Gloves:
Recommended
Ventilation:
Recommended
Eye Protection:
Recommended
SECTION 9 - SPILL OR LEAK PROCEDURES
Steps to be taken in event material is released or spilled:
May not be relased to storm drain. May be rinsed down
sanitary drain only.
Waste disposal method:
May be disposed of in any commercial disposal manner
conforming to local, State or Federal regulations.