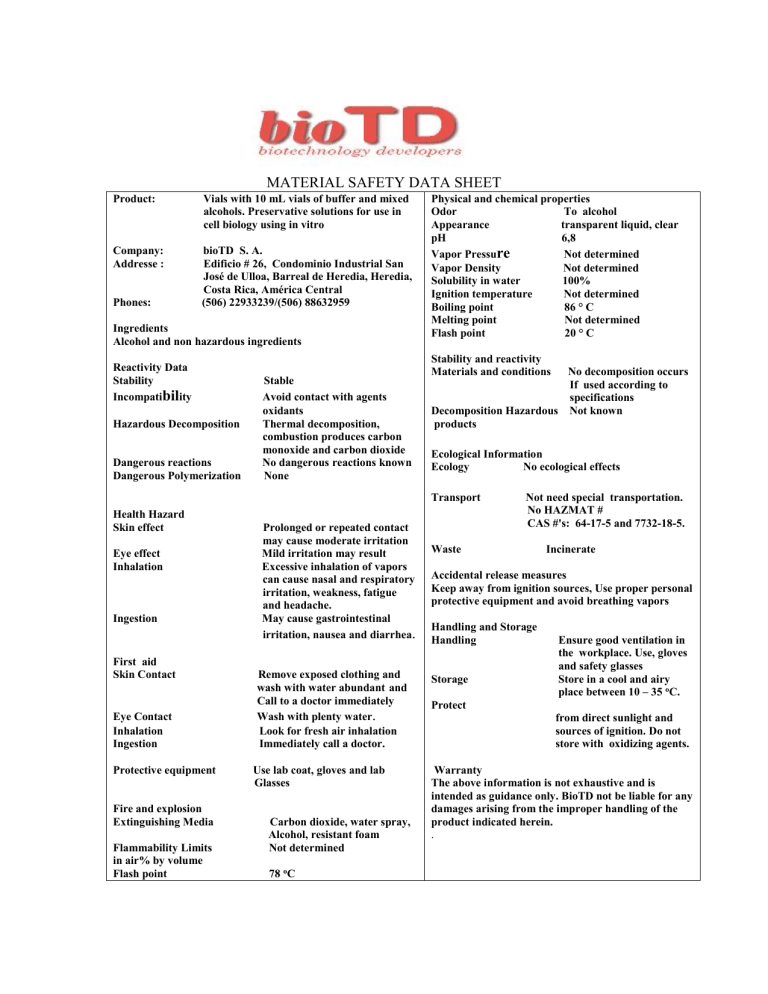 MATERIAL SAFETY DATA SHEET
Product:
Vials with 10 mL vials of buffer and mixed
alcohols. Preservative solutions for use in
cell biology using in vitro
Company:
Addresse :
bioTD S. A.
Edificio # 26, Condominio Industrial San
José de Ulloa, Barreal de Heredia, Heredia,
Costa Rica, América Central
(506) 22933239/(506) 88632959
Phones:
Ingredients
Alcohol and non hazardous ingredients
Reactivity Data
Stability
Incompatibility
Hazardous Decomposition
Dangerous reactions
Dangerous Polymerization
Stable
Avoid contact with agents
oxidants
Thermal decomposition,
combustion produces carbon
monoxide and carbon dioxide
No dangerous reactions known
None
Physical and chemical properties
Odor
To alcohol
Appearance
transparent liquid, clear
pH
6,8
Vapor Pressure
Not determined
Vapor Density
Not determined
Solubility in water
100%
Ignition temperature
Not determined
Boiling point
86 ° C
Melting point
Not determined
Flash point
20 ° C
Stability and reactivity
Materials and conditions
No decomposition occurs
If used according to
specifications
Decomposition Hazardous Not known
products
Ecological Information
Ecology
No ecological effects
Transport
Health Hazard
Skin effect
Eye effect
Inhalation
Ingestion
First aid
Skin Contact
Eye Contact
Inhalation
Ingestion
Protective equipment
Fire and explosion
Extinguishing Media
Flammability Limits
in air% by volume
Flash point
Prolonged or repeated contact
may cause moderate irritation
Mild irritation may result
Excessive inhalation of vapors
can cause nasal and respiratory
irritation, weakness, fatigue
and headache.
May cause gastrointestinal
irritation, nausea and diarrhea.
Remove exposed clothing and
wash with water abundant and
Call to a doctor immediately
Wash with plenty water.
Look for fresh air inhalation
Immediately call a doctor.
Use lab coat, gloves and lab
Glasses
Carbon dioxide, water spray,
Alcohol, resistant foam
Not determined
78 oC
Not need special transportation.
No HAZMAT #
CAS #'s: 64-17-5 and 7732-18-5.
Waste
Incinerate
Accidental release measures
Keep away from ignition sources, Use proper personal
protective equipment and avoid breathing vapors
Handling and Storage
Handling
Storage
Ensure good ventilation in
the workplace. Use, gloves
and safety glasses
Store in a cool and airy
place between 10 – 35 oC.
Protect
from direct sunlight and
sources of ignition. Do not
store with oxidizing agents.
Warranty
The above information is not exhaustive and is
intended as guidance only. BioTD not be liable for any
damages arising from the improper handling of the
product indicated herein.
.