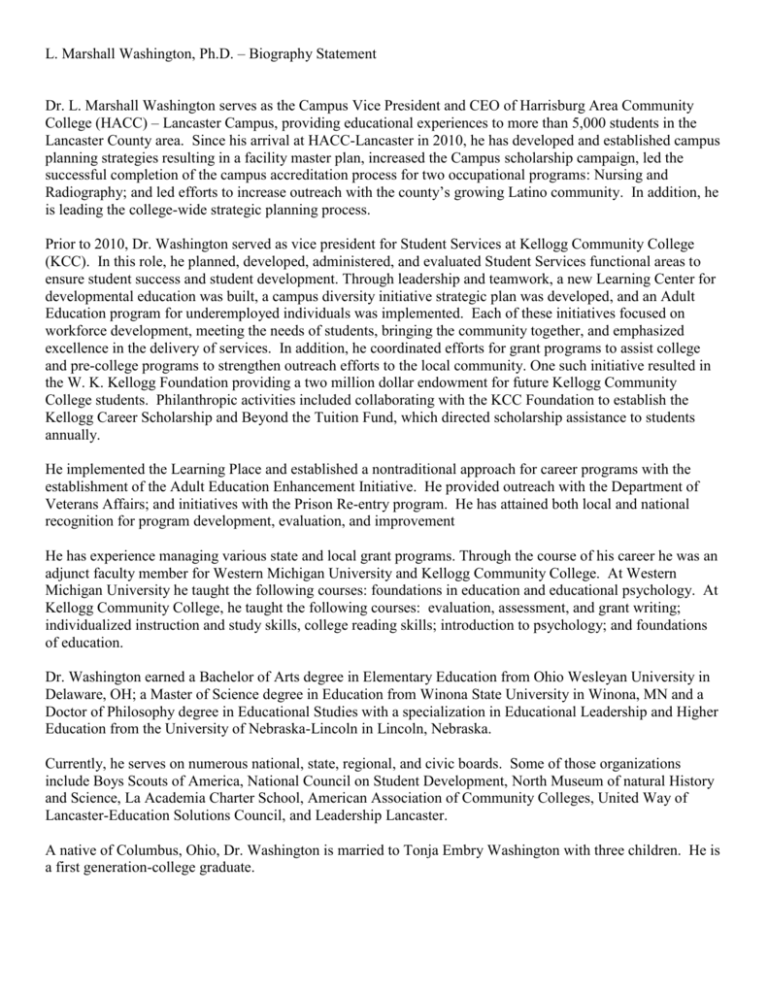 L. Marshall Washington, Ph.D. – Biography Statement
Dr. L. Marshall Washington serves as the Campus Vice President and CEO of Harrisburg Area Community
College (HACC) – Lancaster Campus, providing educational experiences to more than 5,000 students in the
Lancaster County area. Since his arrival at HACC-Lancaster in 2010, he has developed and established campus
planning strategies resulting in a facility master plan, increased the Campus scholarship campaign, led the
successful completion of the campus accreditation process for two occupational programs: Nursing and
Radiography; and led efforts to increase outreach with the county's growing Latino community. In addition, he
is leading the college-wide strategic planning process.
Prior to 2010, Dr. Washington served as vice president for Student Services at Kellogg Community College
(KCC). In this role, he planned, developed, administered, and evaluated Student Services functional areas to
ensure student success and student development. Through leadership and teamwork, a new Learning Center for
developmental education was built, a campus diversity initiative strategic plan was developed, and an Adult
Education program for underemployed individuals was implemented. Each of these initiatives focused on
workforce development, meeting the needs of students, bringing the community together, and emphasized
excellence in the delivery of services. In addition, he coordinated efforts for grant programs to assist college
and pre-college programs to strengthen outreach efforts to the local community. One such initiative resulted in
the W. K. Kellogg Foundation providing a two million dollar endowment for future Kellogg Community
College students. Philanthropic activities included collaborating with the KCC Foundation to establish the
Kellogg Career Scholarship and Beyond the Tuition Fund, which directed scholarship assistance to students
annually.
He implemented the Learning Place and established a nontraditional approach for career programs with the
establishment of the Adult Education Enhancement Initiative. He provided outreach with the Department of
Veterans Affairs; and initiatives with the Prison Re-entry program. He has attained both local and national
recognition for program development, evaluation, and improvement
He has experience managing various state and local grant programs. Through the course of his career he was an
adjunct faculty member for Western Michigan University and Kellogg Community College. At Western
Michigan University he taught the following courses: foundations in education and educational psychology. At
Kellogg Community College, he taught the following courses: evaluation, assessment, and grant writing;
individualized instruction and study skills, college reading skills; introduction to psychology; and foundations
of education.
Dr. Washington earned a Bachelor of Arts degree in Elementary Education from Ohio Wesleyan University in
Delaware, OH; a Master of Science degree in Education from Winona State University in Winona, MN and a
Doctor of Philosophy degree in Educational Studies with a specialization in Educational Leadership and Higher
Education from the University of Nebraska-Lincoln in Lincoln, Nebraska.
Currently, he serves on numerous national, state, regional, and civic boards. Some of those organizations
include Boys Scouts of America, National Council on Student Development, North Museum of natural History
and Science, La Academia Charter School, American Association of Community Colleges, United Way of
Lancaster-Education Solutions Council, and Leadership Lancaster.
A native of Columbus, Ohio, Dr. Washington is married to Tonja Embry Washington with three children. He is
a first generation-college graduate.