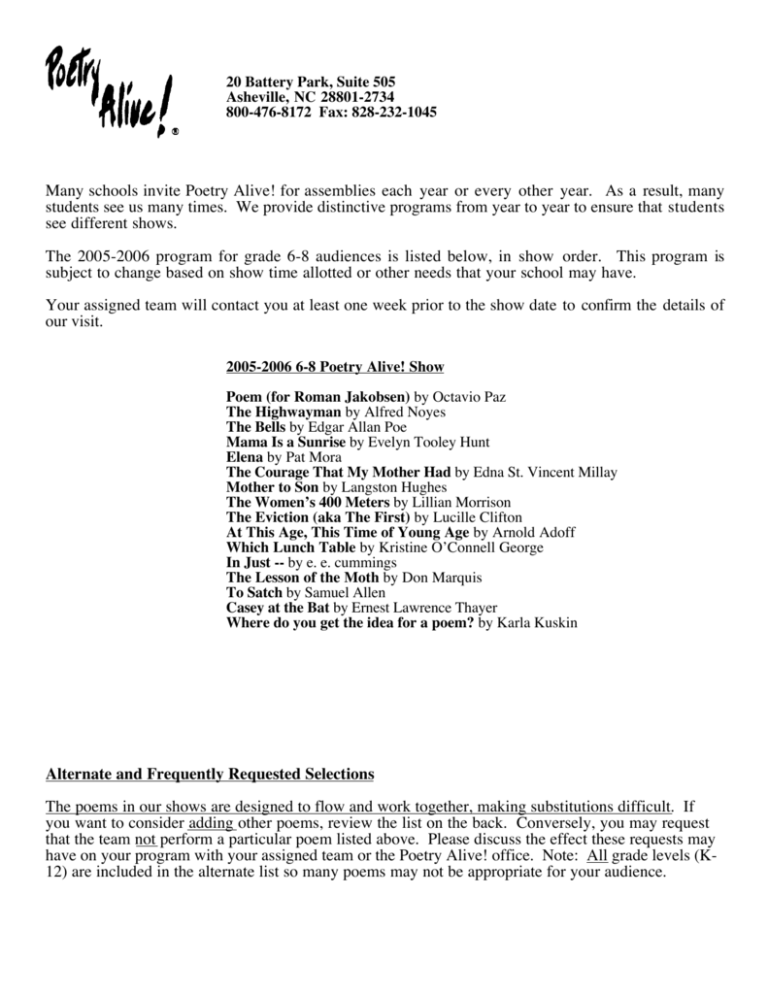 20 Battery Park, Suite 505
Asheville, NC 28801-2734
800-476-8172 Fax: 828-232-1045
Many schools invite Poetry Alive! for assemblies each year or every other year. As a result, many
students see us many times. We provide distinctive programs from year to year to ensure that students
see different shows.
The 2005-2006 program for grade 6-8 audiences is listed below, in show order. This program is
subject to change based on show time allotted or other needs that your school may have.
Your assigned team will contact you at least one week prior to the show date to confirm the details of
our visit.
2005-2006 6-8 Poetry Alive! Show
Poem (for Roman Jakobsen) by Octavio Paz
The Highwayman by Alfred Noyes
The Bells by Edgar Allan Poe
Mama Is a Sunrise by Evelyn Tooley Hunt
Elena by Pat Mora
The Courage That My Mother Had by Edna St. Vincent Millay
Mother to Son by Langston Hughes
The Women's 400 Meters by Lillian Morrison
The Eviction (aka The First) by Lucille Clifton
At This Age, This Time of Young Age by Arnold Adoff
Which Lunch Table by Kristine O'Connell George
In Just -- by e. e. cummings
The Lesson of the Moth by Don Marquis
To Satch by Samuel Allen
Casey at the Bat by Ernest Lawrence Thayer
Where do you get the idea for a poem? by Karla Kuskin
Alternate and Frequently Requested Selections
The poems in our shows are designed to flow and work together, making substitutions difficult. If
you want to consider adding other poems, review the list on the back. Conversely, you may request
that the team not perform a particular poem listed above. Please discuss the effect these requests may
have on your program with your assigned team or the Poetry Alive! office. Note: All grade levels (K12) are included in the alternate list so many poems may not be appropriate for your audience.