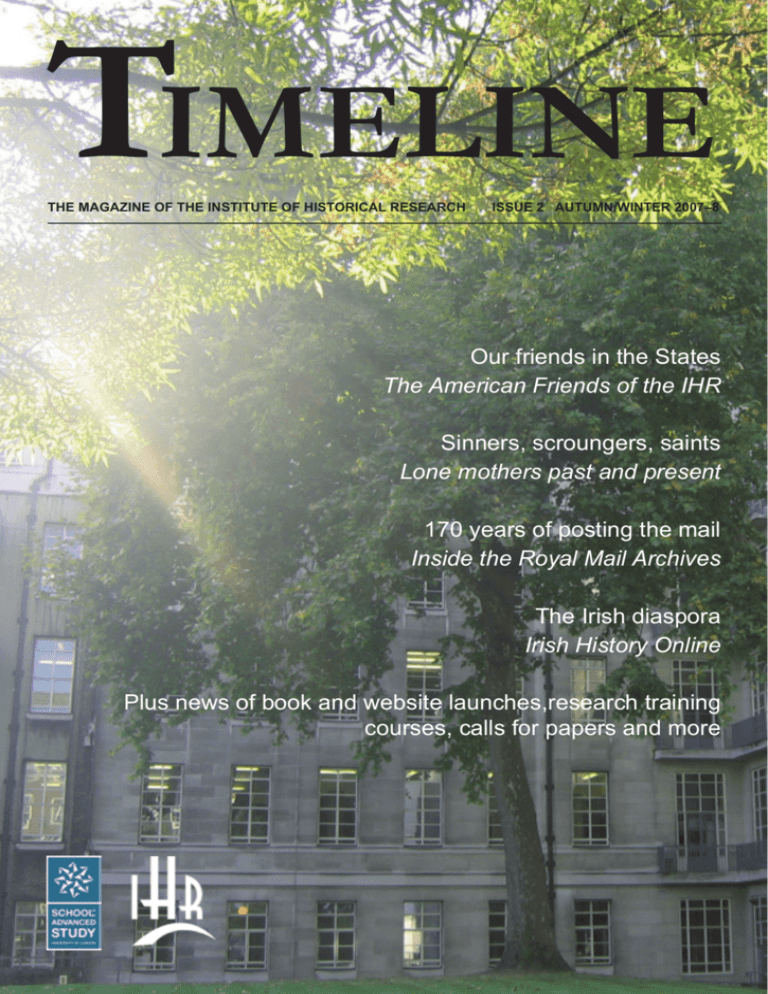 TIMELINE
THE MAGAZINE OF THE INSTITUTE OF HISTORICAL RESEARCH
ISSUE 2 AUTUMN/WINTER 2007–8
Our friends in the States
The American Friends of the IHR
Sinners, scroungers, saints
Lone mothers past and present
170 years of posting the mail
Inside the Royal Mail Archives
The Irish diaspora
Irish History Online
Plus news of book and website launches,research training
courses, calls for papers and more
Letter from the Director
I am writing my Letter for the second
issue of Timeline in the quieter
weeks after the 76th Anglo-American
Conference. I repeat, the 76th: the latest
in a series which started in 1926, and
which has continued annually since then,
interrupted only by the Second World
War. This year sees the centenary of
the Creighton Lecture, to be celebrated
with a lecture by Professor Robert Evans
of the University of Oxford on 'The
Creighton century: British historians and
Europe, 1907–2007'. Some reflection on
the distinguished pasts of both the IHR
and the study of history in the University
of London and its constituent colleges
is therefore inevitable. But the survival
of both over such a long period is also
a testimony to the adaptability of all
involved and to their capacity to face
changing times.
The list of Creighton lecturers is an
awesome one containing many of the
'greats' of the UK historical profession.
We hope to celebrate the centenary
with a published volume of selected
lectures. A magnificent way to grasp the
Anglo-American's history is to visit the
Wolfson Room and to gaze at the famous
photograph of the delegates at the 1926
Conference in a 'team photograph' taken
in front of UCL. A genuinely transatlantic
event, devoted mostly to English
constitutional history, that first meeting
has evolved into a conference which is
both much more international than its
Anglo-American title implies and also
very wide-ranging. In a packed calendar
of academic conferences, the AngloAmerican must remain a beacon for the
historical profession, battling against
the excessive specialism which can
characterise modern conferences, and
seeking to bring together historians of all
periods and places. Its future evolution
is a topic on which I would welcome
opinions and comments.
To reflect on these traditional events
is for me a reminder of the challenges
of sustaining the IHR's national and
international missions into the 21st
century, as well as a reminder of what
makes, and has made, the IHR such a
great institution. Its future requires that
we continue all that we are renowned
for, that our outstandingly capable staff
continue to produce innovative projects,
and that we generate income. Some
of our current projects are described in
this magazine. Information about others
can be obtained from our website (www.
history.ac.uk). And if you want to support
the IHR's mission with either ideas or a
donation, then you should contact either
my own office ([email protected]) or the
IHR's Development Office ([email protected]
ac.uk).
The national centre for history
Timeline
Institute of Historical Research
University of London
Senate House
Malet Street
London
WC1E 7HU
www.history.ac.uk
020 7862 8740
Editorial contacts
Emily Morrell
[email protected]
020 7862 8780
Kerry Whitston
[email protected]
020 7862 8779
Mel Hackett
[email protected]
020 7664 4896
For advertising enquiries, please contact
Emily Morrell (020 7862 8780).
Timeline is published by the Institute
of Historical Research and printed by
Premier Print Group
Left: Delegates at the 76th AngloAmerican Conference of Historians book
exhibition, July 2007
2
Timeline
www.history.ac.uk
Contents
2
Letter from the Director
4
IHR news
Explore England's Past online
Historical Research competition winner
The Conrad and Elizabeth Russell Fund
The VCH and the IHR – 75 years on
Grants for History
New features for British History Online
Christianity in Cornwall – new book launched
New director for the CCBH
Making History: the discipline in perspective
6
Our Friends in the States
Sears McGee discusses the work of the American Friends
8
Sinners, scroungers, saints
Tanya Evans's exhibition at The Women's Library
10
170 years of post: the British Postal Museum and Archive
Helen Glew looks at the collection
11
Sharing research at Cumberland Lodge
Robyn Glessner reports back
The political cartoons of George Butterworth 1938–53
Political Cartoon Gallery
12
History and Policy
Mel Porter introduces the unit
Forthcoming articles in Historical Research
Julie Spraggon explores the highlights
13
The Irish diaspora: Irish History Online
Jackie Hill introduces the RHS Bibliography's Irish relation
14
Research training courses
15
Events diary
What's on at the IHR in the next few months
www.history.ac.uk Timeline
3
News
News
Explore England's Past online
England's Past for Everyone
(EPE), based in the Victoria
County History at the IHR,
is pleased to announce the
launch of its new website
www.ExploreEnglandsPast.
org.uk.
The 'Explore' website was
launched by TV historian
Michael Wood, at a reception
held in Portcullis House,
Westminster.
The website resources have
been collected by local
volunteers and academics,
working in ten counties across
the country. The website
provides free access to
thousands of local history
resources, including images,
historical documents and
audio files. Visitors can search
the website by location, time
period, place and person.
Themed searches and further
resources will be added to the
website as the EPE project
progresses.
If anyone would like to get
involved and gain experience
of adding historical content
to our interactive website,
we'd be pleased to hear from
you. Please email the project
manager for further details
([email protected]
ac.uk)
The Conrad and
Elizabeth Russell
Postgraduate
Emergency
Hardship Fund
The VCH and the
IHR – 75 years on
The Conrad and Elizabeth
Russell Postgraduate
Emergency Hardship Fund
exists to support PhD
candidates who are members
of the IHR community (usually
defined as being either a
regular attender at IHR
seminars or a regular user
of the IHR as a reader) and
registered for a research
degree at a British or North
American university. Please
note that the Fund cannot pay
tuition fees.
Grants for History
On Wednesday 13 February
2008, we shall be celebrating
75 years since the Victoria
County History first made its
home at the IHR. A special
seminar series is planned
to mark the occasion and
there will also be a reception.
These events are being timed
to coincide with the formal
launch of the Centre for Local
History, an initiative backed by
the School of Advanced Study.
£1,000 will normally be
available for distribution during
any one academic year, with
a maximum award to any one
student of £500.
Thanks to all the competition
entrants who correctly said
that the Institute of Historical
Research was founded in
1921. The winner was Paul
Calderwood who won a year's
subscription to Historical
Research. For more details
about the journal and how to
subscribe, please see www.
history.ac.uk/historical.
4
The Fund was established in
memory of the late Conrad
Russell (Professor Lord
Grants for History 2008
Russell) and his wife Elizabeth
•in Is
a guide to funding
for historians
support
of aspecifically
cause
close to
and the history discipline
both
of
their
hearts,
namely
•
Lists available scholarships, fellowships and
theprizes
encouragement of
•
Gives sources of grants for maintenance,
historians
at conferences
an early
stage
of
travel, study leave,
and costs
of
publication
their careers.
•
Covers foreign awards open to British
historians
Is arranged
by type
of award and has an
For
further
information,
index of awards, awarding bodies and
subjects
please
contact Samantha
•
Supplies full contact addresses and website
Jordan,
Institute
of Historical
details where
available
of
• Research,
Offers advice on University
submitting applications
John R Senate
Davis is ReaderHouse,
in Modern
London,
Malet
History at the University of Kingston
Street, London WC1E 7HU
[email protected],
020 7862 8756.
•
Grants for History 2008
Historical
Research
competition
winner
Institute of Historical Research
School of Advanced Study
University of London
Senate House, Malet Street
London WC1E 7HU
www.history.ac.uk
Timeline
The 2008 edition of Grants
for History, the IHR's guide to
sources of funding available
to historians, will be published
in early October. It includes
scholarships, fellowships and
prizes, together with sources
fo grants for maintenance,
study leave, conferences
and costs of fieldwork or
publication. It also includes
details of foreign awards
available to British historians.
The book, which this year
contains over 400 entries,
is available from the IHR
bookshop, priced £13.50.
Please contact Emily Morrell
for more information on
[email protected], tel. 020
7862 8780.
Grants for History
2008
A Guide to Funding
John R Davis
with
Emily Morrell &
Jane Winters
Institute of Historical Research
School of Advanced Study
University of London
www.history.ac.uk
News
New features for
British History
Online
In October 2007 British
History Online (www.britishhistory.ac.uk) launches a new
'premium content' subscription
service, making available
The National Archives'
Calendars of State Papers,
Domestic. The calendars
are an essential source for
historians in higher education.
They are invaluable for the
study of central government
and administration, but are
also a rich resource for the
social, cultural and economic
history of Britain. In addition,
the calendars contain a
wealth of personal and placename information, and are
increasingly used by family
and local historians, as well as
by those of all ages and levels
of experience interested in the
history of their locality, region
or country.
The launch is also the
occasion for a redesign of
the website, building on the
brand image which has been
developed successfully since
2002. New features include
enhanced navigation, and a
special 'Scholars' area', with a
wiki to follow.
Christianity in Cornwall – new book
launched
On Saturday 29 September
England's Past for Everyone
celebrated the launch of
their second paperback
publication.
Cornwall and the Cross:
Christianity 500–1560 was
launched by the Rt. Hon.
William Ind, The Bishop of
Truro, at an event held on St
Michael's Mount, Cornwall.
The Bishop led local school
children and other guests on a
pilgrimage from the Mount to
the mainland, where the book
was officially launched.
Written by Professor
Nicholas Orme, Cornwall
and the Cross charts the
development of the area's
religious history, showing
how the Cornish developed
distinctive traditions while fully
sharing in the Christianity of
western Europe. All aspects
of Christian life are explored,
from the early Church, to the
effects of the Reformation
in Cornwall. The book also
studies the lives of the people
involved in the Cornish
church, from monks, friars and
parish clergy to the lay people
who made an important
contribution to the religious
community.
This book is the second in the
England's Past for Everyone
series. Volunteers in Cornwall
were involved in collecting
data on the parishes and
teaching materials developed
during the project are currently
being trialled in a local school.
Books on the origins of
Sunderland and the history of
immigration in Bristol are also
due to be published by EPE
this year. Cornwall and the
Cross: Christianity 500–1560
is available to buy from the
IHR bookstore at a 10 per
cent discount.
New director for the CCBH
The Centre for Contemporary British History (CCBH) at the IHR is delighted to announce the
appointment of a new Director, Dr Richard Roberts.
Previously a member of faculty at the University of Sussex, Dr Roberts is a highly experienced
writer, researcher and teacher. A specialist in economic and financial history, he is author of many
books on investment banking and international finance and is currently completing a study of the
breakdown of the Bretton Woods fixed exchange rate system in the early 1970s. He is a leading
authority on international financial centres, especially Wall Street and the City.
Dr Roberts took up his post on 4 June 2007. 'I am excited to be joining the CCBH and look
forward to helping to enhance its important role as the UK's hub for contemporary history,' says
the new Director. 'I believe in supporting its established strengths as well as undertaking new
initiatives, particularly the development of the Centre's interface with the City.'
Making History:
the discipline in
perspective
The IHR has been awarded
funding by the University of
London Vice-Chancellor's
Development Fund to
develop a major online
resource that will trace the
'Making of History' in the
past century and more. This
historiographical archive
will include video and
audio material, databases
of research and teaching,
and newly-commissioned
contextual essays and
studies. The resource will
focus on five main areas:
•
•
•
•
•
People – the individuals who have loomed large
in the discipline, and shaped its progression and development
Places – the institutions and organisations which have played a leading
role in the practice and teaching of history
Themes – the dominant themes and movements which have emerged
(and declined) since the beginning of the 20th century
Projects – the significance of the great research
projects in shaping trends
The future – what lessons can the profession draw from its own history, in order to establish itself at the centre of education, and even British life, in the 21st century?
Comments?
Questions?
[email protected]
Dr Roberts can be reached at the CCBH by email: [email protected] or telephone: 020
7862 8810.
www.history.ac.uk Timeline
5
Our Friends in the States
Our Friends in the States
Sears McGee, President of the American Friends of the Institute
of Historical Research, discusses the founding of the AFIHR and
shares some reminiscences of life at the IHR in the 1960s
I first encountered the IHR 40 years ago.
I was a Yale graduate student doing
research on my doctoral dissertation,
and from 1967 to 1969 the IHR became
my academic home away from home.
Those were the days of 'Swinging
London'. Harold Wilson devalued the
pound not long after my wife and I
arrived, then only a year married. All of
a sudden our dollars bought 15 per cent
more, and it felt like an extension of our
honeymoon. We bought her a cony coat
in Carnaby Street and went to plays and
concerts much more often than we would
have otherwise. The National Theatre
performed in the Old Vic in those days,
where we saw Geraldine McEwan and
Sir Lawrence Olivier in Ibsen's Dance of
Death in seats that cost 7s 6d, not much
more than it would have cost to heat
our flat for the evening. Or so we told
ourselves. We heard Benjamin Britten
and Mstislav Rostropovich playing the
former's sonatas in the Queen Elizabeth
Hall and spent many wonderful evenings
in the Royal Festival Hall listening to
extraordinary orchestras (such as Carlo
Maria Giulini conducting the Verdi
Requiem). Thanks to Commonwealth
preferences, New Zealand lamb was
cheaper than chicken in the butcher's
shop, and we could go a long way on a
bus or the tube for a shilling.
I gave my first seminar paper in the
Stuart seminar, which was then directed
by R. C. Latham, Henry Roseveare and
Roger Lockyer. I attended that seminar
regularly and others occasionally, and I
remember learning a great deal from a
course on the Protestant Reformation in
Europe led by A. G. Dickens and Patrick
Collinson. I often worked in the library
after the reading rooms at the British
Museum closed for the day, and the IHR
tearoom always provided a welcome
break and a convenient place to talk to
colleagues. I particularly valued it during
cold winter weather because it was better
heated than the North Library. So, when
in 1996 I was asked to join the board
of directors of the American Friends of
Historical Research (AFIHR), I accepted
with alacrity.
The United States tax code allows
Americans to deduct from their taxable
income contributions that they make to
charities, and a wide variety of charities,
including educational institutions in the
US have long benefited enormously from
this provision. But our Internal Revenue
Service (IRS)
requires that money
sent to charities
outside the US
is not deductible
unless transmitted
by an approved
domestic entity
that is registered
and approved
and submits the
required reports. As
a result, the list of
'American Friends'
of charitable
institutions in
Europe and
elsewhere around
the world is a long
one. In Britain,
there are American
Friends of LSE and
the universities of
Oxford, Cambridge
and Edinburgh,
various Oxford and
Swinging London: Carnaby Street in the late 1960s (Photo: Sears McGee)
6
Cambridge colleges, the British Museum,
English National Opera, Covent Garden
and the Royal Ballet, the Warburg
Institute, the Royal Society, the Hakluyt
Society, the Bodleian Library, London
Philharmonic Orchestra, Philharmonia
Orchestra, St Paul's Girls' School,
St Bride Library, the Natural History
Museum, and many others.
The American Friends of the Institute
of Historical Research was founded in
1989, and its prime mover was Jacob
M. Price of the University of Michigan,
the doyen of Atlantic historians. Himself
a frequent visitor to the IHR, he knew
many American scholars who regularly
turned up there and rightly thought it was
time for us to do something to support
this wonderful place. Having such an
excellent idea and taking the time and
effort that is required to get it done are,
of course, two very different things.
Fortunately, Jack Price is a person who
had the persistence and skill to follow
through on his good intentions. Price
served as the first president of the AFIHR
until he was succeeded by Daniel Baugh
(formerly our vice-president) of Cornell
in 2000. I have the honour of being the
third president, having begun in 2005.
In 2003, the board voted unanimously to
name Jack Price the 'Founding President
of the American Friends of the Institute
of Historical Research' in 'recognition of
his role in creating the organization and
guiding it in its first eleven years'. In the
early days, board members included
Bentley Gilbert, James Sack, Walter
Arnstein, Lois Schwoerer, Carolyn Edie,
Peter Stansky, Warren Hollister and R. K.
Webb.
From the beginning, there were two
goals. First, the AFIHR wanted to fund
the purchase of books and microforms
to enhance the collections of the IHR
Library, and in particular to help with the
acquisition of large and expensive items
that might not otherwise be affordable.
Second, it wished to support purchases
of equipment or other things that
would make the IHR a better and more
accessible place for scholars to work.
In 1990, the price of basic membership
was set at $35 (now $45), and in 1990,
the officers and directors decided to
Timeline
www.history.ac.uk
Our Friends in the States
grant $4,500 to the IHR. In recent years,
the grants have averaged about three
times that amount, although inflation
and the decline of the dollar mean that
in real terms the gain is less than threefold. Our mailing list currently goes
to over 250 recipients, and the board
of directors meets once a year at the
annual conference of the North American
Conference on British Studies. Neither
officers nor directors are paid or receive
reimbursement for travel expenses, so
except for postage, printing and auditing
fees, all our income goes to the IHR.
The most recent survey I have seen of
'hits' on the AFIHR website indicates an
upward trend, running at an average of
nearly 70 per month.
Reading through the minutes, it becomes
evident that the record is in part a tale
of new technologies. In the beginning,
things were still fairly simple. At the 28
December 1990 board meeting in New
York City, grants were authorised for the
purchase of 'a reliable slide projector and
trolley, an overhead projector, and library
books and microforms'. Soon enough,
however, the voice of the computer was
heard in the land. In 1992, a $5,000
grant helped to fund the purchase of
two CD-ROM drives, a computer and
a printer. The 1994 funds helped to
support tagging of books for the new
security system and the purchase of
a workstation for the new information
server. Then as now, decisions about
allocations for specific items are made in
close consultation with the IHR's director
and staff members. Slide projectors have
yielded to data projectors, and we funded
purchase of one of those and three new
computers in our meeting in Boston last
autumn. Running alongside all the new
gadgets, of course, has been a steady
stream of acquisitions of books and
other research materials and guides to
them. In 1995, for example, there was
funding for half of the considerable cost
of a CD-ROM of Palmer's Index to the
Times, 17901905. When this important
tool became available online (extended to
1870), we voted to fund the IHR's access
to it in 2002. Other such acquisitions
include the Alecto Digital Domesday
Book and the Index to the House of
Commons Parliamentary Papers on CD-
The Board of the AFIHR at the 2006 meeting (Photo:
Walter Arnstein)
ROM. Books acquired
with our funds contain
a bookplate indicating
the AFIHR's donation,
and by now, 17 years
later, the total number
of books must be
rather considerable.
They include things
like the records of the
convocations held
in the archdioceses
of Canterbury
(1313–1852) and
York (1313–1861) (18
volumes); the trials for
treason and sedition
(5 vols., 1692–4); the
publications of the
London corresponding
society (6 vols., 1792–9); and the
coalition diaries and letters of H. A. L.
Fisher (4 vols., 1916–22). AFIHR paid the
construction costs of a Periodicals Room
(for current numbers) which is adjacent
to the Common Room, and there is a
plaque to that effect near its door.
In the last few years, we have become
increasingly interested in finding ways
to help scholars (including graduate
students) to make use of the IHR's
programmes and resources. In 2005,
we took pleasure in helping to put the
Conrad and Elizabeth Russell Fund 'over
the top', and last year we were fascinated
to learn of the work of the History Lab
and earmarked $2,000 for bursaries to
help North American students participate
in its annual conference. We will continue
to look for ways to do more in this area.
The Periodicals Room at the IHR
For more information, see www.
eiu.edu/%7Elocalite/britain/afihr.
If you are interested in becoming
a Friend of the Institute (American
or otherwise), please contact the
Development Office:
Institute of Historical Research
University of London
Senate House
Malet Street
London WC1E 7HU
Tel: +44 (0)20 7862 8791
Fax: +44 (0)20 7862 8752
Email: [email protected]
Sears McGee
President, AFIHR
University of California, Santa Barbara
www.history.ac.uk Timeline
7
Sinners, scroungers, saints
Sinners, scroungers, saints
Tanya Evans, research fellow at the IHR, tells us about her
exhibition on lone mothers past and present at The Women's
Library
Since October 2004 I have been working
as a Research Fellow on an ESRCfunded project led by Pat Thane on
'Unmarried motherhood in England and
Wales, 1918–95'. As part of the project
I have curated an exhibition which will
be held at The Women's Library, London
Metropolitan University from 17 October
2007 until spring 2008. The Women's
Library is a cultural centre, housing the
most extensive women's history resource
in the UK. It holds archives and printed
collections documenting the lives of lone
mothers and changing attitudes towards
lone parenthood from the 19th through to
the 21st century. A prize amongst these
collections is the archive of the National
Council for One-Parent Families which
was founded in 1918 as the National
Council for the Unmarried Mother and
her Child, with the aim of reducing the
gap in the mortality rates between rich
and poor children, especially between
'legitimate' and 'illegitimate' children,
and improving the welfare of unmarried
mothers and their offspring. To mark the
90th anniversary of the organisation this
exhibition will explore the diverse routes
into lone motherhood, the responses to
lone motherhood, how women coped
as lone mothers, the history of the
maintenance of lone-parent families
and how the issues and debates that
surround lone mothers in the present day
have and have not changed over time.
The exhibition is organised around
the following main themes: Relative
Values, Unforeseen Circumstances,
Forced Separations, Alone by Choice,
Sinners, Scroungers, Saints, Keeping
it in the Family, Adoption, Making Ends
Meet, Finding Support, Building New
Families, and Going it Alone. The first
section will explore changing conventions
surrounding marriage and childrearing
from the mid 18th century to the present
day. It will suggest that the 1950s, a
period described by Pat Thane as 'the
only age of the near universal, stable,
long-lasting marriage, often considered
the normality from which we have since
departed', represented an atypical
period in the history of the family and
that the perceived rise in unmarried
motherhood since the 1970s needs
to be situated within that context. We
suggest that the structures of family
life that many people believe to be new
8
since the 1960s – cohabitation, many
births outside marriage, transient and
complex family relationships – have a
much longer history. Since the 1970s
we have seen a return to much older
norms of serial partnerships, complex
families and late marriage ages, though
in a different mortality regime and legal
and cultural context from that of earlier
periods. Throughout history marriages
were broken by early death, now they
are broken by divorce and separation.
'No satisfactory way has yet been
found in our industrial society for a
mother without a breadwinner or a
helpful family to combine the two tasks
of earning a living and making a home
for her child.' (Sheila Ferguson and
Hilde Fitzgerald, Studies in the Social
Services (London, HMSO, 1954), p.
141.)
At the start of the 20th century most
lone mothers were widows; by the end
of the century they were never-married
mothers. Children have been brought up
successfully within these multiple family
forms throughout history. This section
draws on my book Unfortunate Objects:
Lone Mothers in Eighteenth-Century
London (Palgrave, 2005) and includes
representations of marriage, divorce and
separation from 1750 to the present day
as well as tokens from the Foundling
Museum, a Foundling Hospital petition for
admission, and an 18th-century bastardy
examination taken by the parish of St
Mary Islington. During the 18th century
the illegitimacy rate rose steadily across
England and Wales, from around 1 per
cent in 1650 to a peak of 7 per cent in
1850 when it declined to about 4 per cent
in 1902, except during the World Wars
when it rose to 9 per cent. By 1990 the
rate was 28 per cent and by the turn of
the 21st century almost two-fifths of births
took place outside marriage.
about 60 per cent of people had sex
before marriage, but they usually went
on to marry this partner, especially
when pregnancy resulted. Only from
the 1960s, with increasing economic
independence through paid work and
sexual autonomy gained through the
use of reliable contraception, could
women make active choices regarding
marriage and conception. This section
also explores the routes into lone
motherhood and the reasons for the
breakdown of relationships including
divorce, separation and abandonment.
Courtship and marriage have always
been particularly vulnerable to economic
hardship.
Forced Separation represents
relationships ended by the first and
second world wars, migration, exile
and death. Most couples, throughout
history, have been forced to postpone
marriage until they could afford to set
up an independent household together.
Until the 1950s most men and women
struggled to save enough money to do
so. The post-war welfare settlement
and the commitment to full employment
enabled more couples to set up home
and start families earlier than at any other
time in history before or since. The longer
women waited to marry, the more they
risked bearing a child out of wedlock.
During the first and second world wars
the consequences of pre-marital sex
Unforeseen Circumstances explores
women's access to and use of
contraception and abortion in the
20th century. Contraceptives and
abortifacients used throughout the
century are displayed alongside material
from the campaign to establish women's
right to birth control. Before the 1960s
Timeline
www.history.ac.uk
Sinners, scroungers, saints
became more obvious, as the illegitimacy
rate increased, largely as a result of
relationships not formalised by marriage
due to the war. The illegitimacy rate
doubled between 1939 and 1945 from
4.19 per cent of total live births to 9.18
per cent. The percentage of pregnancies
that occurred before marriage but were
legitimised by marriage fell from 70
per cent before 1940 to 37 per cent
in 1945. Many marriages also ended
due to adultery or death. All of these
circumstances led to women raising
children on their own. The letters to the
agony aunts of women's magazines
suggest a greater tolerance of premarital and extra-marital sexual activity in
wartime.
The section on Sinners, Scroungers and
Saints describes official and popular
responses to lone motherhood. There
has been no linearity in attitudes towards
lone mothers and this section describes
how and why they have been especially
stigmatised at particular points in time.
Attitudes towards unmarried mothers
and the responses to their predicament
varied greatly over the course of the
20th century. Before 1918 they were
predominately thought of as sinners,
after each war as unfortunates, in the
1950s as psychologically damaged,
by the 1960s as liberated, and as
objects of compassion in the 1970s, but
Women who give birth to children
out of wedlock continue to be
discriminated against legally, socially
and economically
increasingly stigmatised in the 1980s
and early 1990s. Current debates on
marriage also marginalise lone mothers.
Their experience as one of the poorest
sections of British society has remained
much the same. Women who give birth
to children out of wedlock continue to be
discriminated against legally, socially and
economically. Widows have always been
treated with more compassion than other
lone parents.
Keeping it in the Family describes how, in
contrast to popular perception, most lone
mothers were supported by their families
throughout the 20th century. The desire
for secrecy and discrimination could coexist with examples of compassion and
support for women who found themselves
pregnant without the support of a father.
Maternal grandparents were vital to
the care of their daughter's children,
sometimes in secret, but usually openly.
Adoption was also a common response
to the birth of illegitimate children. This
section displays an adoption certificate of
an illegitimate boy born in the 1920s, as
well as the pictures and details of children
addressed by it in a two-hour workshop.
Students have been asked to choose
from one of the following debates: 'The
nuclear family is the best family', 'A lone
mother is a good parent', 'It is futile to
expect non-resident parents to maintain
their children' and 'Lone parents should
be forced to work'.
New perspectives on lone
mothers: an academic
symposium
adopted and fostered throughout the
century. Adoption and fostering could also
be used as strategies by women hoping
to keep their family together. Some
children were brought up unaware of their
illegitimate origins and the identity of their
natural mother, but most were not.
Making Ends Meet describes how single
mothers are the poorest group within
British society and why this has not
changed over the course of over 200
years. It also explores the difficulties
women experienced in accessing
suitable and affordable housing as well
as the many problems they have faced
in either remaining in or re-entering the
workplace. In 2005, 41 per cent of oneparent families were living on below £200
a week, compared to just 8 per cent of
married and 11 per cent of cohabiting
couples with children. Fifty-six per cent
of lone parents are now in paid work, up
10 per cent from 10 years ago. But even
when in paid work, women working full
time earn on average 17.2 per cent less
than men. Finding Support describes how
the vast majority of mothers and babies
remained together, with a combination
of help from their wider family, from the
state and from voluntary organisations.
Building New Families displays the
experiences of five 'ambassadors' for
one parent families who are either
lone parents themselves or who were
brought up by lone parents, including
John Amaechai, Tracy Edwards, Rodney
Bickerstaffe, Lisa Aziz and Martina Cole.
Going it Alone includes five portraits
and oral history interviews with five lone
mothers or children brought up within
single parent households.
There will be a symposium on Lone
Parenthood held on 23 November 2007
at The Women's Library which will include
a plenary by Pat Thane. There is also a
schools programme targeted at A-level
sociology students who are invited to
see the exhibition and debate the issues
To be held in conjunction with the
exhibition Sinners, Scroungers, Saints at
The Women's Library
10am–5pm 23 November 2007
For further information contact:
www.thewomenslibrary.ac.uk
0207 320 2222
[email protected]
Keynote speakers:
Pat Thane – Leverhulme Professor of
Contemporary British History, Institute of
Historical Research
The changing experience of lone
motherhood in Britain since 1918
Hilary Land – Emeritus Professor and
Senior Research Fellow, Centre for
Family Policy and Child Welfare, School
for Policy Studies, University of Bristol
Lone mothers must work: more of the
same or different?
Other speakers include:
Tanya Evans – Institute of Historical
Research
The other woman and her child': extramarital affairs and illegitimacy in 20thcentury England
Vanessa May – University of Manchester
Changing notions of lone motherhood in
Finland
Thomas Nutt – University of Cambridge
Unmarried mothers as scroungers?
Assessing the tax burden of illegitimacy
and the payment of maintenance
by fathers in 18th- and 19th-century
England
Peter Harris – University of Oxford
The making of the Children and Child
Support Acts: lessons in legislating
Maria Luddy – University of Warwick
The problem of unmarried motherhood in
Ireland, 1880–1973
Janet Fink – Open University
What's the story, who's the problem?
Unmarried mothers in mid 20th-century
British film and TV
Ginger Frost – Samford University
Unintended consequences: limitations
and complications of the Legitimacy Act
of 1926
www.history.ac.uk Timeline
9
170 years of post
170 years of post: the British
Postal Museum and Archive
Helen Glew, doctoral student at the IHR, looks at the collections
Located in the Mount Pleasant Sorting
Office complex in central London, the
British Postal Museum & Archive holds
the records of the General Post Office
(GPO) and Royal Mail, and a museum
collection pertaining to these two
institutions and to postal history more
generally. The Royal Mail Archive has
public record status. Rather than being
preserved centrally, the material was
preserved by the GPO and Royal Mail
which has allowed a greater depth of
material to be kept than might otherwise
have been possible.
It is almost 170 years since the
introduction of the Penny Black and
the revolution in communication which
occurred as a result of postage becoming
affordable for all. In the intervening
century-and-three-quarters, the Post
Office has had an everyday impact on
everyone. Sending and receiving mail
remains at the heart of the institution's
importance, and over the years the Post
Office was the provider of telegraph
and telephone services and still offers
banking services. It was, and remains,
the collection point for Old Age Pensions
and the provider or facilitator of numerous
other services central to day-to-day life.
There is much in the archive documenting
the evolution of these services over the
years: from the plans for penny postage
to developments in the Money Order and
Savings Bank Department, to examples
of commercial advertising banned from
being franked onto envelopes and drafts
of Girobank publicity prior to its 1968
launch. There are also collections and
papers which provide a fascinating insight
into what might have been: a set of
stamps without the imprint of the Queen's
head, proposed by Tony Benn during his
service as Postmaster General; a design
for a joint British-French postage stamp,
proposed during 1940.
The GPO employed thousands of people
throughout the country in a wide variety
of different roles. In the early part of the
20th century it was also the nation's
largest employer and remained a Civil
Service department until 1969. There is
some form of employment record for the
vast majority of staff employed by the
GPO until 1959, creating an important
10
source for employment history and
genealogy. The staff magazines provide a
fascinating snapshot of the talent of GPO
employees, whose writing and art work
was regularly published in the earlier
issues, and a detailed glimpse of the
social and leisure opportunities available
to staff.
The Royal Mail Archive is also particularly
strong regarding the impact of the two
world wars on an institution. Documents
detail plans for war and changes in
policy and business arrangements
during conflict. In the Second World
War, Churchill asked post offices around
the country to keep a 'war diary'; these
provide a fascinating insight into the
impact of war on the GPO and its
individual workplaces.
Besides its role in communication
systems, the GPO was significant in other
events and developments of the 20th
century and as such the records can offer
much material in areas which might not
be expected to have much connection
with the history of the institution. For
example, the archive contains material
relating to the history of information and
propaganda films. Stephen Tallents, as
the GPO's first Public Relations Officer,
took responsibility for the GPO Film Unit,
which eventually became the Crown
Film Unit and was responsible for the
production of the Ministry of Information
films throughout the Second World War
and later those of the Central Office of
Information. The BPMA's photographic
collections include thousands of images
which trace, variously, the evolution
of uniform, mail transport, Post Office
interiors and much more and which
support the corresponding aspects of the
object collection. Likewise, the archive
of posters from before the Second
World War to the present showcases an
evolution in art, graphics and design and
the language and practices of marketing.
The Royal Mail Archive Search Room
is open for the consultation of archival
material from 10am to 5pm Monday to
Friday, with late opening until 7pm on
Thursdays and occasional Saturday
opening throughout the year. More
information, including the online
catalogue, can be found at www.
postalheritage.org.uk or by calling 020
7239 2570.
Inside a Travelling Post Office (TPO) in 1934. © Royal Mail Group Ltd 2007, reproduced by kind permission of
The British Postal Museum & Archive (www.postalheritage.org.uk)
Timeline
www.history.ac.uk
Sharing research at Cumberland Lodge
Robyn Glessner, research student, Centre for Contemporary British History
In 1947 the former royal residence of Cumberland
Lodge was set apart by King George IV and Queen
Elizabeth as a place for academics to reflect on their
role in the betterment of society in the wake of Nazi
Germany. Having witnessed a centre for cultural life
brought to its knees by the inability of the academic
community proactively to contradict the Nazi
regime, Cumberland Lodge has been reserved as
a refuge for subsequent generations of academics
in this cultural metropolis, as an open forum for the
discussion of ideas. Indeed, the students of the
CCBH gathered to do just that on a weekend in May
by presenting their research on a variety of topics in
the 20th century. From women working in the Post
Office to writing British national history after 1945,
discussion on a range of issues converged on a
desire to understand better the developments that
have brought us to the dawn of the 21st century.
The weekend gave everyone involved a great
opportunity to share interests and ideas, being
encouraged in their own research efforts by peers
and mentors while enjoying the beauty of the house
and grounds.
Political Cartoon Gallery
The political cartoons of George Butterworth 1938–53
5 September–20 October 2007
This exhibition graphically illustrates the period
1938–53 through the amusing and beautifully
drawn cartoons of George Butterworth, almost
all of which have not been seen since they were
first published. Butterworth started his career
as a sports cartoonist. When war was declared
against Nazi Germany in September 1939,
Butterworth took over as political cartoonist on
the Manchester Daily Dispatch. Butterworth's
daily cartoons proved to be such a success
that he soon came to the personal attention
of both Hitler and Mussolini. After Germany
had been defeated in May 1945, Butterworth
prophetically turned his attentions to the
threat Stalin, and the Soviet Union, posed to
the Western democracies. During this period,
Butterworth also poured scorn on the new
Labour Government led by Clement Attlee. The
post-war years of austerity and financial crisis
were all imaginatively used by Butterworth as
ammunition for his daily cartoons.
The exhibition consists of 60 original Butterworth
cartoons and will be accompanied by a fully
illustrated limited edition hardback catalogue.
The Political Cartoon Gallery, 32 Store Street, London WC1E 7BS, is open Monday to Friday 9.30am – 5.30pm and on Saturdays
between 11.30am and 5.30pm. Contact Dr Tim Benson on 020 7580 1114 or [email protected]k.
www.history.ac.uk Timeline
11
Mel Porter introduces the
The network of historians involved in the
History & Policy initiative has expanded
rapidly in recent months. There are now
over 70 recruits to H&P's new database
of historians who are willing to engage
with policy and media audiences. The
network will keep historians informed
about policy developments relevant to
their research and provide opportunities
for them to use their expertise in policy
and media discussion. H&P is still
seeking more historians to join the
database – there is no restriction on the
period or subject of expertise, all are
welcome. For more information contact
Ruth Evans on 020 7862 8781 or email
[email protected]
As the Government announced plans
for a national debate on the constitution,
including the role of local democracy,
H&P and the British Academy held
a successful workshop to explore
What's wrong with English local
democracy? Can looking back help to
move it forward? A distinguished panel
presented their thoughts: historian
and Local Government Ombudsman
Forthcoming articles in
Jerry White, former Chair of the Local
Government Association Lord BruceLockhart, LSE expert Tony Travers,
former Local Government Minister Nick
Raynsford and historian and Women's
Local Government Society Secretary
Anne Baldwin. David Walker, editor of
Guardian Public magazine, chaired a
lively discussion with an invited audience
of 35 other historians and contemporary
experts. A follow-up public event is being
planned for November, including a panel
debate on From local diversity to central
uniformity and back again: have public
services come full circle since 1948?
The pace of publication on the H&P
website continues to increase, with
more papers and more variety than ever
before. Recent contributions include
Andrew Blick and George Jones on
The 'Department of the Prime Minister'
– should it continue?, Abigail Wills on
Historical myth-making in juvenile justice
policy and Virginia Berridge on Smoking
and the sea-change in public health,
1945–2007. Virginia's research report,
History Matters? History's role in health
policymaking, has also recently been
published on the website. Forthcoming
papers will address binge-drinking in
historical context, genocide in the 20th
century, the role of history in national
identity formation and trade unions and
the law.
H&P is celebrating a new grant from
its current funders, the Philanthropic
Collaborative, which – among other
things – has enabled us to recruit a
full-time External Relations Assistant
to support Mel Porter's work. Ruth
Evans, who recently graduated from
York University with a BA in History and
English, is currently, and very capably,
filling this role. With its current grants
expiring in March 2009, H&P is actively
seeking the funds to enable the project
to continue from then. To enquire about
any aspect of H&P's work or to discuss
making a donation, please contact Mel
Porter on 020 7862 8768 or email mel.
[email protected]
For more information or to access H&P
papers and research, visit
www.historyandpolicy.org.
Historical Research by Julie Spraggon, Deputy Editor
Future Historical Research articles
present important new information
concerning the discovery of America
and evidence of a previously unknown
revolt in Oxfordshire in 1549, alongside
explorations of subjects of topical interest
such as the history of recycling and
Muslim integration in Britain.
Evan Jones's article on 'Alwyn
Ruddock: "John Cabot and the
Discovery of America"' is a close
examination of a book proposal
submitted by Alwyn Ruddock before her
death which makes revolutionary claims
concerning the voyages of John Cabot
to America. Dr Ruddock's research
papers were all destroyed according to
instructions in her will, but the survival of
this document has allowed Dr Jones to
piece together clues which point to some
potentially major new evidence from
previously unknown sources.
'New light on the "commotion time"
of 1549: the Oxfordshire rising' by
Katherine Halliday was a runner up in the
2006 Pollard Prize. The article describes
a significant revolt which occurred in the
midlands in the summer of 1549 – a year
famous for rebellions in Norfolk and the
west country. The Oxfordshire rising has
remained unknown largely because of the
privy council's swift action to suppress
and then conceal it. Halliday's findings
12
History and Policy unit at the IHR
will have an impact on standard accounts
of the government of Protector Somerset
and on the social and economic history of
the mid Tudor period.
significance of ritual and place-making in
relation to notions of belonging and the
construction of identity, and examines the
changing nature of Muslim 'rootedness'
within the British environment.
Recycling, it seems, is not a new
concern. Tim Cooper's article
'Challenging the "refuse revolution":
war, waste and the rediscovery of
recycling, 1900–50' looks at the social
practices of waste disposal between
1900 and 1950. Recycling and reuse –
virtually a norm before 1914 – declined
in the face of the emerging culture
of hygiene and the rise of incinerator
technology. This was partially reversed by
the wartime imperative to save resources
when waste management professionals
reconstituted themselves as experts in
resource management, transforming
attitudes to waste and developing new
salvage technologies. However, after the
war effort Britain quickly slipped back into
the throwaway culture that provides such
a challenge for environmentalists today.
Finally, 2008 will see the publication of
two recent Creighton Lectures. 'The war
against heresy in medieval Europe'
by Professor R. I. Moore (2004) argues
that the level of clerical anxiety about
popular heresy in 13th-century Europe,
and the vigour of measures adopted to
suppress it, were disproportionate to
its extent and support, and seeks an
alternative explanation for the launching
of the 'war against heresy'. Dame
Olwen Hufton, in 'Faith, hope and
money: the Jesuits and the genesis
of fundraising for education' (2006),
examines the financial support for Jesuit
schools which made possible the 'first,
greatest (arguably unique) trans-national
education system ever created'.
'Burying the dead: making Muslim
space in Britain' by Humayun Ansari
explores how far burial has contributed to
the establishment of a Muslim presence
in Britain over the past 200 years.
By discussing various ways in which
Muslims have buried their dead, and
some of the problems that they have
encountered, the article addresses the
These articles are currently/will shortly
be available to subscribers in our Online
Early issue at www.blackwell-synergy.
com/toc/hisr/0/0. Evan Jones's article
is freely available online. For a full list
of future articles, abstracts of published
articles and information about subscribing
or submitting to Historical Research, visit
our web pages at www.history.ac.uk/
historical/.
Timeline
www.history.ac.uk
The Irish diaspora: Irish History Online
The Irish
diaspora:
Irish
History
Online
Jackie Hill
introduces Irish
History Online, the
Irish relation of the
Royal Historical
Society Bibliography
of British and Irish
History, based at the
IHR.
Irish History Online (www.
irishhistoryonline.ie) is a fully searchable
electronic bibliography of publications
on Irish history, which is making it
much easier to discover what has
been published on particular topics in
Irish history. This free online resource,
based in the Department of History, NUI
Maynooth, Co. Kildare, was set up in
2003 thanks to a three-year Project Grant
from the Irish Research Council for the
Humanities and Social Sciences. It was
established in co-operation with the Royal
Historical Society Bibliography of British
and Irish History (which went online in
2002), and of which it is now the Irish
component, sharing the same software.
To date, almost 60,000 titles on Irish
history, covering publications from 1936
to 2002, are accessible through the IHO
Search Menu (www.irishhistoryonline.ie),
or through the RHS Bibliography's 'Irish
material only' Search Menu option (www.
rhs.ac.uk/bibl). These titles cover not only
monographs but also essays in collective
volumes, and journal articles, including
articles in local history journals. This
makes IHO far more comprehensive than
any other bibliography of Irish history,
electronic or printed.
The first phase of the project involved
digitising the entire corpus of 'Writings
on Irish History' (published annually
in Irish Historical Studies from 1938
onwards, and in pamphlet form in the
1990s). The bibliographic editor, Dr
Anthony McCormack, added appropriate
indexing terms and keywords; the time
period covered by each record is also
indicated, so that users can search for
material covering any year or range of
years. Thanks to the ADLIB software
customised by the RHS Bibliography
team, there are hierarchically controlled
languages for advanced searching by
subject and place, and an authority list
for personal names. In addition, and also
thanks to the shared software, users
of Irish History Online have available
to them several other important online
resources, some of which can help in
locating printed or online text. These
include: COPAC and OCLC's WorldCat,
which allow users to identify the library
nearest to them containing a copy of
the book/article they want; EDINA's
Get Copy service, which (in the case of
academic institutions participating in the
service) provides access to the online
text of certain electronically published
journals and books; and articles in the
Oxford Dictionary of National Biography
(which contains many thousands of
entries on Irish men and women).
These innovations are likely to become
increasingly important in the future, as
more Irish history journals begin to make
use of electronic publishing, and as
the eagerly-awaited date draws nearer
for the publication, in hard copy and
electronically, of the Dictionary of Irish
Biography, the multi-volume enterprise in
preparation under the aegis of the Royal
Irish Academy.
A second three-year Project Grant has
been awarded by the IRCHSS, to run
from 2006 to 2009. Under a new editor,
Dr Frank Cullen, and with the assistance
of an International Steering Committee,
the principal aim during Phase 2 is
to extend the coverage of overseas
publications on Irish history, especially
those on 'the Irish abroad'. From the
time of the Famine of the 1840s down
to the 1950s, around one-third of those
born in Ireland emigrated, mostly to the
USA, but with significant numbers going
to Canada and Australasia, as well as to
Britain. Communities of Irish descent are
also to be found in South America, Africa,
Asia, and all over Europe. Already IHO
contains considerable data on the Irish
abroad, but it is not comprehensive, and
identifying the gaps is a considerable
challenge. Some investigation can be
carried out via the Internet, but material
in journals is less frequently accessible
electronically. Accordingly, IHO's editor,
Dr Cullen, is about to visit New York and
Toronto, to identify publications on the
Irish in North America. Next year the main
focus will be on the Irish in Europe, and
in year three on the Irish in the rest of the
world.
IHO is very grateful to those who
have already offered advice as to the
whereabouts of material on the Irish
abroad. Suggestions, both on this and
on mainstream Irish history, are always
welcome: there is a feedback page on
the website, www.irishhistoryonline.ie. If
you are a published author, do check out
the coverage of your own publications
(despite all due care, some errors and
omissions do occur). But remember that
online data at present extends only to
publications up to and including 2002.
Titles of books and articles published
after 2002 will, with some exceptions, not
yet be available for online searching, but
will be coming on stream periodically –
updates are announced on the website.
By the end of 2009, the aim is that the
current five-year gap will have been
narrowed to two years, with many, if not
all, of the titles of publications for 2007
available for online searching.
Jackie Hill,
Irish History Online,
Department of History,
NUI Maynooth
www.irishhistoryonline.ie
www.history.ac.uk Timeline
13
Research training at the IHR
Historical archives courses
These courses introduce students to the
fundamental skills of conducting original
historical research, guiding them through
the processes of compiling a bibliography,
locating primary source materials and
using archives and repositories. As well
as being introduced to the printed and
online tools available, the group will visit
the most important archives and libraries
for their field of interest, learning about
their collections and how to use them,
and meeting the specialist archivists who
will help them in their work.
Methods and sources for historical
research
12–16 November 2007, 17–21 March
2008 and 7–11 July 2008
A week-long intensive introduction
to archives and libraries for historical
sources post-1500 (runs three times a
year).
Methods and sources for gender &
women's history
24–28 March 2008
An intensive introduction to archives
and libraries in London with particular
relevance for women's history.
Visual sources for historians
Tuesdays, 12 February–12 March 2008
An introduction to the use of art,
photography, film and other visual
sources by historians (post-1500).
Information technology
courses
Databases for historians I
6–9 November 2007 and 25–28 March
2008
An introduction to creating, using and
maintaining databases for research
projects.
Databases for historians II
16–18 July 2008
Develops the more advanced practical
skills necessary for constructing and fully
exploiting a database for use in historical
research.
The internet for historical research
28 November 2007 and 6 June 2008
An introduction to using the internet as a
tool for historical research.
Language courses
An introduction to medieval and
renaissance Latin I
Tuesdays, 23 October–11 December
2007
Nine weekly sessions will gently
introduce the complete beginner or
relative novice to the grammar and
vocabulary necessary to read postclassical Latin documents
An introduction to medieval and
renaissance Latin II
Tuesdays, 8 January–11 March 2008
Following on from the first course, this
further develops knowledge of the
language and reading skills, but at a
reasonable pace for relative newcomers
to Latin. Further details soon.
Intensive Latin weekends
TBA
The IHR offers two intensive Latin
courses for those who wish to dedicate a
long weekend to work on their language
skills rather than attend a semester-long
course.
Historical skills courses
These offer training in a variety of
specialised skills used by historians in the
course of their work.
Interviewing for researchers
3 December 2007 and 5 June 2008
An introduction to conducting interviews
with officials and specific types of subject
(i.e., civil servants, government ministers,
politicians, clinicians, businessmen and
dissidents).
An introduction to oral history
Mondays, 21 January–31 March 2008
This course is a practical introduction to
the use of oral testimony by historians.
Basic statistics for historians
Mondays, 12 November 2007–11
February 2008
Taught over two terms, this is an
introduction to statistical methods and
quantitative techniques for historical
research.
An introduction to historical
theory
Thursdays, 24 April–26 June 2008
A critical introduction to current
approaches to historical explanation.
Dealing with the media
TBA: Spring 2008
A one-day intensive training session
showing historians how to make the most
of their work in printed and broadcast
mass media. Full details soon.
Qualitative data analysis workshop
TBA
A one-day intensive training session
introducing computer analysis of
qualitative data using NVivo 7.
Landscape and Regeneration
Institute of Historical Research, 24–25 October 2008
Call for papers
As part of 'The History of Gardens and Landscapes' seminars at the IHR a conference on how 'green' initiatives have been used to
regenerate 'brown' sites from the 1980s onwards will be held at the IHR.
Recent history has shown that there is a greater awareness of the need to improve urban environments. There are many issues
here: they include problems caused by deindustrialisation in Europe and North America; climate change aggravated by changing
land use; population migration calling for more housing and less space to build it on, and a need for quality green space for
recreation.
Themes which should stimulate papers and discussions include:
The use of old commercial waterfronts • New botanic gardens • The regeneration of old industrial sites • Woodlands and
reafforestation • Garden festivals • Revival of old parks • Creation of new parks • Tourism based on gardens • Seaside revival •
Allotments • The Olympic Arena • The Thames Gateway
Papers are invited on these and other appropriate themes, and can relate to sites in the UK, Europe and North America. If you
would like to take part, please send by email a title and a short synopsis by 31 October 2007 to Janet Waymark
([email protected]).
14
Timeline
www.history.ac.uk
Events diary
Events will take place at the Institute of Historical Research unless otherwise stated.
Tall buildings in the London landscape (12 October 2007)
This cross-disciplinary symposium, organised by the Centre for Metropolitan History, town planner Michael Hebbert (University
of Manchester) and historian Elizabeth McKellar (Open University), will focus on the impact of tall buildings, past and present, on
London's landscape. It will bring together new research on towers of every type, their promoters and uses, the symbolism and
associations of high-rise architecture, its cumulative presence in the metropolitan landscape, and the issues posed by new tall
buildings for historic skylines and landmarks.
Contact: Olwen Myhill ([email protected]; 020 7862 8790); see www.history.ac.uk/cmh for more details.
Marc Fitch Lecture (31 October 2007; Royal College of Surgeons)
The lecture is entitled 'County, nations, empire and coasts: the VCH and the divisions of the British past' and will be given by
Professor Linda Colley, FBA. It will be followed by a reception in the Library and Surgery Museum, including an opportunity to view
the collection.
Contact: [email protected]
Creighton Lecture (date to be confirmed)
Robert Evans, Regius Professor of Modern History, Oxford, will give the 2007 Creighton lecture on 'The Creighton century: British
historians and Europe, 1907–2007'.
Contact: Samantha Jordan ([email protected]; 020 7862 8756)
IHR winter conference 2008: Public History (10–12 April 2008; University of Liverpool)
The IHR winter conference 2008 will be held jointly with the University of Liverpool. The conference will be called 'Public history'
and will look at how history is presented to, and consumed by, the public.
Contact: Holger Hoock ([email protected]; School of History, University of Liverpool, 9 Abercromby Square, Liverpool L69 7WZ)
The IHR's world-renowned programme of seminars continues to go from strength to strength. Seminars meet weekly during
termtime and all are welcome. An up to date programme for each seminar can be found on the IHR's website at
www.history.ac.uk/ihrseminars/ and is also displayed within the IHR.
American history
Thursday, 5.30pm
British history 1815–1945
Thursday, 5.00pm
British history in the 17th century
Thursday, 5.15pm
British history in the long 18th century
Wednesday, 5.15pm
British maritime history
Tuesday, 5.15pm
Collecting & display (100 BC to AD 1700)
Monday, 6.00pm
Contemporary British history
Wednesday, 5.00pm
Crusades and the Latin East
Monday, 5.00pm
Economic and social history of the
premodern world, 1500–1800
Friday, 5.15pm
Earlier Middle Ages
Wednesday, 5.30pm
European history 1150–1550
Thursday, 5.30pm
European history 1500–1800
Monday, 5.00pm
Film history
Thursday, 5.30pm
History of education
Thursday, 5.30pm
History of gardens and landscapes
Friday, 5.30pm
History of political ideas
Wednesday, 4.15pm
History of the psyche
Wednesday, 3.15pm
Imperial history
Monday, 5.00pm
International history
Tuesday, 6.00pm
Knowledge and society
Tuesday, 4.00pm
Late medieval and early modern Italy
Thursday, 5.00pm
Late medieval seminar
Friday, 5.30pm
Locality and region
Tuesday, 5.15pm
London Group of Historical Geographers
Tuesday, 5.00pm
London Society for Medieval Studies
Tuesday, 7.00pm
Low Countries
Friday, 5.00pm
Marxism and the interpretation of culture
Friday, 5.30pm
Medieval and Tudor London
Thursday, 5.15pm
Metropolitan history
Wednesday, 5.30pm
Military history
Tuesday, 5.00pm
Modern French history
Monday, 5.30pm
Modern German history
Thursday, 5.30pm
Modern Italian history
Wednesday, 5.30pm
Modern religious history
Wednesday, 5.15pm
Music in Britain
Monday, 5.15pm
Parliaments, representation and society
Tuesday, 5.15pm
Philosophy of history
Thursday, 5.30pm
Postgraduate seminar
Thursday, 5.30pm
Psychoanalysis and history
Wednesday, 5.30pm
Reconfiguring the British: nation, empire,
world 1600–1900
Thursday, 5.30pm
Religious history of Britain 1500–1800
Tuesday, 5.00pm
Society, culture and belief, 1500–1800
Thursday, 5.30pm
Socialist history
Monday, 5.30pm
Tudor and Stuart
Monday, 5.15pm
Women's history
Friday, 5.15pm
www.history.ac.uk Timeline
15
History and Philanthropy
A seminar arranged by the Institute of Historical Research and the Institute for Philanthropy, Tuesday 13th November 2–7pm.
This seminar aims to initiate dialogue among historians of philanthropy, contemporary philanthropists, other professionals in the fundraising
sector and makers of policy where philanthropy plays its part. An important role of the Institute of Historical Research is the creation of a sense
of historical context for activities that are key to the functioning of modern society. An understanding of the past is an essential aspect of a
cultured and civilised society. The focus of the Institute for Philanthropy is the encouragement of private giving by those with the capacity to
make a significant difference to the world in which they live – by providing technical and professional advice, by urging increased government
facilitation and by spreading the word about role models in contemporary society.
Individual contribution of money, time and personal involvement, in order to improve core areas of social need, has been a leit motiv of our
civilisation. This critical aspect of civil society is currently in the spotlight, partly because of a recent surge in the accumulation of wealth, partly
because democratic governments are facing enormous challenges from new directions that are going to have to be solved partly through
philanthropic input.
Taking education, and linked cultural activity, as our focus, we intend to highlight and discuss themes that have been relevant to philanthropic
activity throughout history.
Speakers include:
Professor David Bates, FRHistS, Director of the Institute of Historical Research,
Dr Salvatore LaSpada, Chief Executive of the Institute for Philanthropy
Beth Breeze, Researcher and writer, expert in charitable giving and philanthropy
Professor David Cannadine, FRHistS, Queen Elizabeth the Queen Mother Professor of British History
Rt Hon Sir John Chilcot GC
Bill Dietel, Chairman, Guidestar International
Theresa Lloyd, Theresa Lloyd Associates
Dr Jill Pellew, Vice President Grenzebach, Glier Europe
Dr Frank Prochaska, FRHistS, Honorary Fellow of the Institute of Historical Research
Professor Barry Supple CBE, FRHistS
Sir John Tusa, Chairman, University of the Arts
The seminar will be held at Goodenough College, Mecklenburgh Square W1 on Tuesday 13 November from 2pm to 7pm.
Attendance will cost £100. Numbers are restricted. Those interested in attending should contact: Michelle Waterman, Institute of Historical
Research, Senate House, Malet Street, London WC1E 7HU, 020 7862 8791 ([email protected]).
The seminar is convened by Dr Jill Pellew and co-ordinated by Caroline Underwood at the Philanthropy Company for the Institute of Historical
Research and the Institute for Philanthropy.
The Victoria County History is pleased to announce the latest
publication in its England's Past For Everyone series:
Cornwall and the Cross: Christianity 500-1560
Written by Professor Nicholas
Orme, this book shows how the
Cornish developed their own
religious traditions, while fully
sharing in the Christianity of
western Europe. All aspects of
Christian life are explored, from
the early Church, to the effects
of the Reformation in Cornwall.
The book also studies the lives
of the people involved in the
Cornish church, from monks and
friars to the parish clergy and the
lay people.
'The Christian faith in Cornwall is more than fifteen hundred years young
and it could not have a more dedicated, learned and attractive writer
to help us all to be aware of the heritage which is ours.'
The Rt Revd William Ind, Bishop of Truro
SPECIAL OFFER
SEE INSIDE FOR DETAILS
www.EnglandsPastForEveryone.org.uk
www.victoriacountyhistory.ac.uk
SPECIAL OFFER
Anglo American Conference of Historians
2–4 July 2008
Communication
Call for papers (deadline 31 October 2007)
Communication is central to all human relationships and to the
functioning of all societies. Its nature from classical times to the
present day is therefore an appropriate topic for the 77th AngloAmerican Conference, especially since it is nowadays an extremely
topical subject – witness contemporary agendas of consultation and
listening to the public and of knowledge transfer, the past decade's
near obsession with the effective management of message, the
role of the media, and current debates about the ICT revolution
and its contribution to so-called globalisation. The organisers will
therefore welcome proposals for sessions and individual papers
on all aspects of communication between human beings across
a broad chronological and geographical range, and between and
within organisations, states, religions, societies and cultures, with
contributions welcome from historians of all places and periods.
Among the areas which would be especially welcomed are the use
and reception of all forms of media over the centuries, the impact
of technological change on communication of all kinds, the role of
literate and non-literate forms of communication, communication
across linguistic, ethnic, religious and ideological boundaries,
and the role of communication in the operation and dynamics of
religions, states and communities.
For further details see www.history.ac.uk/conferences/social.
php#202 or contact Samantha Jordan ([email protected]
ac.uk), Institute of Historical Research, University of London,
Senate House, Malet Street, London, WC1E 7HU.