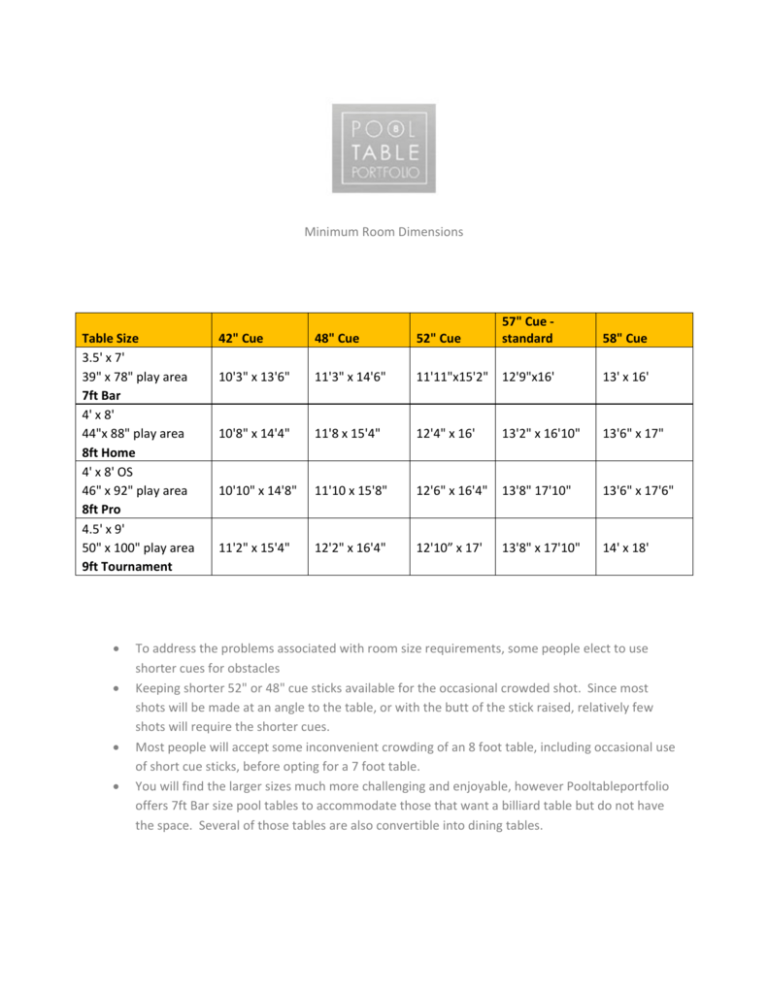 Minimum Room Dimensions Table Size 3.5' x 7' 39" x 78" play area 7ft Bar 4' x 8' 44"x 88" play area 8ft Home 4' x 8' OS 46" x 92" play area 8ft Pro 4.5' x 9' 50" x 100" play area 9ft Tournament 42" Cue 10'3" x 13'6" 10'8" x 14'4" 10'10" x 14'8" 11'2" x 15'4" 48" Cue 11'3" x 14'6" 11'8 x 15'4" 11'10 x 15'8" 12'2" x 16'4" 57" Cue ‐
52" Cue standard 11'11"x15'2" 12'9"x16' 12'4" x 16' 13'2" x 16'10" 12'6" x 16'4" 13'8" 17'10" 12'10" x 17' 13'8" x 17'10" 58" Cue 13' x 16' 13'6" x 17" 13'6" x 17'6" 14' x 18' 



To address the problems associated with room size requirements, some people elect to use shorter cues for obstacles Keeping shorter 52" or 48" cue sticks available for the occasional crowded shot. Since most shots will be made at an angle to the table, or with the butt of the stick raised, relatively few shots will require the shorter cues. Most people will accept some inconvenient crowding of an 8 foot table, including occasional use of short cue sticks, before opting for a 7 foot table. You will find the larger sizes much more challenging and enjoyable, however Pooltableportfolio offers 7ft Bar size pool tables to accommodate those that want a billiard table but do not have the space. Several of those tables are also convertible into dining tables.