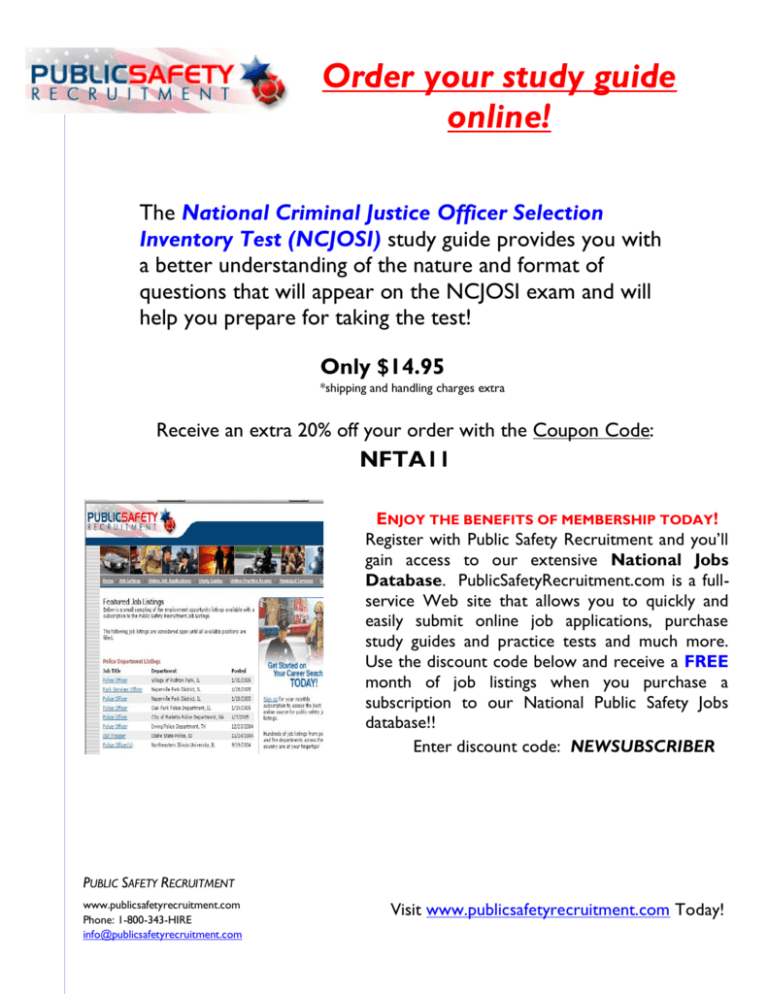 Order your study guide
online!
The National Criminal Justice Officer Selection
Inventory Test (NCJOSI) study guide provides you with
a better understanding of the nature and format of
questions that will appear on the NCJOSI exam and will
help you prepare for taking the test!
Only $14.95
*shipping and handling charges extra
Receive an extra 20% off your order with the Coupon Code:
NFTA11
ENJOY THE BENEFITS OF MEMBERSHIP TODAY!
Register with Public Safety Recruitment and you'll
gain access to our extensive National Jobs
Database. PublicSafetyRecruitment.com is a fullservice Web site that allows you to quickly and
easily submit online job applications, purchase
study guides and practice tests and much more.
Use the discount code below and receive a FREE
month of job listings when you purchase a
subscription to our National Public Safety Jobs
database!!
Enter discount code: NEWSUBSCRIBER
PUBLIC SAFETY RECRUITMENT
www.publicsafetyrecruitment.com
Phone: 1-800-343-HIRE
info@publicsafetyrecruitment.com
Visit www.publicsafetyrecruitment.com Today!