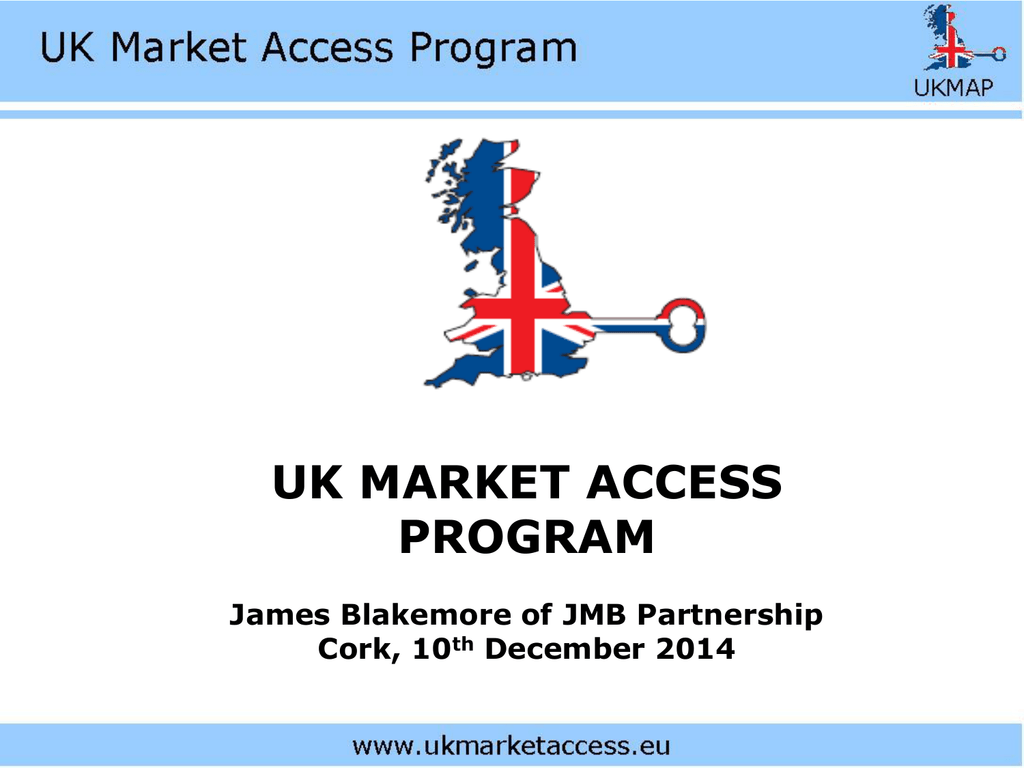 UK MARKET ACCESS
PROGRAM
James Blakemore of JMB Partnership
Cork, 10th December 2014
FOUNDING PARTNERS
Setting up is easy with some expert help. We have experience with setting up UK
operations having assisted over 250 companies.
THE OFFER:
•
UK Company Set up
•
EBS- 50% discount
•
A superior UK office
•
Warwick Science Park
•
EBS
•
Full administrative
services
•
Lead Generation
•
Marketing by UK Experts
•
Recruitment Support
AND…EASY EXIT
•
JMB - 1 hour free
consultancy + Partner
Discount
•
Techmark- 20% discount
•
Estrelas- discount
•
Discounted UK Company Formation when taken with Registered office and Company
Secretary services
•
•
•
Bank account opening
Outsourced financial administration services
Virtual Office service specifically designed to meet the needs of foreign owned
clients
•
•
Payroll service, net pay and tax deductions
Cost effective local IT and mobile phone set up
•
Six months heavily discounted furnished office
accommodation
•
•
•
Free UK market assessment
Support Services designed for SMEs
Access to the University of Warwick including the
international Digital Laboratory and the Warwick
Manufacturing Group
Delivering highly qualified appointments, lead generation and business growth through
intelligent telemarketing.
•
•
•
Strategic New Market Entry Sales & Marketing
Support to
Inclusive of 100 highly targeted business
prospects
1 hour free consultancy + Partners Discount
Team of highly experienced UK market experts. All services provided
at 20% discount
•
Market research/exploration
•
UK Market Fitness Appraisal
•
Marketing strategies
•
Market development
•
Development and execution of effective marketing campaigns
•
Management & General Recruitment – UK wide
•
Recruitment Agency Co-ordination & Management
•
Interim Managers – full time/part time
•
Specialists in recruiting 'early stage' employees
•
Complex Projects made simple
WHAT NEXT?
For more information contact us today:
Tel: +44 (0) 1926 21 77 11
Website: www.ukmarketaccess.eu
If you wish to discuss any aspect of your Market Entry contact us and
we will point you in the right direction.