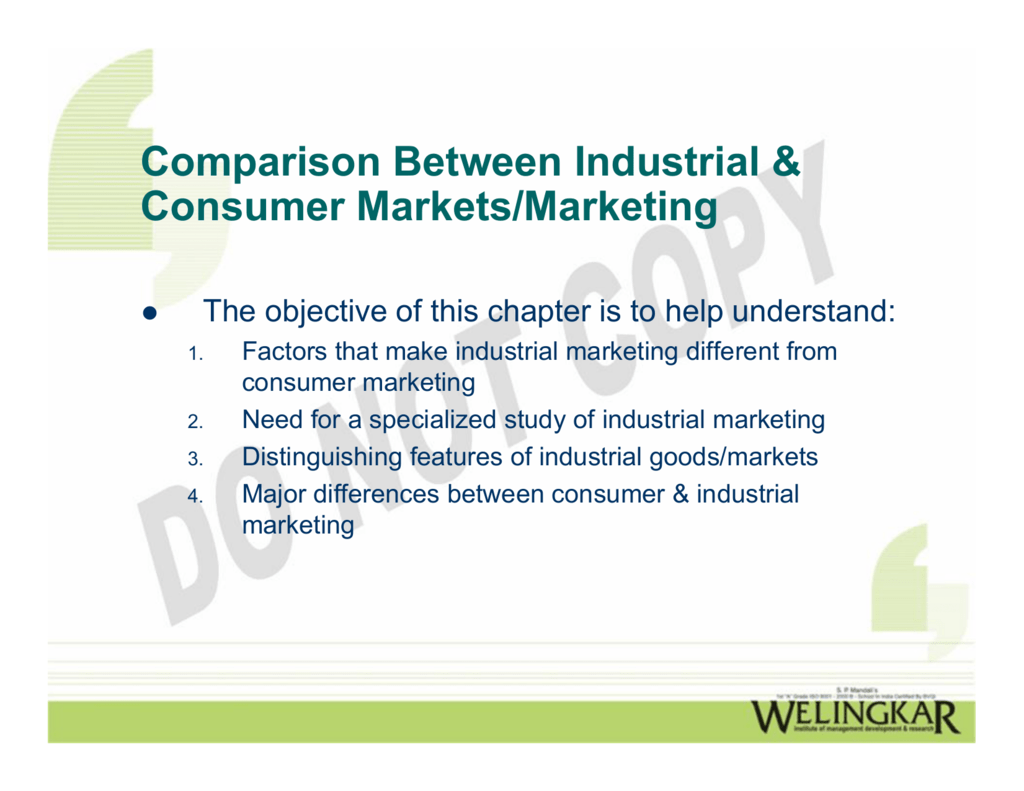 Comparison Between Industrial &
Consumer Markets/Marketing
z
The objective of this chapter is to help understand:
1.
2.
3.
4.
Factors that make industrial marketing different from
consumer marketing
Need for a specialized study of industrial marketing
Distinguishing features of industrial goods/markets
Major differences between consumer & industrial
marketing
Need for special branch of study called
Business Marketing
1.
2.
3.
While basic tasks of marketing
management apply in both the cases,
unique forces combine to pose special
challenges for the industrial marketing
manager.
Industrial marketing creates its own set of
conditions for marketing decisions.
Major factors affect shaping marketing
strategy for Business Marketing
Factors affecting strategy changes
Market characteristics
2. Customer characteristics
3. Demand characteristics
4. Product characteristics
Strategic differences are in the areas of :
1.
1.
2.
Marketing mix variables
Facilitating variables –
(like Marketing research)
What makes
Industrial Marketing
Different?
Differences in
Marketing
Characteristics
Differences in
Customer
Characteristics
Differences in
Facilitating
Variables (Marketing
Research etc.)
Differences in
Product & Demand
Characteristics
Differences in
Marketing Mix
Strategy (Product
Price, Place,
Promotion)
Product & Demand
Characteristics
1.
2.
3.
4.
5.
Industrial product demand characteristics vary
substantially from consumer products
Some product & demand characteristics are
unique to the industrial market
Demand for industrial products is derived demand
Also subject to reverse price elasticity of demand
No direct one-to-one relationship of demand for
end product and industrial product producing end
product
Customer Characteristics
1.
2.
3.
Number of customers is relatively small
needing often direct & short channels
Order size is very large in quantity or value
but frequency of purchase is very low
Quantity & frequency of order of several
items are affected by economic order
quantity i.e. which minimises ordering &
inventory costs
Customer Characteristics
4.
5.
6.
Decision making may involve – except for straight
re-buy – long process and several people.
Decision making unit (DMU) in industrial buying
situation is often larger than in consumer buying
Business buying decisions are entirely or
predominantly guided by rational, economic
motives, however sometimes non-economic
motives also play a part
Customer Characteristics
7.
8.
9.
10.
As business goods are bought for commercial use
or for the benefit of large community, cost &
consequences of non-performance would be very
high
Business marketer hence has to be extremely
careful of product, services & delivery
Business buyers are interested in reciprocity which
reinforces the business relationship
Close & strong buyer-seller relationship is the
prime characteristic of many business situations
Customer Characteristics
11.
12.
13.
Many businesses demand certain skills, other
capabilities & commitment on the part of business
marketers
Business buyers are interested in enduring
relationship and this tends to create vendor loyalty
Bargaining power of many industrial buyers,
because of their dominant position, is very high
and mighty. Sometimes they assume near
monopoly by collusion and depress the market.
Consumer goods buyers can hardly assume such
power.
Product Characteristics
1.
2.
3.
4.
Product/service mix is an area with the greatest
number of differences between business &
consumer markets
Product life cycle of the industrial products is
shorter than consumer goods due to technological
changes
Shorter PLC points to the need for strategies for
rapid market penetration with need for R & D
facilities
Payback period is an important criteria in project
evaluation
Product Characteristics
5.
6.
7.
Product specifications plays an important role in
the industrial products. Need to have specifications
at manufacturing stage, including specifications of
material used in the production
Very often industrial products are customised as
per buyer's technical requirements
Technical demand clearly shows need of high
technical skills & other capabilities for industrial
marketer
Product Characteristics
8.
9.
10.
11.
Service requirements for industrial goods include delivery,
installation, operator training, maintenance and after-sales
service
The service requirements for the same product can also vary
from customer to customer depending upon availability of inhouse maintenance facilities
System selling has great appeal in industrial marketing and
covers complete package of product design, installation, and
service
Branding does not play the same role in industrial marketing
as it plays in consumer marketing. However reputation of the
supplier is definitely important
Market Characteristics
1.
2.
3.
Business markets tend to be more oligopolistic
(few sellers) and consumer markets more
monopolistic (characterized by product
differentiation and many sellers and buyers)
Marketing implication of oligopostic competition is
that the strategies of one firm is closely watched
and responded by other firms
Aggregate size of business markets is often
several times larger than that of consumer markets
Market Characteristics
4.
5.
6.
Markets for industrial products are also classified
as vertical & horizontal markets
Market is vertical when it is very narrow, confined
to a segment of the industry e.g. special purpose
equipment
On the other hand, if the products are sold to very
broad & diverse spectrum of industries, the market
is termed as horizontal market e.g. multipurpose
equipment & MRO supplies
1.
2.
3.
Marketing
Mix
Characteristics
Several marketing mix
elements
differ between business marketing &
consumer marketing
These marketing mix elements – popularly known as 4 Ps comprising
1.
Product- technical specifications, user friendly features etc.
2.
Price- competitive bidding, tendering & negotiations
3.
Promotion-direct marketing with sales staff, consultants etc.
4.
Place (Distribution)- physical distribution of goods is of prime
importance
The Industrial Marketing Manager's prime task is to evaluate all these
variables and optimise them to achieve the company's marketing
objectives
Summary
There are substantial differences between industrial and
consumer markets and, consequently, between industrial
marketing and consumer marketing.
The major factors which affect the shaping of marketing
strategy differ so substantially between business goods and
consumer goods that there is need for specialisation in
business marketing.
The major factors of differences between consumer goods
and Industrial goods are:
1.
2.
3.
1.
2.
3.
4.
Market characteristics;
Customer characteristics;
Demand characteristics;
Product characteristics.