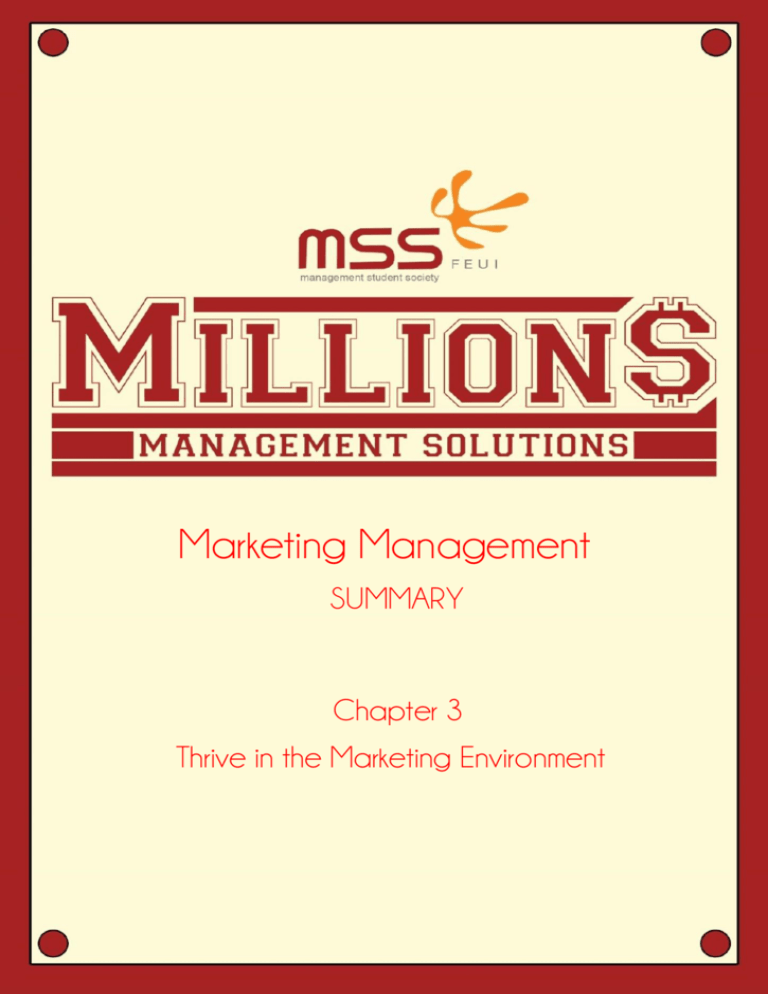 Marketing Management
SUMMARY
Chapter 3
Thrive in the Marketing Environment
Chapter 3 - Thrive in The Marketing Environment
Take a Bow : Marketing on The Global Stage
o World Trade - The Flow of goods and services among different countries - the value
of all exports and imports of the world's nations
o Countertrade - A type of trade in which goods are paid for with other items instead
of with cash
o Steps Entering Global Market :
o Step 1 : Go or No Go - Is it our best interest to focus on home market or
elsewhere?
o Step 2. Which Global Markets are most attractive and offer greatest opportunity?
o Step 3. What Market entry strategy and what level of commitment is best?
o Step 4. How do we develop marketing mix strategies in foreign market,
Standardize or Localized for each country?
o Must consider market conditions and competitive advantage - Many
times a firm decides to go global because domestic demand is declining while
demand in foreign market grows
Understand International, Regional, and Country Regulations
o Initiatives in international regulation and cooperation help trade : GATT (For the
purpose of reducing import tax levels and trade restrictions) & WTO (To supervise
and liberalize international trade)
o Protectionism restricts trade from Government to restrict foreign competition to
give domestic companies an advantage
o Import Quotas - Limitations set on the amount of product allowed to enter or
leave a country
o Embargoes - Trade prohibition with a country
o Tariffs - Taxes on imported goods
o Economic Communities are composed of groups of countries that band together to
promote trade among themselves while facilitating trade with countries outside the
country.
Analyze the Marketing Environment
o Economic Environment
o Marketers need to understand state of the economy from two different
perspectives

Overall Economic health and level of development of a country

Current stage of its business cycle
o Key Economic Indicators to measure Economic Health:

GDP - Total Dollar value of goods/services a country produces within its
border in a year

GNP - Value of all goods and services a produced by a country's citizens or
organizations

Economic Infrastructure - Quality of country's distribution, financial
and communication systems.
o Levels of Economic Development - based on Standard of Living (Indicator
of the average quality and quantity of goods and services a country consumes)

Least Developed Countries - Economic base is often agricultural.
Standard of Living is low and opportunities is low.

Developing Countries - Economy shifts emphasis from agriculture to
industry.

Developed Countries - Offer wide range of opportunities for
international marketers.
o The Business Cycle describes overall pattern of changes or fluctuation of an
economy.

prosperity (high levels of demand, employment, and income)

recession (falling demand, employment, and income)

recovery (gradual improvement in production, lowering unemployment,
and increasing income

A severe recession is a depression, a period during which prices fall but
there is little demand because few people have money to spend and many
are out of work

Inflation occurs when prices and the cost of living rise while money loses
its purchasing power because the cost of goods escalates.
o Competitive Environment
o Competitive Intelligence - Gathering and analyzing publicly available
information about rivals to develop superior marketing strategies
o Competition in Microenvironment

Consumer's Discretionary Income - Choices of spending Money left
over after people have paid for necessities

Product Competition - Alternate products that satisfy the same
consumer's needs/wants

Brand Competition - Most direct form of competition occurs among
brands offering similar goods/services
o Competition in Macro environment

Monopoly - One Seller controls a market

Oligopoly - There are a relatively small number of sellers, each holding
substantial market share, in a market with many buyers.

Monopolistic Competition - Many sellers who compete for buyers in a
market however each firm offers slightly different products.

Perfect Competition - Many small sellers offer same good or service
o Technological Environment
o Provides firms with important competitive advantages, Profoundly affects
marketing activities, and can transform industries.
o Patent - Legal document giving inventors exclusive rights to produce/sell a
particular invention in that country
o Political and Legal Environment - Local, state, national, and global laws and
regulations affect businesses
o Political constraints on trade :

Economic Sanctions - Prohibit trade with another country and cut off
access to markets

Nationalization - when domestic government takes over the businesses
and facilities of a foreign entity doing business within its border and
reimburse the foreign company

Expropriation - Domestic Government seizes a foreign company's assets
without any reimbursement.
o Sociocultural Environment - refers to the characteristics of the society, the people
who live in that society, and the culture that reflects the values and beliefs of the society.
o Demographics - Examining statistics that measure observable aspects of the
population, including its size, age, gender, ethnicity, income, education,
occupation and family structure
o Cultural Values - Deeply held beliefs about right and wrong ways to live.
o Social Norms - Specific rules dictating what is right or wrong, acceptable or
unacceptable.
o Language
o Ethnocentrism - Tendency to prefer products or people of one's own culture.
Is the World Flat or Not? How Global should a global Marketing Strategy Be?
o Exporting - If a firm chooses to export, it must decide whether it will attempt to sell its
products on its own or rely on intermediaries to represent it in the target country.
o Contractual Agreement
o License Agreement - The Licensor gives another firm (Licensee) the right to
produce and market its product in a specific country or region in return for royalties
on goods sold.
o Franchising - Form of licensing that gives the franchisee the right to adopt an
entire way of doing business in the host country.
o Strategic Alliance - Joint Venture; Two or more firms create a new entity to allow
the partners to pool their resources for common goals
o Direct Investment - Deeper level of Commitment occurs when a firm expands
internationally through ownership
o Product-Level Decisions - How to market their product in each country
o Standardization - Same strategy used in the home market is applied in the same
way abroad/
o Localization - Tailor products and promotional messages to local environments.
o Modify the Marketing Mix
o Product Decisions


A Firm has three choices when it decides on a product strategy

Sell the Same product in the new market

Modify it for that market

Develop a brand new product to sell there
A straight extension Strategy - Used when a firm offers the same product
in both domestic and foreign markets

A Product Adaptation Strategy - Occurs when a firm offers a similar but
modified product in foreign markets

Product Inventions - Requires a firm to develop a new product for foreign
markets

Backward Invention - A firm develops a less advanced product to serve the
needs of people living in countries without electricity or develop
infrastructure
o Promotion Decisions - Decide whether it's necessary to modify how they speak
to consumers in a foreign market.
o Price Decisions - Products are often more expensive to produce for foreign
markets.

Free Trade Zones -
Designated areas where foreign companies can
warehouse goods without paying taxes or customs duties until they move the
goods into market place

Gray Market Goods - Items manufactured outside a country and then
imported without the consent of the trademark holder.

Dumping - Company prices its products lower than it offers at home.
o Distribution Decisions - Getting the product to remote locations is often difficult.