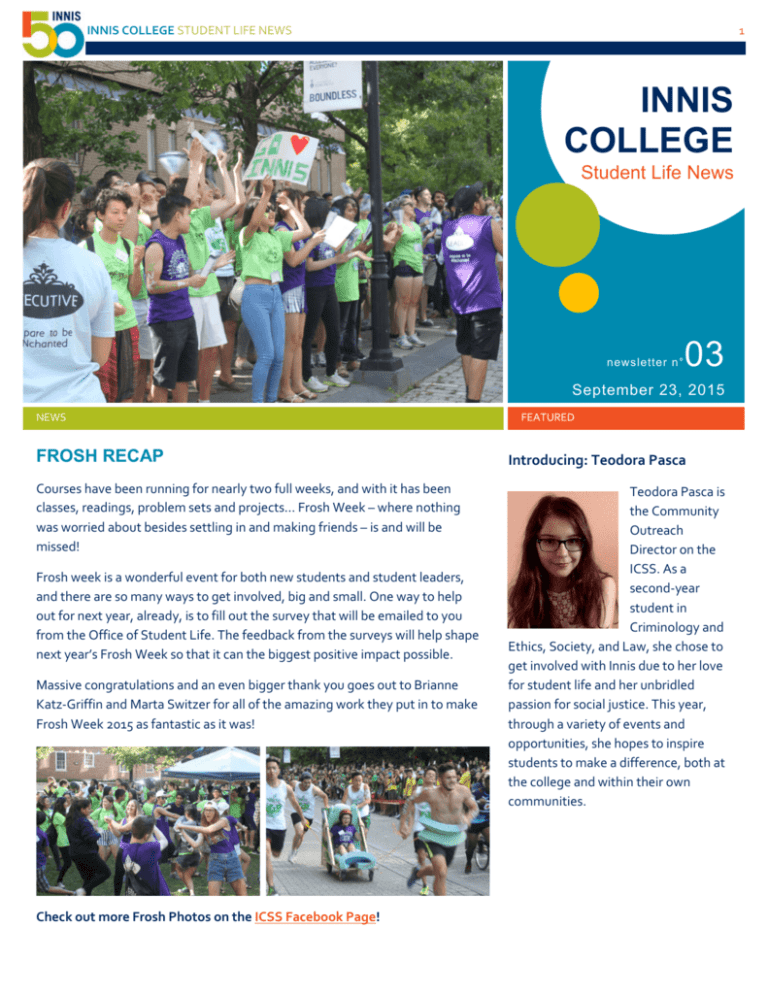 INNIS COLLEGE STUDENT LIFE NEWS
1
INNIS
INNIS
COLLEGE
COLLEGE
Student Life News
Student Life News
newsletter n°
03
September 23, 2015
NEWS
FEATURED
FROSH RECAP
Introducing: Teodora Pasca
Courses have been running for nearly two full weeks, and with it has been
classes, readings, problem sets and projects… Frosh Week – where nothing
was worried about besides settling in and making friends – is and will be
missed!
Teodora Pasca is
the Community
Outreach
Director on the
ICSS. As a
second-year
student in
Criminology and
Ethics, Society, and Law, she chose to
get involved with Innis due to her love
for student life and her unbridled
passion for social justice. This year,
through a variety of events and
opportunities, she hopes to inspire
students to make a difference, both at
the college and within their own
communities.
Frosh week is a wonderful event for both new students and student leaders,
and there are so many ways to get involved, big and small. One way to help
out for next year, already, is to fill out the survey that will be emailed to you
from the Office of Student Life. The feedback from the surveys will help shape
next year's Frosh Week so that it can the biggest positive impact possible.
Massive congratulations and an even bigger thank you goes out to Brianne
Katz-Griffin and Marta Switzer for all of the amazing work they put in to make
Frosh Week 2015 as fantastic as it was!
Check out more Frosh Photos on the ICSS Facebook Page!
INNIS COLLEGE STUDENT LIFE NEWS
Innis College Student Society (ICSS)
COMMUNITY OUTREACH!
During Frosh Week, Innis raised over $770 for Nepal Earthquake Relief,
with proceeds going to the International Medical Corps. Thanks to
everyone who donated--you are amazing!
Want to get involved with outreach? The Community Outreach Director
is looking for associates. This is a great opportunity to gain eventplanning experience and to get involved with the community on a more
personal level.
To apply, send your resume and a 200-word statement on why you want
to do outreach to outreach@innisicss.com by September 25.
DEMOCRACY NIGHT AT INNIS CAFÉ
Come to the Innis Cafe this Thursday, September 24th, to hear speeches from the
candidates running in the by-elections for ICSS. There will be music, free food and
beverages, so come get informed and have a good time!
Visit the Facebook event page for additional information.
CANADA'S WONDERLAND TRIP
ICSS wants to take you to Canada's Wonderland! The trip is scheduled for
October 3rd, but tickets will be available on September 28th for $15 each. The
spots are super limited, so make sure you sign up in the ICSS office as soon
as you can!
You can visit the Facebook event page for more information.
2
INNIS COLLEGE STUDENT LIFE NEWS
ICSS SOCIAL DIRECTOR ASSOCIATE
Would you like to make a big impact on the Innis community? Do you like to plan events?
Would you like to meet more people? The position of ICSS Social Director Associate could be
for you! There will be application forms available at the ICSS office. All forms are due back by
September 30th.
If you have any questions, email social@innisicss.com!
DOWNEY'S FARM TRIP
ICSS, in collaboration with the Innis Residence Council (IRC) are planning a
trip to Downey's Farm for October 18th. There is limited availability, and signup sheets will be posted both in the ICSS office and at the Innis Residence
Front Desk closer to the event. Keep your eyes peeled!
Innis Office of Student Life (OSL)
MENTORSHIP
InSight is a mentorship program at Innis that aims to provide a platform for personal
and academic growth for students. If you want to have an upper-year mentor from
your program of study, come to our orientation on Sept 28th at 4 in the Innis
Residence Events Room!
ARTS, CULTURE AND DIVERSITY
Are you new to Toronto? Do you want to explore the city we study in? The Arts, Culture
and Diversity Committee is offering City Tours from 4pm to 5pm on October 1st.
More information to come, keep an eye out!
3
INNIS COLLEGE STUDENT LIFE NEWS
Canadian Conversations #1: Adapting to Canadian Academics
For International Students, especially First Years!
(Domestic students and Upper Years are also more than welcome)
Friday, October 2, 1-3 p.m. Events Room, Innis College Residence
Come have lunch with us! Pizza, salad, and refreshments will be served!
•
Handling the academic load - What are the academic expectations and
"culture" at the U of T? How can you be more successful here?
•
Academic integrity - What's a problem and what's okay under the the Academic Code of Conduct?
•
Question-and-answer session - Your questions on specific scenarios answered!
The sessions will be led by Donald Boere, Assistant Principal and Registrar, Innis College; and Thomas MacKay, Associate
Registrar (Administrative), Innis College.
Please sign up for a spot HERE.
Registrar
IMPORTANT UPCOMING DATES
September 27: last day to add or change meeting sections in F/Y courses
September 30: last day to pay 2015 fall tuition fees to avoid service charges
FINANCIAL SUPPORT AND AWARDS
The Dean's Student Initiatives Fund provides financial support for student
initiatives that aspire to create dialogue and foster a greater sense of
community. The application deadline for the winter competition is October 15.
Visit this website for additional information.
4
INNIS COLLEGE STUDENT LIFE NEWS
5
Residence
HOUSE PRINCIPAL'S DINNERS
Each House in the Residence will have the opportunity this year to have a dinner with the
new College Principal, Dr. Charlie Kiel. These dinners will be happening throughout
September and October, so keep an eye out for when those will be!
RESIDENCE CLUBS
IRC is looking to have more clubs for the residence!
If there is anything that you wish was available to you as a resident, contact Cole Mellows at
cole.mellows@mail.utoronto.ca for more information!
Get Involved at UofT
UTSU DEMOCRACY WEEK
The last week of September will be DEMOCRACY WEEK!
This is week for students to attend events and inform themselves
leading up to the Federal Election. This will be agreat space for both
domestic and international students!
There will opportunities to meet the local candidates, hear a panel of
diplomats discuss democracy and chances to really engage with other
students in a fun #voteposal campaign.
For more information, please contact Vice President External Jasmine
Denike (who is from Innis!) at vpexternal@utsu.ca!
INNIS COLLEGE STUDENT LIFE NEWS
UTSU'S ANNUAL GENERAL MEETING
Don't let the name fool you, the AGM is where ALL students are welcome to give
their opinions, speak out for their student rights, and make sure the UTSU is doing
what YOU want us to be doing.
Every student has a vote at this meeting. It will be held on Wednesday, Oct. 7th
2015. Can't make it? Come and PROXY your vote to your friends and classmates
who will vote your way during the integral motions that hold us together.
EVERY UTSU member is welcome. For more information, please contact Vice
President Internal & Services Ryan Gomes at vpis@utsu.ca.
Community Involvement
SOCIAL EQUITY PANEL AND NETWORKING
The United Way and the University of Toronto are partnering up to create a night of intelligent discussion on the topic of
social equity which will feature a panel of experts and industry professionals. The night will consist of a panel discussion,
networking and the opportunity to learn about local opportunities.
The event will be held on October 15th from 6pm-8:30pm at Innis Town Hall.
Spots are limited, so sign up as soon as you can. You can visit their website for more information.
PUMPED FOR POST-SEC PROGRAM
Interested in working with Toronto youth? Want to share your university
experience and give back to your community? Applications are now open
to all students for Pumped for Post-Sec, a New College and Big Brothers
Big Sisters Toronto mentorship program.
The program will run on Tuesdays from 4:30pm-6pm from October
through to April.
Visit their website if you are interested in additional information.
6
INNIS COLLEGE STUDENT LIFE NEWS
Health & Wellness
MINDFUL MOMENTS
Is academic life stressing you out? Would you like to be more calm, confident,
and connected? There are opportunities Monday through Thursday throughout
the St. George campus to practice secular mindful meditation techniques that
will help you with your relaxation, resiliency and focus. All sessions are on a
drop-in basis, and no previous experience is necessary.
You can visit their website for when and where every session is held.
Career Exploration
WRITING CENTRE
Dear third- and fourth-year Innis students:
As you move toward the next stage of your academic or professional lives, Innis and the University can support you
in these important ways:
• WORKSHOPS: The FAS writing centres and the Career Centre offer two-hour workshops on admissions letters and
personal statements.
Check out the site: writing.utoronto.ca/writing-plus/admissions-workshops/
Fall dates: Mon. Sept 21, 2-4 pm / Wed. Sept 30, 2-4 pm / Mon. Oct 26, 4-6 pm
Spring dates: Thurs. Jan 21, 4-6 pm
• WRITING CENTRE APPOINTMENTS: You may book up to two one-on-one appointments this year at the Innis College
Writing Centre for help with your admissions letters.
Book appointments at the Innis College Writing Centre site:
innis.utoronto.ca/current-students/academic/innis/writing-centre/appointment/
• CAREER ADVICE: Kate Bowers, a career educator with the Career Centre, is available to talk to INNIS students about
employment opportunities on campus, resume help, interview skills, and other employment information.
Kate is available for both commuter students and residents in the lobby of the Innis Residence every Monday from
5 PM to 7 PM. Contact kate.bowers@utoronto.ca for more information or to book an appointment.
7
INNIS COLLEGE STUDENT LIFE NEWS
8
STAY CONNECTED!
Free Screenings at Town Hall
Film Festivals are happening
throughout the year - be
sure to check the Town Hall
schedule often!
Got Questions?
Check out the Registrar's
website for academic /
financial / personal support!
Check out our Student
Facebook Pages!
 Innis Office of Student Life
 Innis Residence & IRC
 ICSS
Student Metropass
Be sure to get a discount
Post-Secondary student
metropass this month with
your TTC student ID!
WANT TO UNSUBSCRIBE?
The Innis Office of Student Life sends this bi-weekly newsletter through email so you are informed about
both Innis and UofT activities and opportunities that may enrich your student experience.
If you no longer want to receive these newsletters, you can unsubscribe by replying to the email with your name, email address,
UofT student number, and the word "Unsubscribe", and we will remove you from our mailing list.