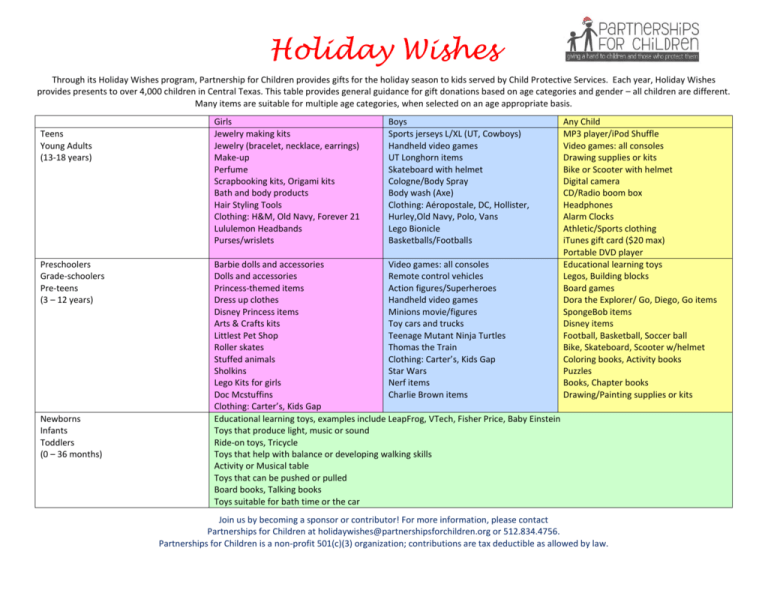 Holiday Wishes
Through its Holiday Wishes program, Partnership for Children provides gifts for the holiday season to kids served by Child Protective Services. Each year, Holiday Wishes
provides presents to over 4,000 children in Central Texas. This table provides general guidance for gift donations based on age categories and gender – all children are different.
Many items are suitable for multiple age categories, when selected on an age appropriate basis.
Teens
Young Adults
(13-18 years)
Preschoolers
Grade-schoolers
Pre-teens
(3 – 12 years)
Newborns
Infants
Toddlers
(0 – 36 months)
Girls
Jewelry making kits
Jewelry (bracelet, necklace, earrings)
Make-up
Perfume
Scrapbooking kits, Origami kits
Bath and body products
Hair Styling Tools
Clothing: H&M, Old Navy, Forever 21
Lululemon Headbands
Purses/wrislets
Boys
Sports jerseys L/XL (UT, Cowboys)
Handheld video games
UT Longhorn items
Skateboard with helmet
Cologne/Body Spray
Body wash (Axe)
Clothing: Aéropostale, DC, Hollister,
Hurley,Old Navy, Polo, Vans
Lego Bionicle
Basketballs/Footballs
Barbie dolls and accessories
Video games: all consoles
Dolls and accessories
Remote control vehicles
Princess-themed items
Action figures/Superheroes
Dress up clothes
Handheld video games
Disney Princess items
Minions movie/figures
Arts & Crafts kits
Toy cars and trucks
Littlest Pet Shop
Teenage Mutant Ninja Turtles
Roller skates
Thomas the Train
Stuffed animals
Clothing: Carter's, Kids Gap
Sholkins
Star Wars
Lego Kits for girls
Nerf items
Doc Mcstuffins
Charlie Brown items
Clothing: Carter's, Kids Gap
Educational learning toys, examples include LeapFrog, VTech, Fisher Price, Baby Einstein
Toys that produce light, music or sound
Ride-on toys, Tricycle
Toys that help with balance or developing walking skills
Activity or Musical table
Toys that can be pushed or pulled
Board books, Talking books
Toys suitable for bath time or the car
Any Child
MP3 player/iPod Shuffle
Video games: all consoles
Drawing supplies or kits
Bike or Scooter with helmet
Digital camera
CD/Radio boom box
Headphones
Alarm Clocks
Athletic/Sports clothing
iTunes gift card ($20 max)
Portable DVD player
Educational learning toys
Legos, Building blocks
Board games
Dora the Explorer/ Go, Diego, Go items
SpongeBob items
Disney items
Football, Basketball, Soccer ball
Bike, Skateboard, Scooter w/helmet
Coloring books, Activity books
Puzzles
Books, Chapter books
Drawing/Painting supplies or kits
Join us by becoming a sponsor or contributor! For more information, please contact
Partnerships for Children at holidaywishes@partnershipsforchildren.org or 512.834.4756.
Partnerships for Children is a non‐profit 501(c)(3) organization; contributions are tax deductible as allowed by law.