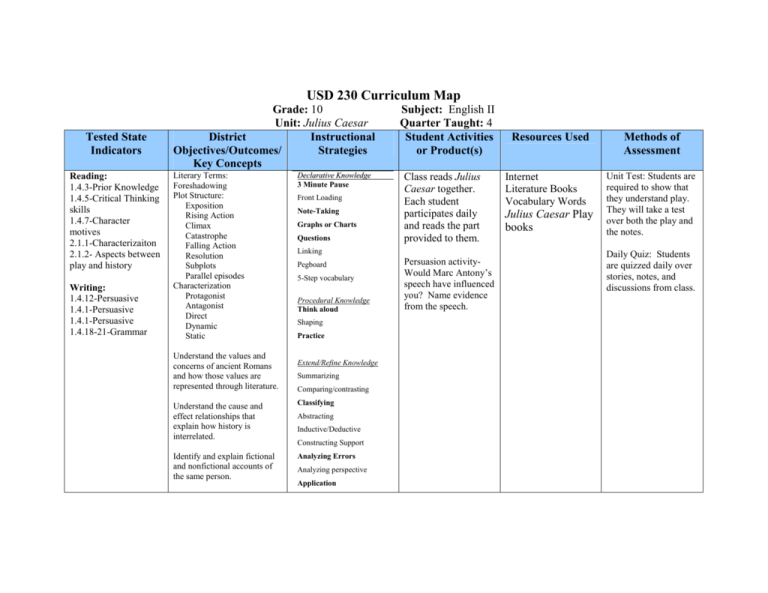 USD 230 Curriculum Map
Tested State
Indicators
Reading:
1.4.3-Prior Knowledge
1.4.5-Critical Thinking
skills
1.4.7-Character
motives
2.1.1-Characterizaiton
2.1.2- Aspects between
play and history
Writing:
1.4.12-Persuasive
1.4.1-Persuasive
1.4.1-Persuasive
1.4.18-21-Grammar
Grade: 10
Unit: Julius Caesar
District
Instructional
Objectives/Outcomes/
Strategies
Key Concepts
Literary Terms:
Foreshadowing
Plot Structure:
Exposition
Rising Action
Climax
Catastrophe
Falling Action
Resolution
Subplots
Parallel episodes
Characterization
Protagonist
Antagonist
Direct
Dynamic
Static
Understand the values and
concerns of ancient Romans
and how those values are
represented through literature.
Declarative Knowledge
3 Minute Pause
Front Loading
Note-Taking
Graphs or Charts
Questions
Subject: English II
Quarter Taught: 4
Student Activities
or Product(s)
Class reads Julius
Caesar together.
Each student
participates daily
and reads the part
provided to them.
Linking
Pegboard
5-Step vocabulary
Procedural Knowledge
Think aloud
Shaping
Practice
Extend/Refine Knowledge
Summarizing
Comparing/contrasting
Understand the cause and
effect relationships that
explain how history is
interrelated.
Classifying
Identify and explain fictional
and nonfictional accounts of
the same person.
Analyzing Errors
Abstracting
Inductive/Deductive
Constructing Support
Analyzing perspective
Application
Persuasion activityWould Marc Antony's
speech have influenced
you? Name evidence
from the speech.
Resources Used
Internet
Literature Books
Vocabulary Words
Julius Caesar Play
books
Methods of
Assessment
Unit Test: Students are
required to show that
they understand play.
They will take a test
over both the play and
the notes.
Daily Quiz: Students
are quizzed daily over
stories, notes, and
discussions from class.