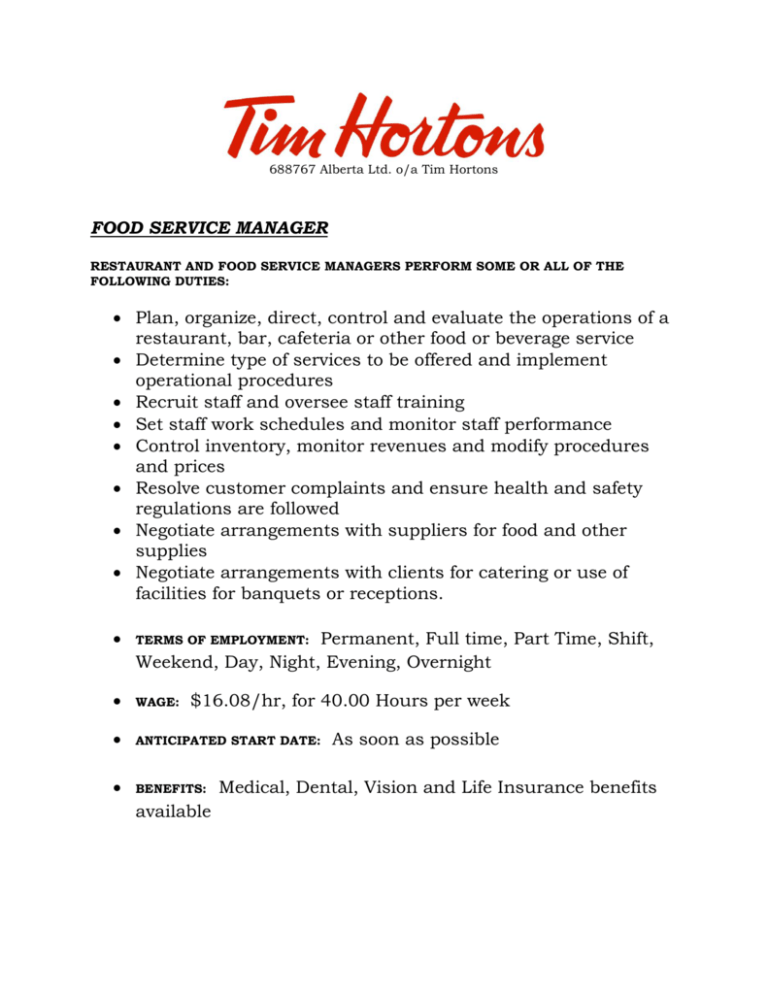 688767 Alberta Ltd. o/a Tim Hortons
FOOD SERVICE MANAGER
RESTAURANT AND FOOD SERVICE MANAGERS PERFORM SOME OR ALL OF THE
FOLLOWING DUTIES:
 Plan, organize, direct, control and evaluate the operations of a
restaurant, bar, cafeteria or other food or beverage service
 Determine type of services to be offered and implement
operational procedures
 Recruit staff and oversee staff training
 Set staff work schedules and monitor staff performance
 Control inventory, monitor revenues and modify procedures
and prices
 Resolve customer complaints and ensure health and safety
regulations are followed
 Negotiate arrangements with suppliers for food and other
supplies
 Negotiate arrangements with clients for catering or use of
facilities for banquets or receptions.

TERMS OF EMPLOYMENT:

WAGE:

ANTICIPATED START DATE:

BENEFITS:
Permanent, Full time, Part Time, Shift,
Weekend, Day, Night, Evening, Overnight
$16.08/hr, for 40.00 Hours per week
available
As soon as possible
Medical, Dental, Vision and Life Insurance benefits

BUSINESS & LOCATION OF WORK ADDRESS:
o 13831 – 127 Street
o 5003 – 101 Avenue
o 6120 – 50 Street

(All in Edmonton)
HOW TO APPLY:
o
o
o
780-756-7089
BY EMAIL: jobs@tcdinc.ca
IN PERSON: Between 10am and 3pm
BY FAX:

EDUCATION:

EXPERIENCE:

LANGUAGES:

ADDITIONAL INFORMATION:
Completion of a college or other program related to
hospitality or food and beverage service management is an
asset.
Several years of experience in the food service
sector, including supervisory experience are an asset.
Speak English, Read English, Write English
Progression to senior management in
food service is possible with experience.