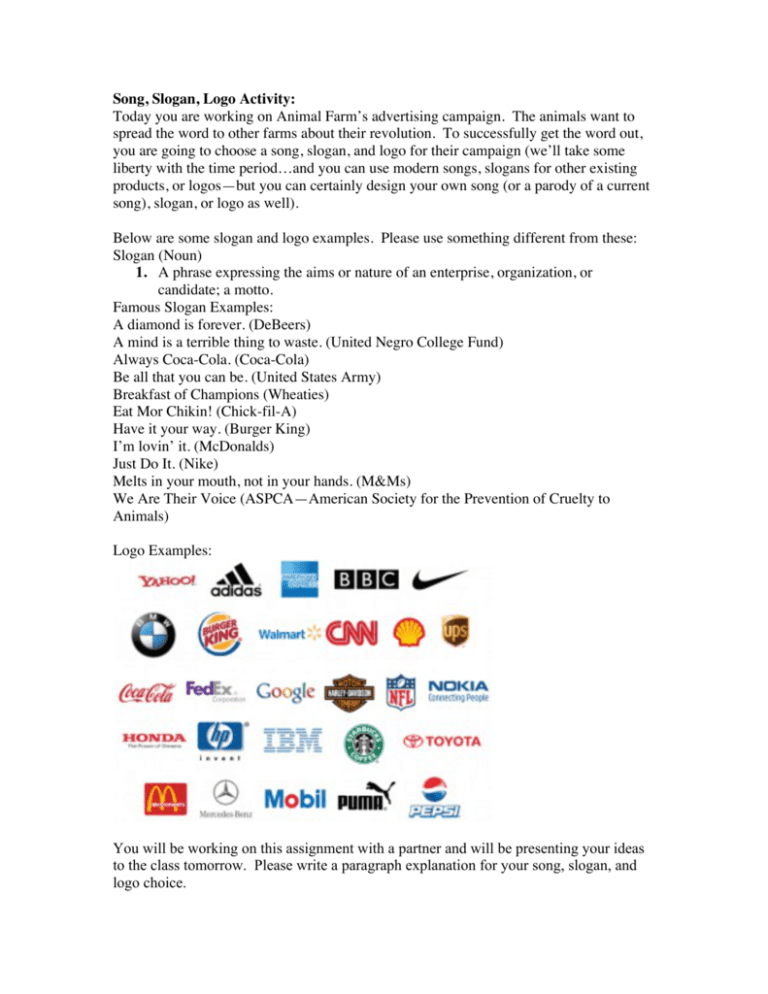 Song, Slogan, Logo Activity:
Today you are working on Animal Farm's advertising campaign. The animals want to
spread the word to other farms about their revolution. To successfully get the word out,
you are going to choose a song, slogan, and logo for their campaign (we'll take some
liberty with the time period…and you can use modern songs, slogans for other existing
products, or logos—but you can certainly design your own song (or a parody of a current
song), slogan, or logo as well).
Below are some slogan and logo examples. Please use something different from these:
Slogan (Noun)
1. A phrase expressing the aims or nature of an enterprise, organization, or
candidate; a motto.
Famous Slogan Examples:
A diamond is forever. (DeBeers)
A mind is a terrible thing to waste. (United Negro College Fund)
Always Coca-Cola. (Coca-Cola)
Be all that you can be. (United States Army)
Breakfast of Champions (Wheaties)
Eat Mor Chikin! (Chick-fil-A)
Have it your way. (Burger King)
I'm lovin' it. (McDonalds)
Just Do It. (Nike)
Melts in your mouth, not in your hands. (M&Ms)
We Are Their Voice (ASPCA—American Society for the Prevention of Cruelty to
Animals)
Logo Examples:
You will be working on this assignment with a partner and will be presenting your ideas
to the class tomorrow. Please write a paragraph explanation for your song, slogan, and
logo choice.