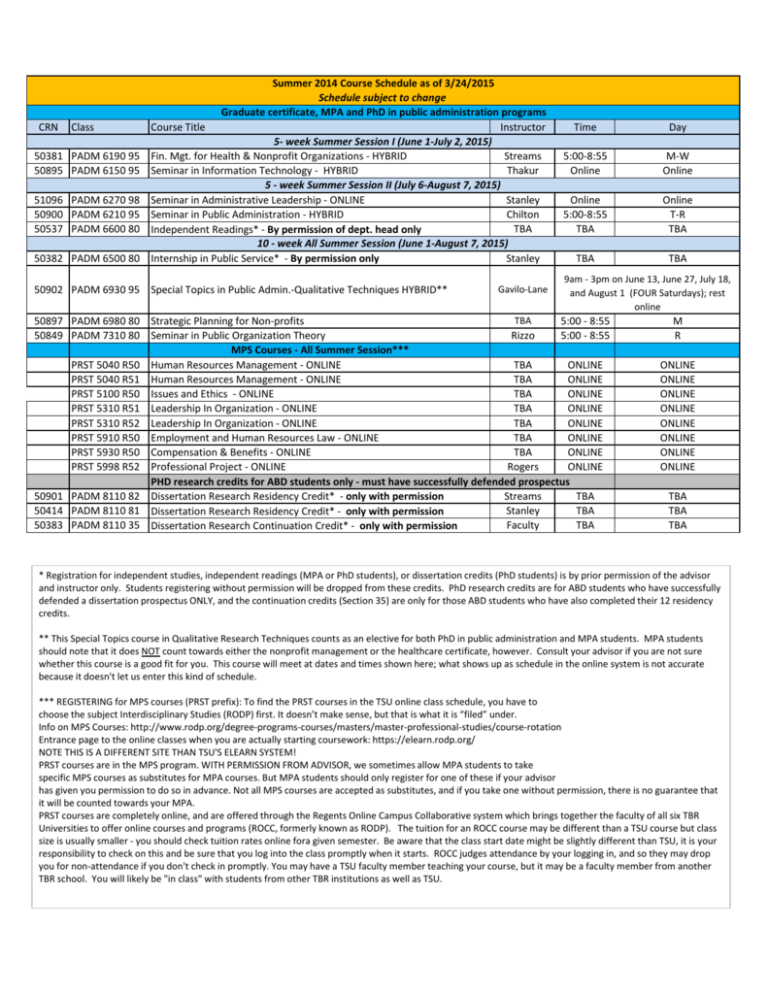 CRN
Class
50381 PADM 6190 95
50895 PADM 6150 95
51096 PADM 6270 98
50900 PADM 6210 95
50537 PADM 6600 80
50382 PADM 6500 80
Summer 2014 Course Schedule as of 3/24/2015
Schedule subject to change
Graduate certificate, MPA and PhD in public administration programs
Course Title
Instructor
5- week Summer Session I (June 1-July 2, 2015)
Fin. Mgt. for Health & Nonprofit Organizations - HYBRID
Streams
Seminar in Information Technology - HYBRID
Thakur
5 - week Summer Session II (July 6-August 7, 2015)
Seminar in Administrative Leadership - ONLINE
Stanley
Seminar in Public Administration - HYBRID
Chilton
TBA
Independent Readings* - By permission of dept. head only
10 - week All Summer Session (June 1-August 7, 2015)
Stanley
Internship in Public Service* - By permission only
50902 PADM 6930 95 Special Topics in Public Admin.-Qualitative Techniques HYBRID**
Gavilo-Lane
Time
Day
5:00-8:55
Online
M-W
Online
Online
5:00-8:55
TBA
Online
T-R
TBA
TBA
TBA
9am - 3pm on June 13, June 27, July 18,
and August 1 (FOUR Saturdays); rest
online
TBA
50897 PADM 6980 80 Strategic Planning for Non-profits
5:00 - 8:55
50849 PADM 7310 80 Seminar in Public Organization Theory
Rizzo
5:00 - 8:55
MPS Courses - All Summer Session***
TBA
ONLINE
PRST 5040 R50 Human Resources Management - ONLINE
ONLINE
PRST 5040 R51 Human Resources Management - ONLINE
TBA
PRST 5100 R50 Issues and Ethics - ONLINE
TBA
ONLINE
PRST 5310 R51 Leadership In Organization - ONLINE
TBA
ONLINE
PRST 5310 R52 Leadership In Organization - ONLINE
TBA
ONLINE
PRST 5910 R50 Employment and Human Resources Law - ONLINE
TBA
ONLINE
PRST 5930 R50 Compensation & Benefits - ONLINE
TBA
ONLINE
PRST 5998 R52 Professional Project - ONLINE
Rogers
ONLINE
PHD research credits for ABD students only - must have successfully defended prospectus
50901 PADM 8110 82 Dissertation Research Residency Credit* - only with permission
Streams
TBA
50414 PADM 8110 81 Dissertation Research Residency Credit* - only with permission
Stanley
TBA
50383 PADM 8110 35 Dissertation Research Continuation Credit* - only with permission
Faculty
TBA
M
R
ONLINE
ONLINE
ONLINE
ONLINE
ONLINE
ONLINE
ONLINE
ONLINE
TBA
TBA
TBA
* Registration for independent studies, independent readings (MPA or PhD students), or dissertation credits (PhD students) is by prior permission of the advisor
and instructor only. Students registering without permission will be dropped from these credits. PhD research credits are for ABD students who have successfully
defended a dissertation prospectus ONLY, and the continuation credits (Section 35) are only for those ABD students who have also completed their 12 residency
credits.
** This Special Topics course in Qualitative Research Techniques counts as an elective for both PhD in public administration and MPA students. MPA students
should note that it does NOT count towards either the nonprofit management or the healthcare certificate, however. Consult your advisor if you are not sure
whether this course is a good fit for you. This course will meet at dates and times shown here; what shows up as schedule in the online system is not accurate
because it doesn't let us enter this kind of schedule.
*** REGISTERING for MPS courses (PRST prefix): To find the PRST courses in the TSU online class schedule, you have to
choose the subject Interdisciplinary Studies (RODP) first. It doesn't make sense, but that is what it is "filed" under.
Info on MPS Courses: http://www.rodp.org/degree‐programs‐courses/masters/master‐professional‐studies/course‐rotation
Entrance page to the online classes when you are actually starting coursework: https://elearn.rodp.org/
NOTE THIS IS A DIFFERENT SITE THAN TSU'S ELEARN SYSTEM!
PRST courses are in the MPS program. WITH PERMISSION FROM ADVISOR, we sometimes allow MPA students to take
specific MPS courses as substitutes for MPA courses. But MPA students should only register for one of these if your advisor
has given you permission to do so in advance. Not all MPS courses are accepted as substitutes, and if you take one without permission, there is no guarantee that
it will be counted towards your MPA.
PRST courses are completely online, and are offered through the Regents Online Campus Collaborative system which brings together the faculty of all six TBR
Universities to offer online courses and programs (ROCC, formerly known as RODP). The tuition for an ROCC course may be different than a TSU course but class
size is usually smaller - you should check tuition rates online fora given semester. Be aware that the class start date might be slightly different than TSU, it is your
responsibility to check on this and be sure that you log into the class promptly when it starts. ROCC judges attendance by your logging in, and so they may drop
you for non-attendance if you don't check in promptly. You may have a TSU faculty member teaching your course, but it may be a faculty member from another
TBR school. You will likely be "in class" with students from other TBR institutions as well as TSU.